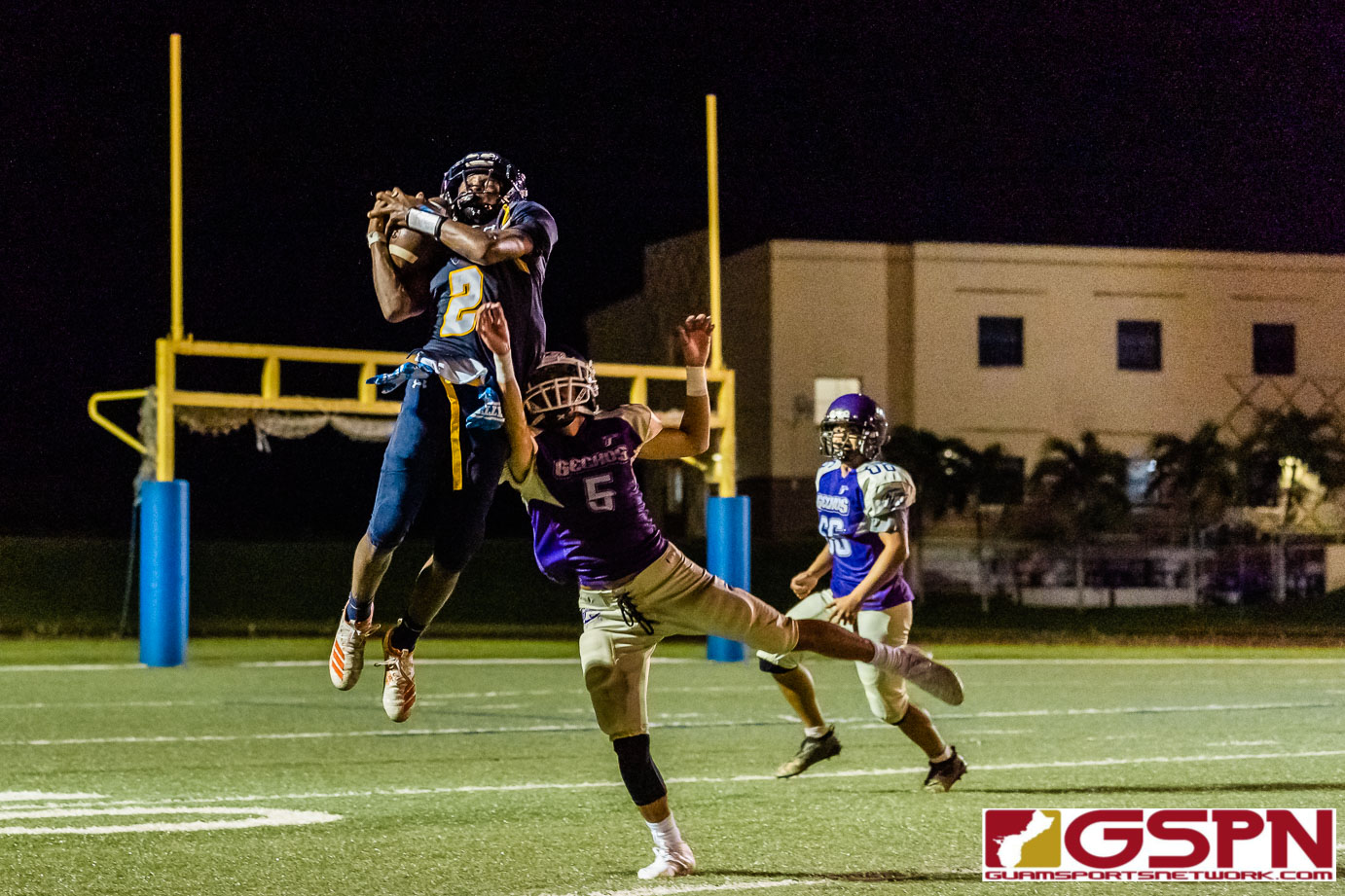 By Robert Balajadia
Opening weekend for the 2021 ISA Football Season is already proving that there is parity in the league. The Guam High Panthers defeated the visiting GW Geckos 14-6, a feat that hasn't happened in over five years, while the Tiyan Titans defeated the Okkodo Bulldogs 6-0 in a close contest up North.
The Panthers roster consists of just 24 players, which meant more than a handful of their team would have to play iron-man against a very physical Geckos team.
"We had to think to ourselves that this was going to be a dog fight. Knowing the amount of people we had, we just had to toughen it up and play through it. We knew this was going to be a tough game and it definitely was… This game required a lot, not from just me, but as a team," said senior Zeshaun Adams, who plays safety and utility on offense.
Freshman receiver/defensive back Benjamin Harris was the brightest start on the field for the Panthers, playing in just his first high school game, as he hauled in a touchdown on a 25-yard pass from quarterback Aaron Johnson for the first touchdown of the game in the 1st quarter, while forcing two fumbles on the night on defense.
"To be honest, I was really nervous. I felt like I was going to make a lot of mistakes, but I had the team get my back and cheer me on and that really brought my confidence back up," said Harris.
Teammate Zeshaun Adams punched in the teams only other touchdown in the 2nd quarter on a four-yard run to extend their lead to 14-6 while playing the last line of defense (saftey) on plenty of occasions for a stout Panther secondary.
"We looked at it as zero-zero. We had to toughen up and give everything we got for a defensive stand. On a 24-man roster there isn't a lot of subs so we just got to go through it," added Adams.
The Gecko offense struggled to get going, entering the red zone only twice all evening. A big conversion on 4th down from Gecko quarterback Ricardo Leon Guerrero II to receiver Jake Cruz on a 20-yard touchdown put the Geckos right back in the game in the 2nd quarter down 7-6. Though, the only other trip inside their opponents 20 would end in a turnover on downs late the 3rd quarter due to penalties taking away two first downs.
Guam High forced five fumbles and recovered three of them, which quickly killed GW's momentum as two of the three lost fumbles were in Panther territory. After seeing how effective their stripping at the ball was on their first forced fumble in the opening period, it became a point of emphasis for the Panthers from that point on.
"After their first fumble we saw that the ball was really slippery so we tried to punch that ball out every chance we could," said Harris.
Panther quarterback Aaron Johnson had only played receiver until this season which made Saturday night his debut not only at the position, but in high school football in general. Johnson connected with Harris on three different throws while also proving he can run for positive yardage if his pocket breaks down. After throwing for a score and getting a win under center, Johnson is getting confidence in his ability to be the Panthers guy.
"I didn't know if I was going to do bad or good, but I just pushed through. It was really my line, they really protected me out there and I have to give a lot of thanks to them. I'm very confident in my arm, but it really starts in the trenches. If they aren't blocking for me I can't get the ball out," said Johnson.
The Geckos had one final drive late in the 4th quarter under the 4-minute warning, starting at their own 45 after a Panther punt, at an attempt a tie. Leon Guerrero tried to convert through the air on each of their four down tries, but was unsuccessful resulting in a turnover on downs. Guam High converted on a key first down run which allowed them to kneel out the remaining seconds of the game.
"This win is going to make us tougher, stronger and build our bond as a team. We're going to overcome more challenges that face us," said Harris.
Guam High will host the Southern Dolphins, who also picked up an opening week win, next Friday while the Geckos will play the Sanchez Sharks, who forfeited their opening game against the FD Friars.
Opening Weekend Scores
Southern 20, JFK 6
Tiyan 6, Okkodo 0
FD def. Sanchez via forfeit
PHOTO GALLERY BROUGHT TO YOU BY:

QUICK HITS
The Okkodo Bulldogs secured third place at the Far East Division I Girls' Basketball Tournament in Camp Humphreys, South Korea. Jasmine Samson and Haley Cabrera were named All-Tournament selections in recognition of their hard work on the court. Vaysia Blas won the 3-point shooting contest. The Bulldogs played nine games in three days with a squad of eight:
Erin Moldez
Jasmine Samson
Haley Cabrera
Sharm Tauiwei
Hanna Meinik
Jordyn Zacarias
Jordin Hernandez
Vaysia Blas