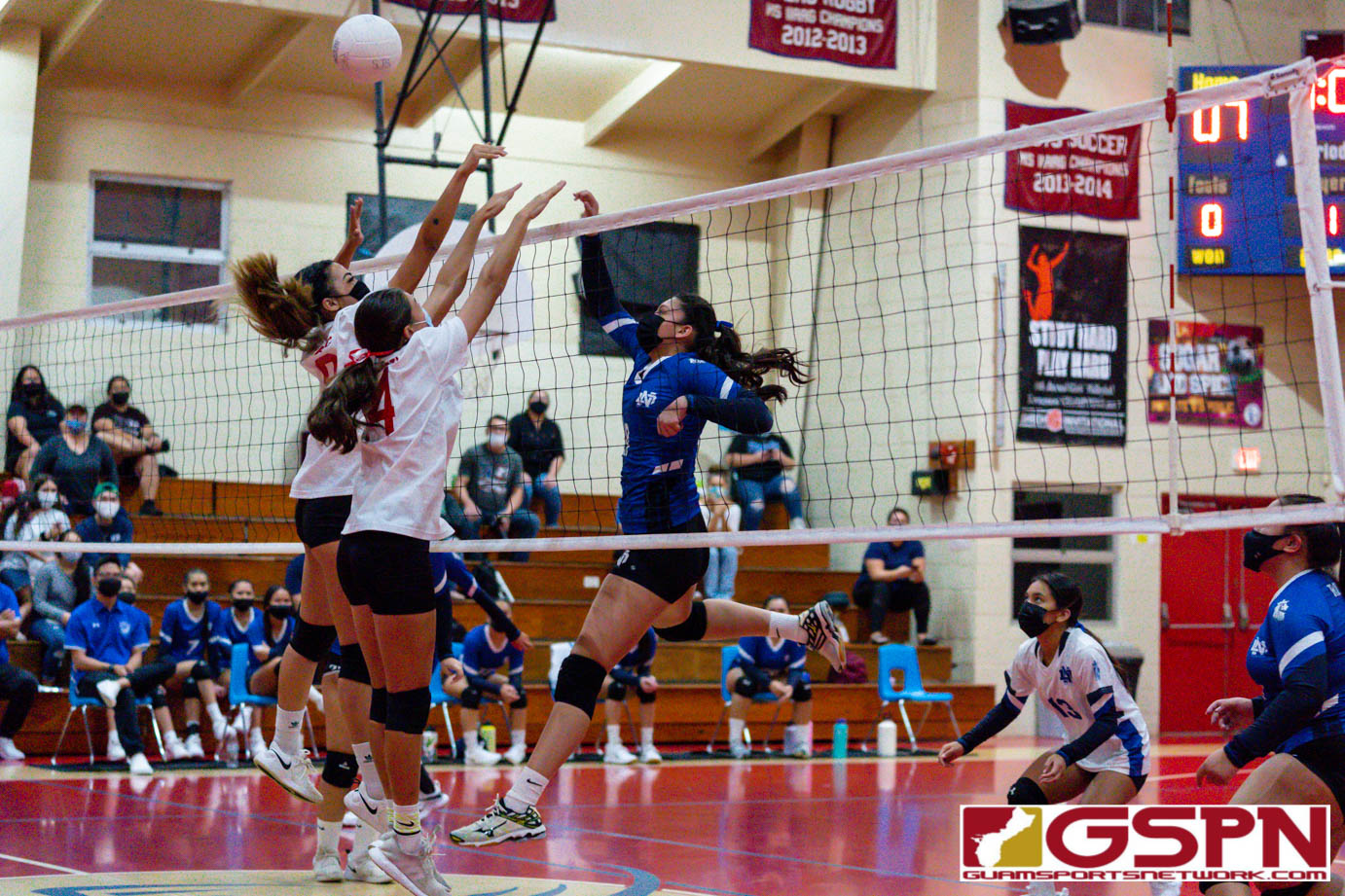 By Robert Balajadia
The three-time Volleyball Champion ND Royals officially began their quest for a fourth title Saturday evening as the 2021 season got underway. Kicking off the season was a rematch between the Royals and St. John's Knights, who have exclusively battled for the title the last three years.
The Royals got the better of the Knights Saturday evening, beating the home team in three very close sets 28-26, 29-27, 25-17.
ND's offense was led by right-side hitter Minami Rabago, who posted nine total kills with teammates Austia Mendiola adding eight. Middle blocker Faith Piper had five kills and two blocks.
St. John's got a monstrous game from Tylee Shepherd, who finished with 10 kills, two blocks and eight aces to power the Knights.
Shepherd was firing off on the Royals in the first two sets where she scored nine of her 10 kills. ND made a defensive adjustment heading into the third set to try and slowdown her output.
"We planned on trying to take her out of attacking because she's a very dangerous attacker. We tried to aim [hitting] in her direction to try and take her out of their offense," said Rabago on handling the former MVP Shepherd.
Mendiola did most of her damage in the 3rd set to help ND close out the opening night victory.
Royals swing in early sets
The opening two sets could have gone to either team. Late in the 1st, Knight Sydney Fernandez grabbed a kill off the block to tie the game at 22 followed by an ace from the line to give her team a one-point lead. Moments later, Mendiola would tie the game at 24 with her second kill of the set, only to give her team a 25-24 lead with her second ace on the night.
Shepherd would tie the game with a big kill up the middle and fellow Knight Wendy Zheng would briefly swing the lead in favor of St. John's 26-25. Rabago would knot the game at 26, followed by another kill to give her team the lead. Piper would take advantage of a free ball off an over-pass for a big kill to secure ND's opening set win.
"I just went with the flow of the game and did what felt right," said Piper her heads up ability to take advantage of free balls.
Picking up in the 2nd set, Shepherd would leap for a big kill to tie the game at 23. Zheng would give the Knights a 25-24 lead before a back-and-forth ensued. A kill from Mendiola would put ND up 28-27 with a hitting error from the Knights ending the 2nd set.
Quick change
High school volleyball is being played at a weird time this season with their usual time frame being at the beginning of the school year. The condensed season is forcing a lot of the multi-sport athletes to change jerseys within a weeks time. The senior Rabago had just played in a IIAAG soccer Championship last weekend and is still trying to get into the swing of volleyball.
"It's definitely been a hard transition. I got a little injured in that Championship game so I haven't been able to practice as much either," admitted Rabago.
For some members like ND's setter Gabby Piper, this season has been a long time coming. Piper missed all of last season after suffering a knee injury, which didn't allow her to share the court with younger sister Faith. Saturday was the first time the pair had shared the court in high school which was a special moment for the siblings.
"It was fun to finally be able to play together. We've put so much time together in practice so it's nice to finally be able to play together and put all that into action," said Faith.
PHOTO GALLERY BROUGHT TO YOU BY:

QUICK HITS
The Figo Islanders 40s women's softball team took gold in the Senior Softball World Championship in Las Vegas. Figo came out of the loser's bracket and beat the Arizona Belles 17-3 in the AA division championship game Sunday afternoon.
Other Guam teams that played in the 40s tournament were: Team SOTTA (women's) and Bud Light Guam, Friars 671 and Sindalun Guahan (men's).
Sindalu finished a respectable 4th out of 24 AAA division teams.