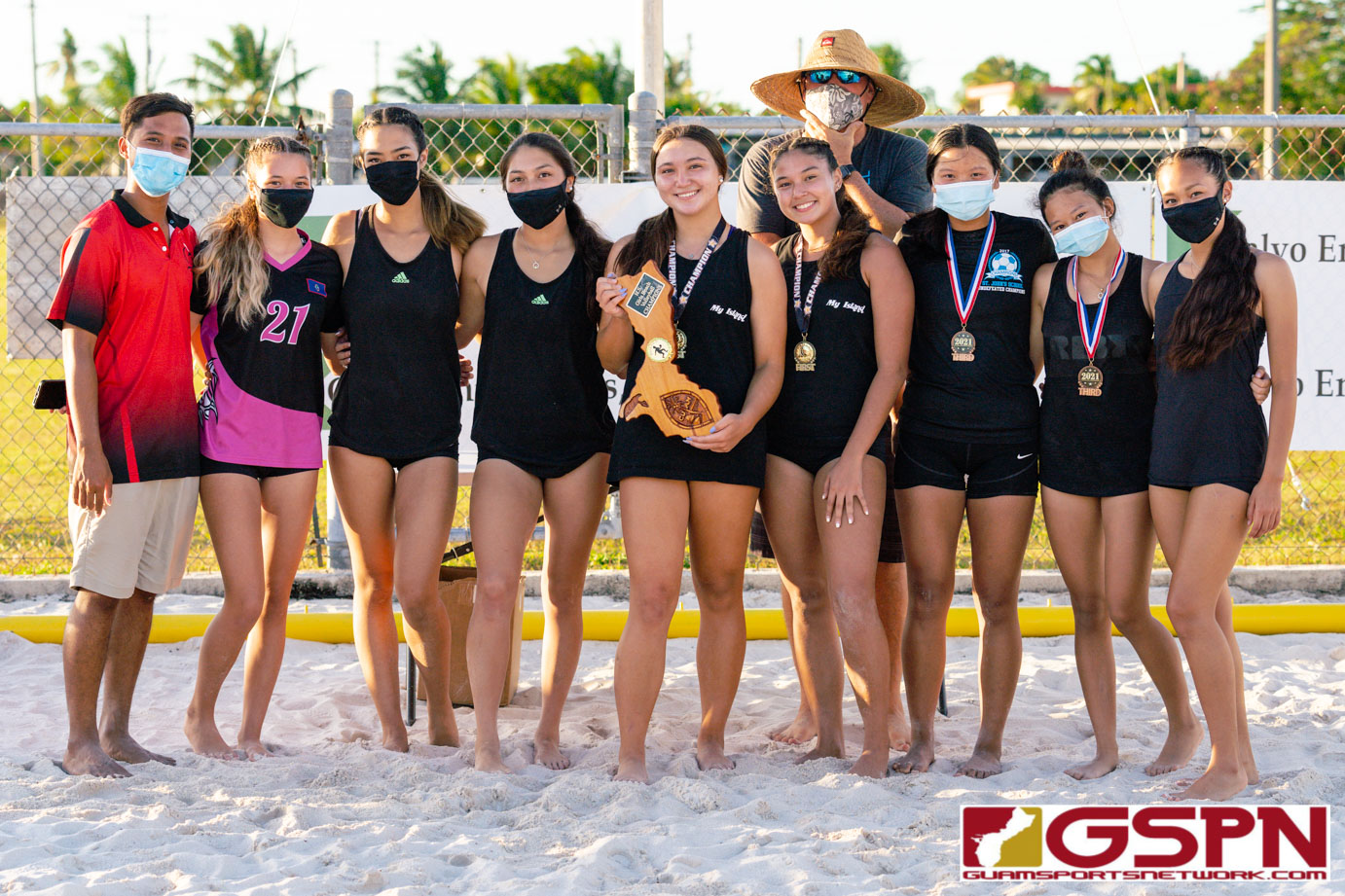 By Jay Leon Guerrero
St. John's Knights Tylee Shepherd and Austia Mendiola, by away of ND, were not to be denied of the IIAAG Girls Beach Volleyball Doubles Championship after defeating top seeds Chloe Guerrero and Kristen Serrano from Academy in straight sets (21-16, 21-10).
This was their second meeting with Guerrero/Serrano winning the first match in the regular season. A small number of supporters surrounded the beach volleyball court at the Guam Football Association in Harmon to witness the much anticipated rematch.
Mendiola/Shepherd made some adjustments from their first match and executed their game plan to win the championship.
"After that first match (against Academy), we would text each other and said sorry for the poor performance. Every game we played since then has led to this moment and we learned from those mistakes to perform better," said Shepherd.
Match sequence
Mendiola/Shepherd started out on fire with each member recording kills to take an 11-6 advantage.
Academy cut their deficit to 19-16 after Guerrero set up Serrano for a kill. But momentum did not shift and Shepherd ended the game with a side out and an unreturnable serve to take the first set 21-16.
Mendiola/Shepherd continued to be aggressive at the net and on the service line to open up an 8-3 lead in the second set. Academy would have one last shining moment with Guerrero setting up Serrano for a towering kill that had both Mendiola and Shepherd diving, but the deficit was too far to overcome.
The small crowd seemed to be on the side of the Knights as they cruised to a 21-10 second set victory for the championship.
"Having the crowd cheer for us was great but at the end of the day me and Ty know that it's just us. We didn't expect to have a crowd because of COVID but it was still great to hear the hype from our teammates and friends," said Mendiola.
Much Respect
Shepherd said that she respects the team of Guerrero/Serrano.
"They improved so much from last season. Their ball control, their hitting, communication, serves – every aspect of the game saw an improvement from last season.
"They did really well on knowing when to send it over on a two and when to do a pass and hit," said Shepherd. "It shows their mentality and IQ of the sport excelled greatly."
In the third place doubles match, St. John's Yasmeen Lopez and Jadyn Palomares defeated Sam Lorzano and Trinity Terlaje from Harvest in a tight two set thriller (21-18, 21-18).
At the end of the match, the regular season team championships were presented. St. John's took home coveted wooden IIAAG championship trophy with Academy winning second and Harvest coming in a respectable third place.
PHOTO GALLERY BROUGHT TO YOU BY: