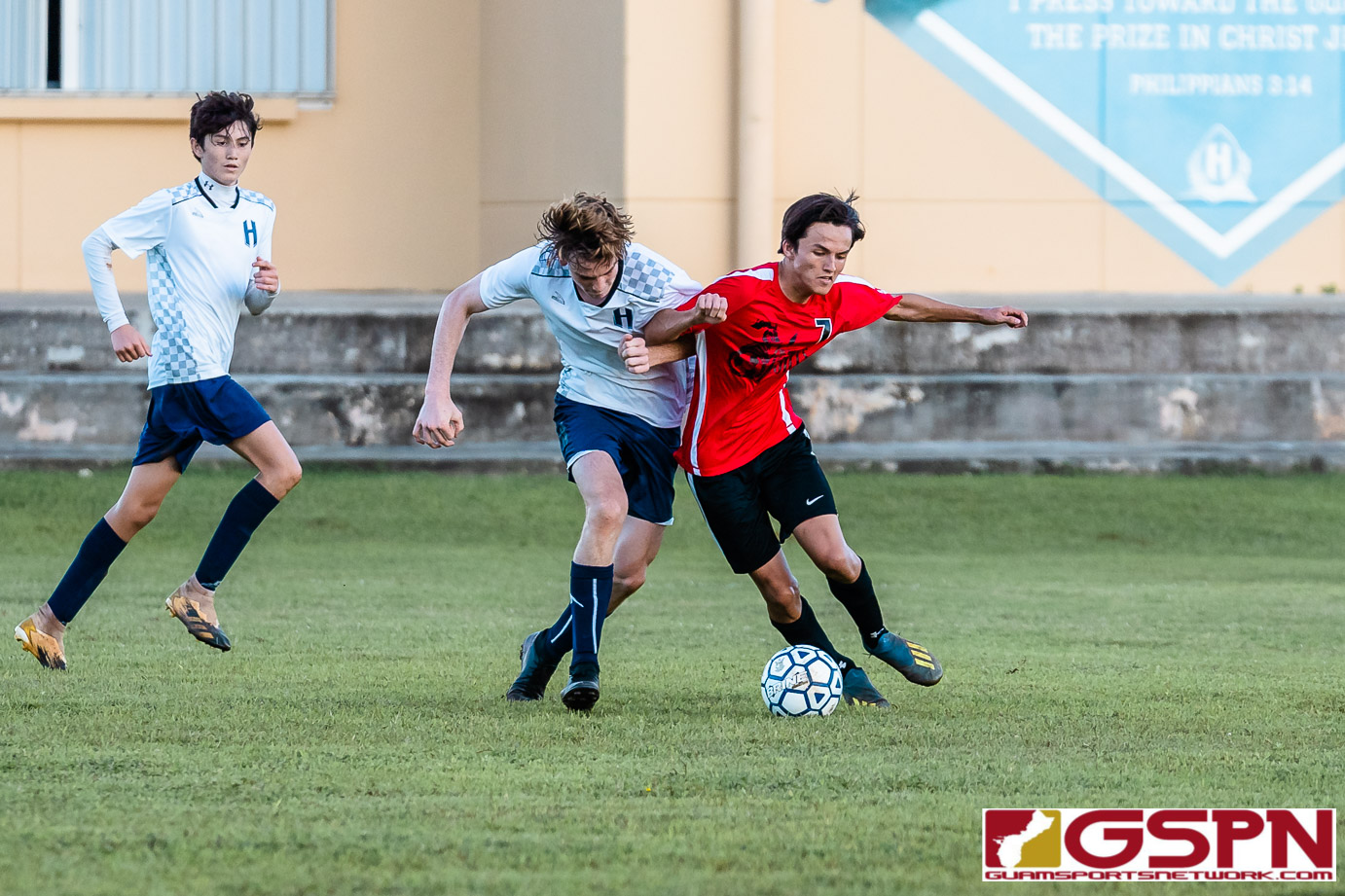 By Robert Balajadia
The defending IIAAG Boys Soccer Champion St. John's Knights didn't want to fall into an 0-2 hole to start their 2021 campaign as they ventured to Harvest Wednesday evening to face the Eagles. Defenses would rule the day up until the 77th minute as striker Andrew Stenson scored the games lone goal to give the Knights the 1-0 edge while keeper Miles Ganeb played stout in the shutout.
The Knights offense didn't muster up too many shots against the Eagles, but Stenson's last two shots were the games most exciting. In the 70th minute, Stenson fired off a strong left foot that Eagles keeper Josiah Jones deflected away.
Moments later, Stenson would get a second shot, but had to weave his way through two defenders while unloading a tricky left foot that landed in the bottom right corner of the goal past the diving Johnson.
"A lot of it was just instinct," said Stenson on his ability to shake off the defense for the score. "You see it all the time on the videos you watch and I finally got that chance to do it and it finally worked."
The ball squeezed through a tight window to get through and Stenson had the whole goal calculated from the minute it left his foot.
"Of course it was," laughed Stenson on whether the shot went where he intended it to go. "I mean, maybe it could've been a better shot but I'll take the goal."
Ganeb played lock-tight defense with plenty of his highlight saves (captured on GSPN Instagram) coming in the second half. With a key striker missing today in sophomore Meto Harmon due to a stomach flu, Ganeb knew the defenses was going to be relied on heavily. That, plus some new gear and the spirit of rivalry, proved to be more than enough for the Knights to elevate their game.
"We really had to step up because our striker wasn't feeling well today. Also, I got my nice new cleats because my cleats broke, I got my nice black gloves on so I was pumped for this game. Our rivalry versus Harvest has always been there and today gave us an opportunity to show them which team was better," said Ganeb.
Ganeb is clearly the teams vocal leader on the field, but not everything he's calling out there pertains to defensive assignments or rallying the troops. Ganeb will often crack jokes with his own defense, opposing players or even fans attending to provide entertainment for all.
"Especially during games like this where it's tight and there's a lot of pressure, I like to bring joy to the game so our boys know that our keeper is fine. You know, because I'm the backbone of the team. I like to crack jokes and make the game enjoyable for the fans as well and I like to talk to the other team, that's just how my game is," admitted Ganeb.
The win puts the Knights at 1-1 on the young season, but this victory might have been more important to the team than just improving their standing. Harvest defeated the Panthers on Saturday as they fall to 1-1 on the season.
"This was a big game especially after the loss. We didn't feel like we deserved to lose that last game [against FD], but we worked freaking hard today. Harvest is a top three team in the league and we know we need to beat them in order to get good placements," said Stenson.
St. John's will take on ND at home this weekend as the Eagles face the undefeated (2-0) Friars on Saturday.
PHOTO GALLERY BROUGHT TO YOU BY: