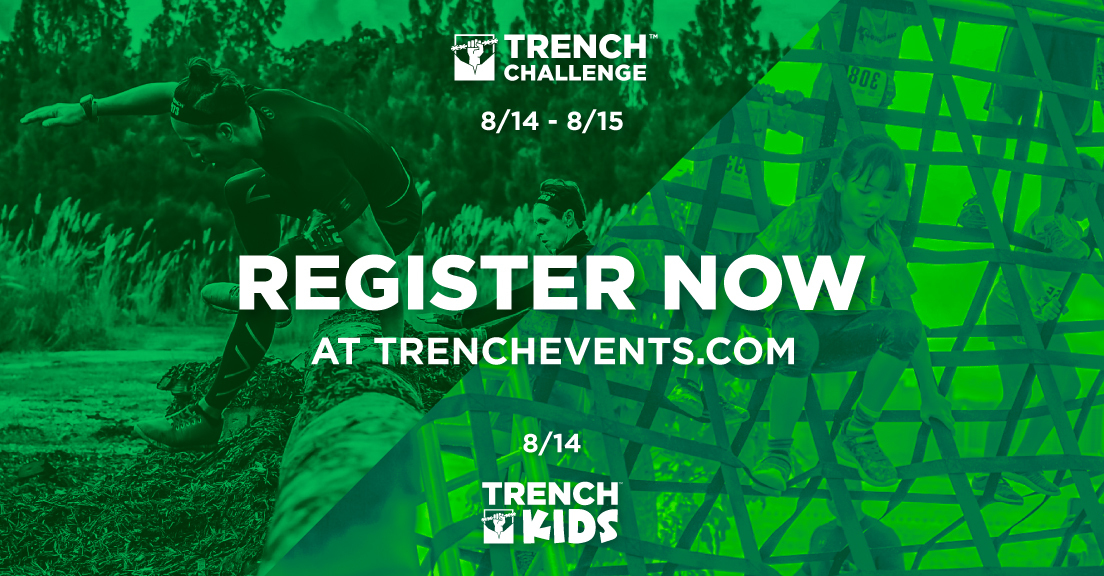 Trench Challenge and Trench Kids Obstacle Course Race to take place August 14th and 15th at the Guam International Raceway.
July 24, 2021 Yigo, Guam.
Trench Challenge, Guam's Obstacle Course Race (for adults) and Trench Kids (an Obstacle Course Race just for Children ages 4 – 13) is scheduled to take place at the Guam International Raceway in Yigo on August 14th and 15th, 2021.
To abide by the current restrictions, the event has been split into two days with staggered start times and limited participants.
TRENCH CHALLENGE:
There are five different categories to choose from this year.
Competitive OCRWC Qualifier: Elite Division
Competitive 3-Person Challenge
Recreational Division
Special Olympics Charity Run
Uproar Fitness Competition
TRENCH KIDS:
Five different age divisions to choose from. 4-5yr, 6-7yr, 8-9yr, 10-11yr, and 12-13yr sprint.
The Top 3 Boy and Top 3 Girl finishers in each division will be awarded. 
The event schedule is as follows:
Saturday, August 14, 2021
Trench Challenge Competitive OCRWC qualifier Elite Division Start Time 6:30am
Trench Challenge Competitive 3-Person Team Division Start Time 7:00am
Trench Challenge Recreational Saturday Start Time 7:30am
Trench Kids 12-13yr Division 8:15am
Trench Kids 10-11yr Division 8:30am
Trench Kids 8-9yr Division 9:00am
Trench Kids 6-7yr Division 9:45am
Trench Kids 4-5yr Division 9:15am
Sunday, August 15, 2021
Uproar Triple Threat Fitness Competition Start Time 7:45am
Special Olympics Guam Charity Start Time 8:00am
Trench Challenge Recreational Division Start Times 8:30am, 8:45am, 9:00am, 9:15am, 9:30am, 9:45am, 10:00am
Packet pickup is scheduled for Thursday August 12th, and Friday August 13th from 11am – 7pm
**Start Times and Packet Pickup Schedule may change based on final participation numbers. Updates will be e-mailed by race reminder and posted on social pages and the website.
CHARTY START TIME:
Sunday, August 15th will host the Special Olympics Guam Charity Start Time at 8:00am Proceeds from this start time will benefit the Special Olympics Guam organization and also allow you to run with the SOG athletes whom some will be their 5th year doing the Trench Challenge. 
TRENCH CHALLENGE DISCOUNT CODES: 
Trench Challenge, Limited time discount Promocodes have been released every week on the Trench Events Facebook page and Trench Challenge Instagram page. The Current 20% off promocode 20TC2021 is valid till 11pm July 27th. 10% off code 10TC2021 will go live 12am July 28th.
IMPORTANT NOTICE: 
An e-mail invitation to register for this race was sent to all eligible 2020 registrants (Both Trench Challenge & Trench Kids) on July 13 & 14, 2021. (Eligible: participants that chose to defer to the next race and did not opt-out with virtual challenges or file a claim with the offered Fanshield registration insurance.) We kindly ask them to redeem this complementary invitation by registering themselves or transferring to someone else before it expires on August 10th. This 2021 race is the only available event to redeem their credit from 2020. Registration remains non-refundable.   
*TRENCH CHALLENGE Guam's Obstacle Course Race is presented by Michelob Ultra and brought to you by U.S Air Force Special Warfare, Rocky Mountain Precast, Autoworks, Upshift Ent.

For more information, find Trench Events on Facebook and instagram, visit trenchevents.com or email: [email protected]