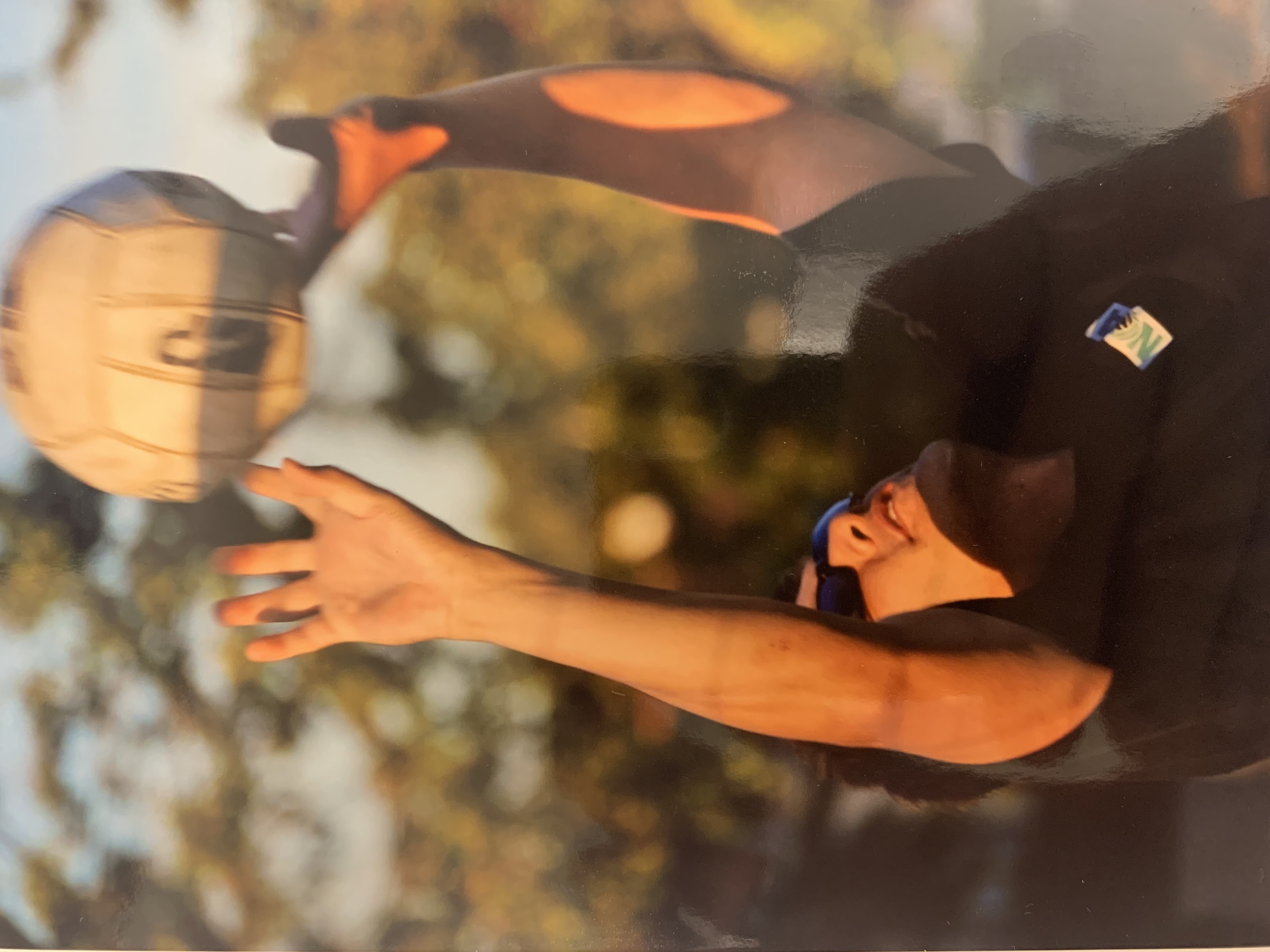 Sport: Volleyball
Occupation: Sports Chiropractor, Google Wellness Center, San Francisco, CA.
Accomplishments:
Volleyball
1995 GW graduate (3x All-Island First Team setter)
1993 Junior National Opens Championships – D Flight Runners-up
Guam National Volleyball Team 1994-2006 (gold medals in 1994, 2002, 2006 Micronesian Games)
Got offered to play semi-professional volleyball in Japan
Professionally
Summa Cum Laude (Valedictorian) – Life Chiropractic College West 2007
Certified Chiropractic Sports Practitioner, American Board of Chiropractic Physicians 2008-Present
Sports Medicine on-site staff, Northern California Collegiate Volleyball League, regional tournaments, 2009-13, 2018
Medical Staff, AVP Pro Beach Volleyball Tour, San Francisco 2008 & 2009
Medical Staff, 39th University of California Berkeley Taekwondo Open Tournament, Berkeley, CA, 2008
Assistant Coach, Palo Alto Elite Volleyball Club, U16 Girls Volleyball Power Division, 2010-2013
Family: Wife, Irma Cayanan Toal and daughter Abigail
1. For all of Guam's volleyball fans out here, tell us what Dr. Randall Toal has been up to these days?
I played a lot of volleyball when I first moved out here to California in 2004 all the while working my doctorate in Chiropractic. Our team won two Northern California Volleyball Association League championships, playing alongside another Guam volleyball legend Dr. Michael Silvas.
I also played a few years in an invitational summer league. I was asked by the UC Davis alumni team to set for them. It was quite an honor to be asked to set for them especially since they did not ask a former alumni setter to run their offense. We played against teams with former Stanford and UC Santa Cruz volleyball players; one team had a former German National team member.
It was an amazing experience playing with and against men who towered over me. Growing up, people from Guam used to wonder how the players from Guam would stack up against mainlanders. The Bay Area has many fantastic volleyball players. Mike and I were able to stand out over here and make a name for ourselves. We've represented Guam really well here! Now I hear more and more players from Guam have found themselves playing collegiately and excelling in college. Tongsu Rivera, J.R. Perez and Richard Chou were successful in their collegiate careers. I couldn't be more proud of the success of the young men and women from Guam who have gone on to play collegiately around the country.
I was also an assistant coach for the Palo Alto Elite Volleyball Club U15 girls power team; their travel team. I learned real quickly how very different my mindset as a coach is from my mindset as a player. That experience was quite humbling yet fulfilling. It taught me a lot about patience and that perfection is the enemy of progress, to quote Mr. Winston Churchill. The shift in mindset was a huge area of growth for me. It made me grow immensely personally and becoming the best clinician that I am today.
As I started my practice with Chiro Medical Group and Health Logic, I began to focus more on my career. I was extremely honored to be a part of the medical staff for the Association of Volleyball Professionals (AVP) tour events in San Francisco for two years. Super fun being around the beach volleyball community. Karch Karily, FIVB's Player of the Century, three-time Olympic gold medalist both indoors and the beach popped his head in the medical tent to say hello. That was a real treat for me. If you don't already know, he is now the head coach of the USA Women's National Team.
My time now is dedicated to my work but most importantly to my family and our 5-year-old daughter. Spending every moment with my wife, Irma and Abigail has truly been a blessing. It's what gives me joy. We've signed Abby up for swimming and soccer lessons which she really enjoys.
 Hopefully we'll get back to those activities real soon. Irma and I enjoy watching her play and have fun. She's getting really competitive as well, trying to outrun everyone at soccer practice.  I wonder who she gets her competitive nature from!
2. You've worked closely with Dr. Mike Silvas, another great Guam athlete, in the past with your practice. Do you guys still keep in touch?
Yes we keep in touch with each other both personally and professionally. We are godfathers to each others' daughter. After obtaining my doctorate in Chiropractic, I was fortunate enough to work alongside one of my best friends for 10 years. If you recall, Dr. Mike was the Chiropractor for the Golden State Warriors. While practicing together we had the amazing opportunity to work with many elite-level (professional and Olympic) athletes, including a former Division I Volleyball National Player of the Year, 2-Time NCAA National Champion with Stanford University and Olympic Games silver medalist. We also treated several high school and college standouts that went on to play professional baseball. Mike still is a great friend and mentor. When we can find the time, we love to catch up with each other now on the golf course.
I left private practice over two years ago to work for a company called One Medical that provides primary and specialty care at onsite Wellness Centers within Google. It allows me to bring my sports medicine knowledge and skills to the workforce. I still find myself telling patients to "Get Up And Move," the G.U.A.M. slogan that the legendary Guam body builder and elected official Jesse Lujan created to get the people in Guam active. I'm always trying to bring the island spirit onto the Google campus; you'll usually find me wearing island shirts on Fridays.
3. You had some of the smoothest sets in Guam volleyball. Who did you look up to while growing into a great setter?
Great question because there's many. My favorite players when I first started playing were Hilary Toves and Art Mariano. They are the two best volleyball players Guam has ever produced, though I would be remissed if I didn't include Chris Shepherd in that conversation as well. I loved the smoothness of Art's game. I tried to mimic his coolness (complete composer) under pressure and his attention to detail. He did everything well. He was the gold standard that I'd measure myself against as a volleyball player.
At the setter position I thought Hilary Toves and John Sgro were fantastic, two of the very best, even though Hilary was not a "true" setter. They had amazing gifts for managing and controlling the game and running a great offense. On the women's side, I loved watching Jasmine James and Sophie San Nicolas. Every one of them had a knack for giving the right person the right set at the right time. They were very cerebral on the court, always thinking about the games within the game. As setters we have to change the way the offense "looks" even though the rotations and formations are exactly the same. I learned a saying long ago, "What happened the last time in this rotation." If the defense looks across the net at us and we're scouted really well, it is tasked to me to make the offense look deceptive; look different. Coach John Lizama taught me how to watch the way setters, especially those four above, changed one thing in their play calling and how it made the whole offense look different. Each of them did it in their own way which gave me the confidence to find my style.
Hilary once told me to learn fundamentals; to learn about consistency. Then at a certain point of my setting career, learn to break form to be more deceptive. This was also at a time when I started playing for coach Lizama and our Junior Olympic club team. I had a hard time learning to set a much faster tempo; we decided to change my mechanics to allow me to start setting at a quicker tempo. Playing against John Sgro and watching his game, we changed my mechanics for a second time; this was about my junior year in high school. I came to the way I set the ball now, which was my third iteration. It was heavily influenced mainly by these individuals and by playing against the best junior players in the nation my sophomore year at the USA Junior Olympics. Lots of trial and error, lots of fine tuning; most importantly, lots of training and repetitive setting drills refining everyday to become the setter I was when I was playing and competing internationally.
4. Your calm and quietness on and off the court made you a mystery. Did you enjoy that personna?
My calm and quiet demeanor was just who I was both on and off the court. I'm just overtly introverted, especially in social settings. On the court, I was always hyper-focused on the task at hand. I internalized everything I did on the court. That quietness however didn't mean that there wasn't a huge fire burning inside. I was and still am extremely and fiercely competitive and hated (still hate) to lose. I'd like to think that the level of intensity and effort and the discipline by which I played showed and inspired my teammates to do the same. That was the best way I knew how to lead. It wasn't until I got a little older, maybe wiser even, that I started to enjoy the success of others more than my own and learned that these things are not mutually exclusive. I remember while at national team practices, when coach Lizama or coach Dan Hattig would switch setters and I'd set for the 2nd team, I took it as my personal mission to improve everyone's performance on that unit. Sometimes we'd beat the 1st team and I'd find joy in seeing my teammates succeed.
5. What do you miss most about playing volleyball on Guam?
I really miss traveling to other islands, representing Guam competing at the Pacific and Micronesian Games and making our presence felt while we're there. It's truly the greatest honor to put on a jersey for GUAM.
What I miss most though is all those training sessions. I remember training at the Agana Heights wallyball courts. There would be only a handful of us in the enclosed racquetball court, where we would get high amounts of repetition to hone our skills. Oh I miss those days. I remember one day there was Tongsu Rivera, Joel Quitugua, Art Mariano and myself. Coach Lizama was training us as usual and then we played two on two. Tongsu and I had so much fun frustrating Joel and Art that day, even though they won most of the time. Tongsu and I were only 16 years old then, but playing against two legends like Art and Joel did so much for our game; both Tongsu and me. They were amazing examples; They helped shape our game.
Despite only 8-10 at our club practices, practices were highly competitive and extremely. No one in that gym gave any reason for the other to fail. We all demanded excellence from each other. They were productive in my development. They were intense but nonetheless super fun. I remember a stretch of time when I'd ask coach Lizama to come an hour early to practice so I could get in 1000-2000 sets before practice. Tongsu was usually there early as well honing his craft. Then we'd have team practice for 3 hours. We were all learning so much that no one wanted practice to end sometimes.
One of my favorite drills was actually a defensive drill Coach Lizama called, "Who do you want to dig?" where you choose the hitter you wanted to dig. You stood at the 3-Meter Line (10-Foot Line) and had to dig the hitter you chose. Coach Lizama lowered the net four inches. Each hitter you chose to dig, was set a ball tight to the net without any consequence. Their job was to hit as hard as possible to the defender playing defense not 10 feet away. One of the scariest but most awesome drills ever. I'd choose all the heavy hitters because I thought it built character and made me less afraid to dig a ball. That drill helped improve my reading of the opposing hitters and quickly improved my defensive skills; made me a pretty darn good defensive player.
I really miss playing volleyball back home. I miss my buddy Ray Mantanona. I miss playing with him, Joel Quitugua, Ken Borja and Chris Shepherd. I miss being around everyone at volleyball tournaments. I miss you Guam! I hope to visit home soon.

QUICK HITS
The Figo Islanders 40s women's softball team took gold in the Senior Softball World Championship in Las Vegas. Figo came out of the loser's bracket and beat the Arizona Belles 17-3 in the AA division championship game Sunday afternoon.
Other Guam teams that played in the 40s tournament were: Team SOTTA (women's) and Bud Light Guam, Friars 671 and Sindalun Guahan (men's).
Sindalu finished a respectable 4th out of 24 AAA division teams.