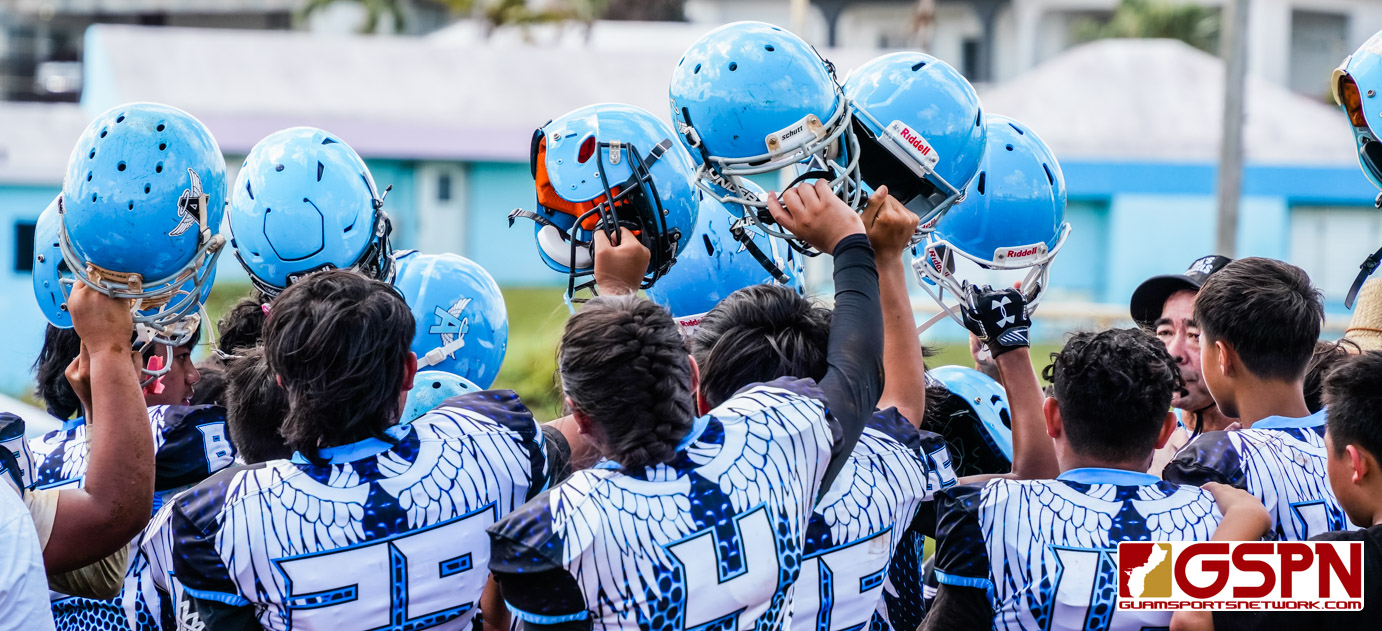 By Cody Sanchez
The Hal's Angels continue to march on as the favorite in the Matua Division of the 2022 Triple J Ford GNYFF League. The powerhouse Hal's Angels had no problem with the Steelers.
In the end, it was the powerhouse Angels that left no doubt that they are the top dogs in the oldest youth division, dominating the Steelers 34-6 Sunday afternoon at the Tamuning Field.
The first quarter showcased a battle of wills. The Angels carried on with the first touchdown of the game by Brock Aguon followed by a successful PAT by Jhordan Lujan. Almost immediately after, Justin Sablan scored a touchdown run off the stellar offensive line. After the unsuccessful PAT, the Angels looked as if they could not be moved on defense, stopping any Steeler attempt to pass the line of scrimmage. Before the end of the 1st quarter, Tobias Castro scored a touchdown. The successful run attempt gave them the edge 21-0 by the end of the half.
After halftime, Justin Sablan scored his second touchdown of the day. This gave the Angels a feeling of comfort in their lead. However, Michael Santos scored a nice run into the end zone to give the Steelers hope in a comeback. This caused the Steelers fans to uproar in applause and cheers, supporting the kids in their attempt to battle the relentless Angels. Ultimately, the game ended with another victory for the Angels.
The player of the game was Justin Sablan. Sablan was a key player in the offense and so far, is a key reason for the Angels secure lead in the league, of course, with the help of the Angels staff and players.
Angels coach Reiko Concepcion commented on the dominant position the Angels have. "It feels good, but we always got to stay on our toes and be humble."
Sablan commented on the fact they played at Tamuning field, not Wettengel field (Angels home field). "It didn't really matter to us. The most important part of the game is to have fun."
METGOT ANGELS ROLL ON
The Metgot game showcased a lot of skill from the Angels, with a 49-0 win over the Steelers. Kaden Medler scored four touchdowns. Apollo Moylan and Noah Cruz scored six run PATs combined, and helped further the score to an insane length. Justice Alcantara also played a good offensive roll with three touchdowns to help settle the lopsided win.
WEEK 4 SCORES
Metgot
Outlaws 12, Cowboys 7
Packers 26, Raiders 0
Crusaders 6, Broncos 0
Angels 49, Steelers 0
Matua
Packers 26, Raiders 6
Cowboys 19, Outlaws 0
Broncos 15, Crusaders 7
Angels 34, Steeler 6
PHOTO GALLERY BROUGHT TO YOU BY: