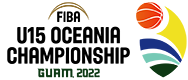 After a week's worth of international competition, Team Guam boys won the bronze medal of the 2022 FIBA U15 Oceania Championships on Saturday at the UOG Calvo Field House.
Another strong second half propelled Guam over Samoa for the bronze 78-69 after trailing at halftime 32-27.
Noah Cruz paved the way for Guam with 18 points on 8-of-12 shooting, while Noah Tenorio 16 points, 10 rebounds and five assists.
GIRLS BRONZE
With the two islands playing for bronze in both divisions, it was the Samoans beating our Guam girls 92-50.
Not a single Guam player hit double digits in scoring as Jia Peters and Maria-Jean Paulino both had nine points. Guam struggled from the field, shooting only 20%.
Australia took the gold as expected, beating New Zealand 100-54.