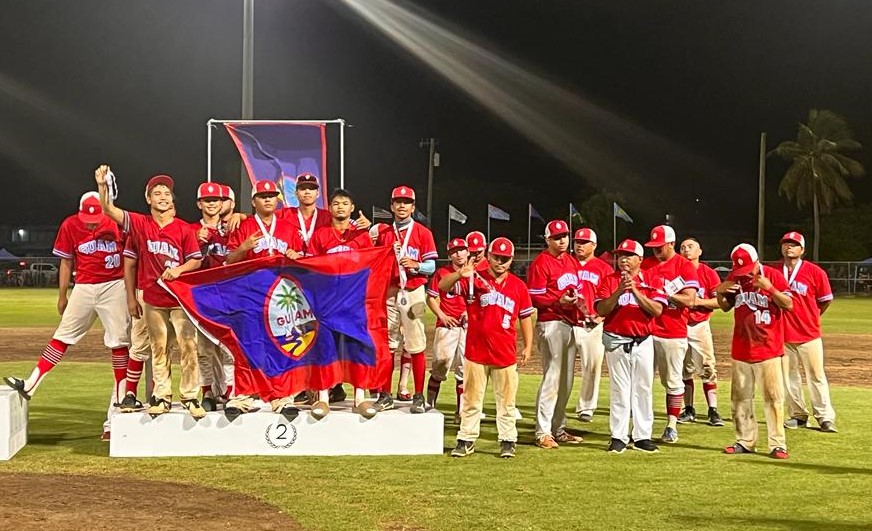 By Patrick Lujan
SAIPAN – It was only fitting that the biggest baseball rivals in the region start and end the 2022 Pacific Mini Games.
And like opening night, the CNMI reigned supreme once again as they continue their baseball prowess over Guam 12-9 in an action-packed gold medal game.
The experienced CNMI bats woke up for four runs in the 4th, five runs in the 5th and two more in the 6th to break the game wide open.
Meanwhile, CNMI ace Joshua Jones came in the 4th inning and took it home on the mound. This after a brilliant complete game, two-hit, 17K performance earlier in the day against Palau that brought them to the gold medal match.
"They're tough," Guam's Jaythan Muna-Barnes said about the CNMI club. "They brought the best of the best and hit the ball really well tonight. We did too, but there were some things we couldn't control."
Guam decided to go with crafty veteran Paul Pangelinan to get things started, an interesting move since Pangelinan had just pitched three innings in relief 21 hours prior Thursday night.
After an early game pitcher's duel, Guam jumped all over CNMI starter Franco Nakamura with four runs in the bottom of the 3rd highlighted by a Muna-Barnes stand up triple that scored two runs. Guaifon Terlaje capped the scoring with an RBI double to center for a comfortable 4-0 lead.
That didn't last long, however, as CNMI bounced right back to get four of their own off Pangelinan the very next inning. Juan Iguel launched a two-run double to the left field fence that tied the game at 4-4 as the CNMI crowd erupted.
After Muna-Barnes came up with another big RBI hit in the fourth to make it 5-4, CNMI exploded for five runs in the 5th and two more in the 6th to make it 11-5.
Guam's hustle and youth scraped off four more runs but couldn't quite get to Jones to pull off the comeback.
"Not bad for a young team," Guam manager Joe Tuquero said.
"I'm not disappointed. We really wanted the gold. We fought hard, but we didn't expect to come this far," said Guaifon Terlaje, who led Guam with three hits. "I'm really proud of my team."
"Our hearts are kind of broken. We worked really hard for this, but we'll be classy and humble in victory and defeat," said Muna-Barnes.
Muna-Barnes finished 2-for-3 and 3 RBI to lead Guam.
CNMI had their bats on fire led by Ben Jones, Jr.'s four-hit night. A.J. Lizama and Juan Iguel had fine nights as well with three hits each.
IRONMAN JONES
The 29-year-old pitching ace who hasn't represented the CNMI in eight years, beat Guam in the first game of the tournament with 13 strikeouts.
Jones pitched 127 pitches in the complete game against Palau during hot conditions and it was almost certain he won't be available during the gold medal game.
Everyone in attendance was wrong when he came in to relieve Nakamura to start the fourth inning and nothing was going to take him out.
He ended up pitching another six innings and 103 pitches. Yes, 15 innings, 230 pitches and 26 strikeouts.
Simply amazing!
"I was really tired physically," Jones said about his earlier complete game gem. "But it's my mind that came along and made me strong, especially today. Six G's baby!"
Jones was making reference to CNMI athletes who get a gold medal during these Games will receive $6000 as a reward from the local government.
As for the rivalry, Jones says it will only continue.
"(Guam) is really young and it's just the beginning for them. I told them to keep their head up and keep working hard. I'll see them again, for sure."

QUICK HITS
3rd place: Big ups to the Para Todu Rugby Club for finishing 3rd out of 16 teams in the Manila 10's Rugby Tournament today. Biba Guam Rugby!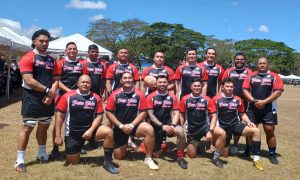 ——————————————
Guam MTB National Championship: Edward Oingerang and Jennifer Camacho are your 2023 MTB national champions. Oingerang finished the course in 1:13:24 while Camacho won her second straight title in 54:08.