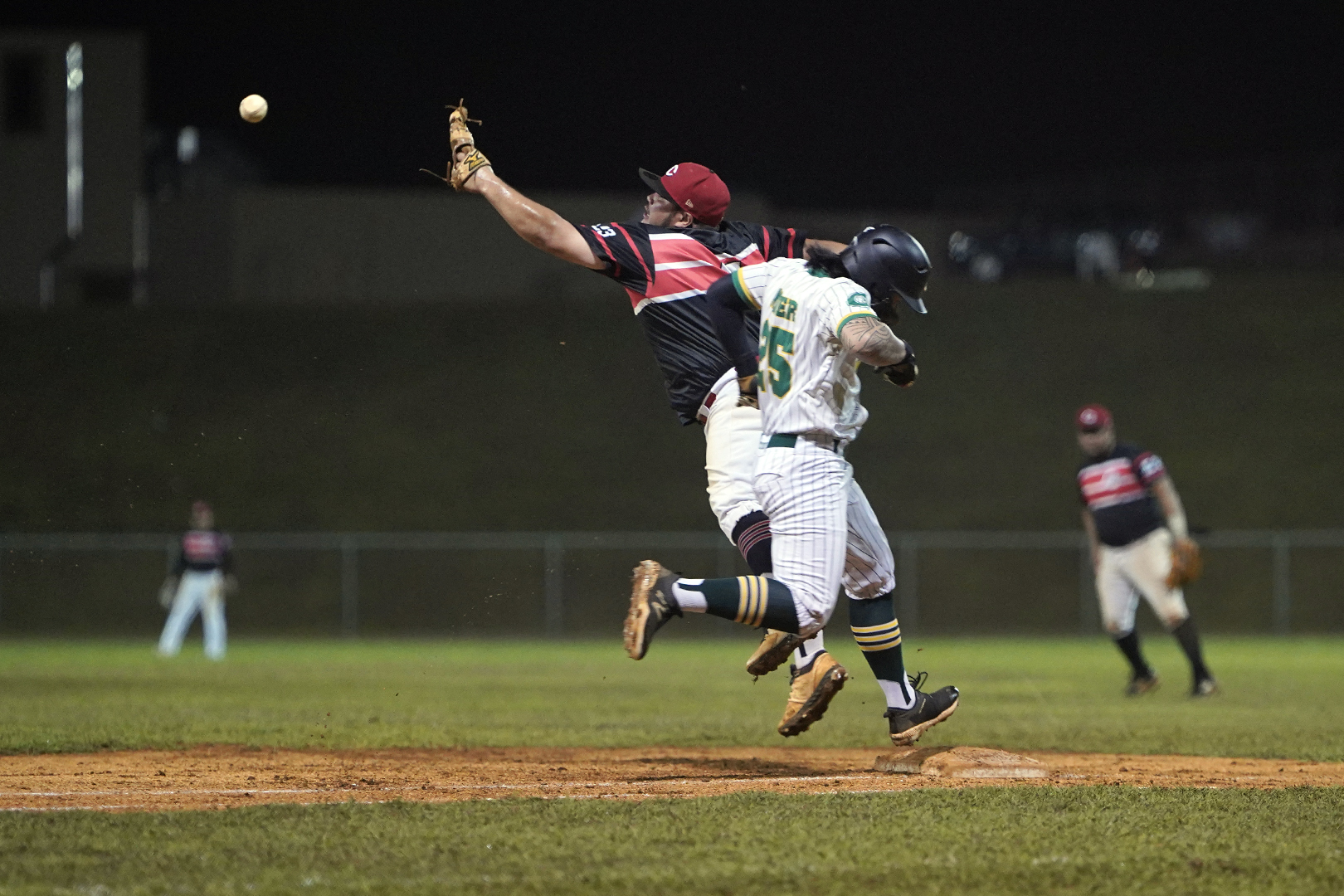 PRESS RELEASE – The University of Guam Triton Baseball Team was defeated on Tuesday night at the Triple J Baseball Complex at Okkodo High School 8-4 by the Crusaders in the Guam Amateur Baseball League championship to force the "If Necessary" game tonight at 6:30pm between the same two teams. UOG came into the championship game undefeated in the GABL playoffs but now both teams have one
loss each in the playoff round.
UOG took an early 1-0 lead in the bottom of the 2nd inning as Rico Miner reached first on an error by the Crusaders, was sacrificed to 2nd by Derrin Pangelinan and then singled in by Kobe Martinez. But the Crusaders came right back in the top of the 3rd with 6 runs to take a 6-1 lead.
The Crusaders sent 10 batters to the plate in the inning, collecting 5 singles, 2 UOG errors and two acrifices, one by bunt and one by a run scoring fly ball to score their runs in the innings. DC Nena had the big hit for the Crusaders in the inning, with a two-run single.

The Crusaders would score two more runs in the top of the 7th innings on three hits and another UOG error. The Tritons would score a single run in the 3rd inning and add two more in the bottom of the 7 th, but theCrusaders were too far ahead and UOG could never get back in the game.
O'Neil Yobech took the loss for UOG, he pitched all 7 innings of the game, giving up 10 hits, with 2vwalks and hit baseman and had 2 strikeouts. Freddy Cepeda Jr. got the win for the Crusaders as he threw all 7 innings as well, giving up 7 UOG hits, walking 4 and having 5 strikeouts.
Kaleb Cruz was the leading hitter in the game, getting three hits for the Crusaders while DC Nena, Kobe Quiambao and Shane Tenorio all collected 2 hits for the Crusaders. Kobe Martinez had two hits for the Tritons while Andrew Perez got the only extra base hit in the game for the Tritons, a double in the 7th inning that scored two runs.
The Crusaders improved to 11-3 on the overall season and have won five straight games in the Guam Amateur Baseball League playoffs after losing their opening playoff game. The Tritons fall to 8-4 in the league after winning their first three games in the GABL playoffs.
The "If Necessary" game will be played tonight (Wednesday, December 21) at 6:30 pm at the Triple J
Baseball Complex at Okkodo High School. It is a winner take the championship game as both the Crusaders and Tritons have one loss now in the playoffs.
The Crusaders are now 2-0 against the Tritons during GABL season, with one regular season win and one playoff win.
Crusaders 8, Tritons 4
Crusaders 3B DC Nena: 2 for 4, 2 runs, 2 RBI
Crusaders 1B Ray Leon Guerrero: 3 for 4, 2 runs, 1 RBI
Crusaders 2B Kaleb Cruz: 3 for 4, 1 Run, 2 RBI
Tritons C Kyle Martinez: 2 for 4, 1 run
Tritons 3B Andrew Perez: 2 for 3, 2 RBI
Tritons RF Kobe Martinez: 2 for 3, 1 RBI