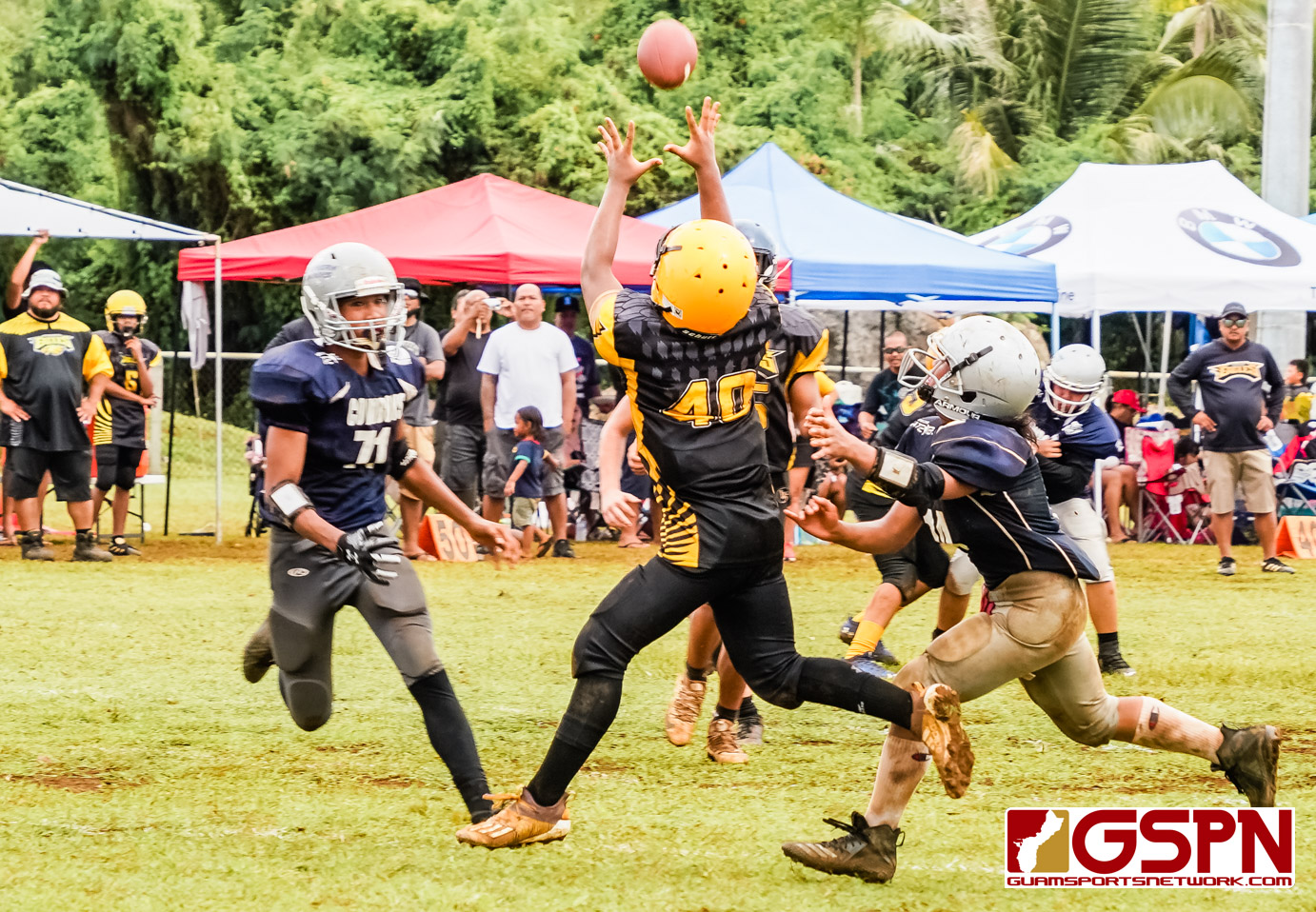 Cody Sanchez
Coming off their bye, the Matua Division Eagles faced a stiff challenge in the 2022 Triple J Ford GNYFF League down in Talofofo Field against the tough Southern Cowboys.
The Cowboys were the first to score against the Eagles, but it wasn't enough as the Eagles remained unbeaten 26-6 after coming into the game pitching three shutouts.
The overcast and breeze helped the parents and staff find comfort in an otherwise warm environment, however, the heat was intense on the field with the kids playing intense and rough football.
The first half belonged to the Eagles. Donte' Parker scored most of their touchdowns, running over 20 yards for the majority of his plays. His stature and overall size is an advantage that helped him catch many passes as well. The Cowboys, however, do not back down from a fight. Javin Meno scored a 10-yard dash into the end zone to put the Cowboys on the scoreboard. All the scoring was done in the first half at 26-6.
The entirety of the second half showcased no scoring, only tight defense on both ends. A notable player was Izayah Maysho with two clutch end zone plays. One where he blocked a pass that was going towards a player in the end zone, and another was an interception play.
Parker, who was the Wendy's Player of the Game, admitted today's game was tough with the Cowboys defense being challenging, especially in the second half. "The defensive line had a lot of pressure, which caused us to bounce out a lot," Parker said.
The biggest takeaway from this game is, the Matua division showcased great playmaking, especially on defense.
The Eagles remain unbeaten along with the 5-0 Hal's Angels as the league takes a one-week break,
METGOT
The Metgot game was the opposite of the Matua. The Cowboys came in with a stellar offensive, only allowing the Eagles to score once. The Cowboys had the a versatile energy, carrying their team to victory with good plays on both sides of the field. Ryan Jesus helped carried the way to victory, with good playmaking that outplayed the Eagles. The final score, 28-0.
PHOTO GALLERY BROUGHT TO YOU BY: