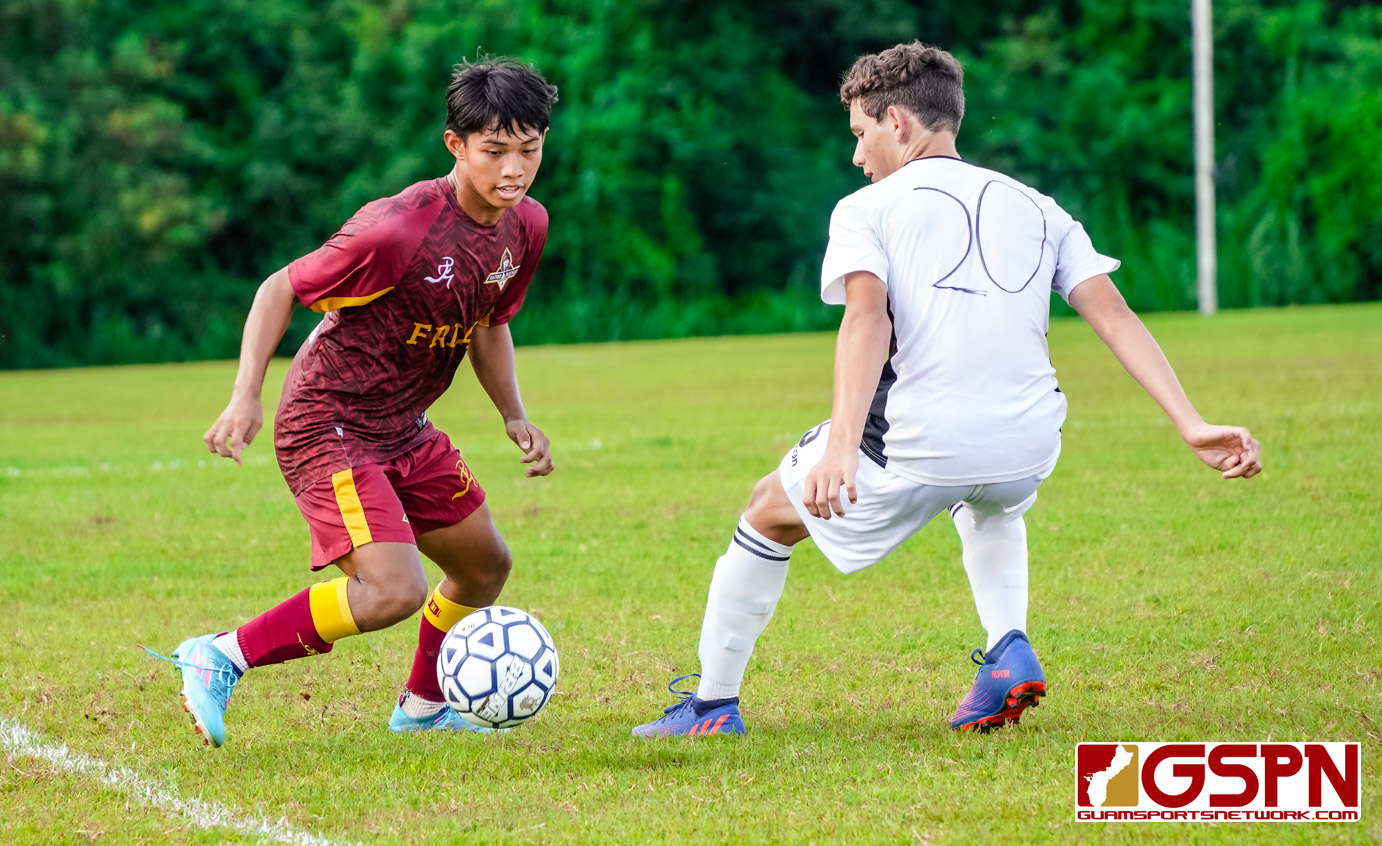 By Jay Leon Guerrero
The 2022 IIAAG Boys High School Soccer League opened up on Thursday with a championship game rematch between the defending champion FD Friars and the host Harvest Eagles.
Both teams fought hard and the game ended in a 1-1 tie with both goals coming in the second half.
The Friars defeated the Eagles in the 2021 championship game last year in a lopsided 6-1 victory to claim the IIAAG championship. The Eagles were hoping for some revenge on their home turf with Caleb Elwell, Levi Buckwalter and David Thompson leading the way.
The Friars have several potential All-Island players with Erwin Manibusan, Gio Devera, David Del Carmen and Samuel Stenson looking to score for FD.
Scoreless first half
The first half was scoreless after 40 minutes of play. Both teams had some difficulty setting up shots on goal with defenses focusing on dangerous strikers from both rosters.
Both teams were aggressive and a couple of yellow cards were handed out by the officials. Even the rowdy fans got into it, forcing school officials to regulate.
Friars strike first
The Friars ended the deadlock with Stenson maneuvering his was to a goal. Stenson received a pass from Nico Mesa and his shot sailed over the Harvest goalie for the score.
"We had a lot of first game jitters, we lost some good veterans," said Stenson. He said the Friars settled down after halftime: "It took us a while to mold and play like the team we should have been."
FD had a chance to add an insurance goal with Manibusan nearly scoring off a penalty kick. With 77 minutes into regulation, Manibusan had a beautiful kick the hit the top crossbar and the ball bounced straight down before Harvest goalie recovered for the save.
The Eagles tied things up at the 75th minute with Thompson scoring. "I got a touch and I saw an open lane on the right side. I saw the goalie was at the left so I kind of pinged in to the top right corner and thankfully it went in," said Thompson.
Thompson had opportunities in the first half, but it was FD backup goalie Zach Calvo making key saves to keep the Eagles at bay early.
"We came into the game wanting to get the win, but a tie is better than a loss so we'll take it," said Thompson.
"As a team, we are not satisfied, but we will learn from this game and get ready for our next one against ND," said Stenson.
The Eagles will play the Guam High Panthers next Monday at Guam High. The Friars have a bye round on Monday and will play the ND Royals on September 1st.
PHOTO GALLERY BROUGHT TO YOU BY: