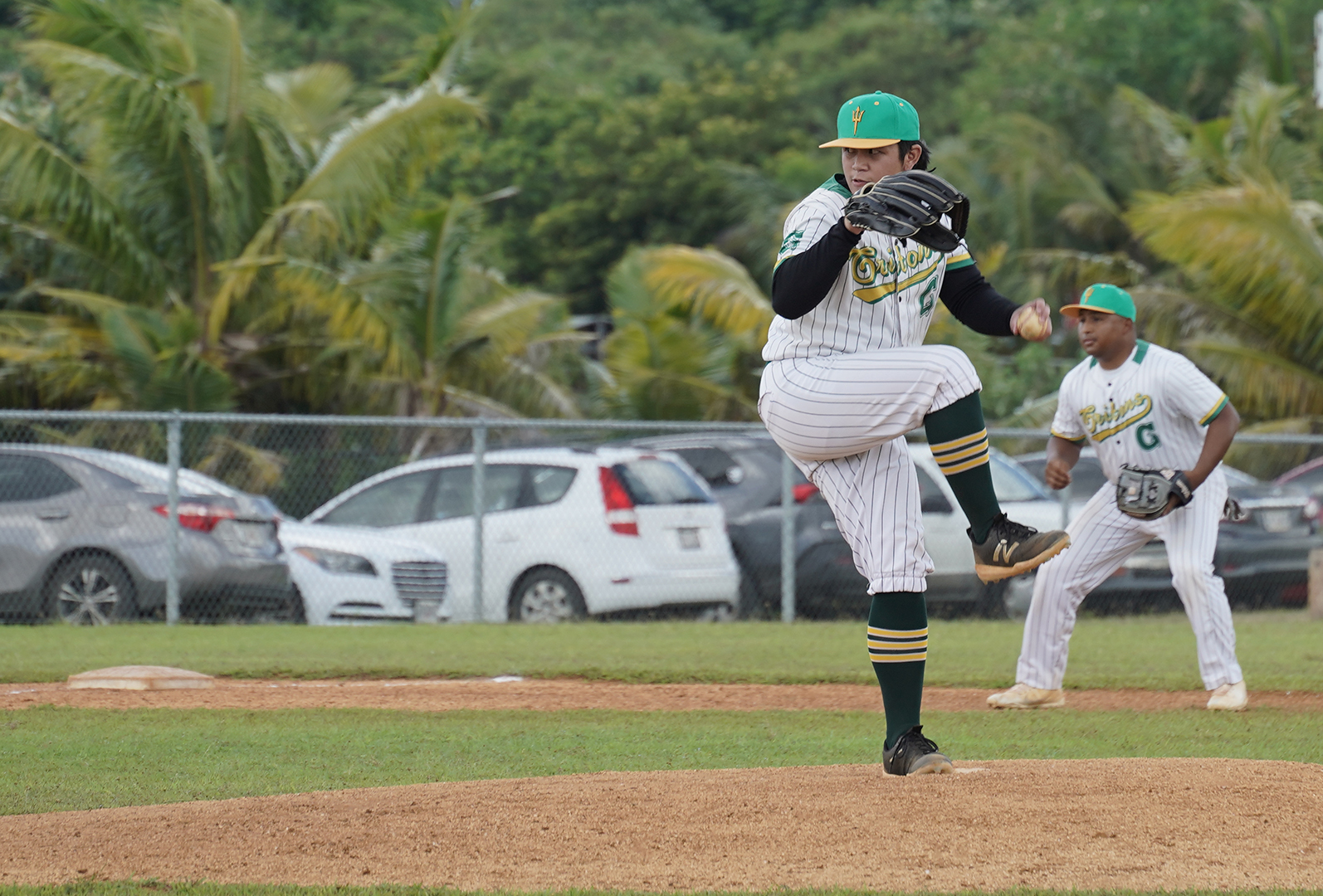 PRESS RELEASE – The University of Guam Baseball Team won the pitching duo on Sunday against the Amigos in the Guam Amateur Baseball League playoff game as Rico Miner of UOG took a no-hitter into the 7th inning on Sunday as the Tritons won the game 2-0.
The game was an off-speed left hander battle for both teams as Miner pitched against Andy Quintanilla of the Amigos and both pitchers are off-speed left-handed throwers. The Tritons were able to score single runs in the 2nd and 5th innings while Miner carried a no hitter into the 7th inning but gave up a one out infield hit and a single in the 7th inning but closed the door on Amigos with a strikeout and infield ground out.
The Tritons scored in the 2nd with an error, a single and two walks to push across the run. In the 5th , the Tritons scored again with a double by O'Neil Yobech who was driven in by an RBI single by Andrew Perez.
Miner was dominant on the mound, striking out 8 Amigos, allowing 2 hits with 2 walks. Quintanilla pitched well for the Amigos too, only allowing 4 Triton hits with 3 walks. He struck out 2 UOG players.
Yobech collected the only extra base hit in the game with a double, while Andrew Perez, Rico Seman and Kobe Martinez got singles for UOG. The Tritons will face the Cardinals next Sunday at 3 pm in the semi-finals of the winner's bracket in the Amateur League playoffs. The Amigos move into the loser's bracket of the tournament.
AMATEUR WEEKEND PLAYOFF GAME SUMMARY
PO#1 – Cardinals 9, Rangers 2
Cardinals 2B Ricky Arce: 2 for 4, 2 runs
Cardinals SS Joel Sablan: 2 for 3, 2 runs
Cardinals 3B TJ Sarmiento: 2 for 3, 2 run, 1 RBI
Cardinals C Dave Santiago: 2 for 3, 2 RBI
PO#2 – Pirates 8, Eagles 6
Pirates 2B Deshon Naputi: 3 for 4, 2 runs, 1 RBI
Pirates 3B Noah Cruz: 2 for 3, 1 run, 1 RBI
Eagles LF Ryan Martinez: 2 for 3, 2 runs, 1 BB
Eagles 1B Brandon Unpingco: 2 for 2, 2 BB, 4 RBI
PO#3 – Braves 10, Crusaders 2
Braves P Gavin Salas Player of the Game: 7 CG NO HIT Game , allowing 2 runs, 0 hits, 4 BB, 3 SO
Braves SS Matt Murciano: 2 for 4, 1 Run, 1 RBI
Braves LF Jerrick Gogue: 2 for 4, 1 run, 2 RBI
Braves 3B Herbert Pinaula: 2 for 4, 1 run, 1 RBI 
PO#4 – Tritons 2, Amigos 0
Tritons P Rico Miner Player of the Game: CG, allowing 4 hits, 2 BB, 8 SO 
PO#5 – Cardinals  8, Marlins 2
Cardinals P TJ Sarmiento Player of the Game: CG, allowing 2 runs, 4 hits, 1 BB, 1 SO; 3 for 4, 1 run, 2 RBI
Cardinals C DJ Perez: 1 for 1, 2 runs, 2 BB, 1 RBI
Cardinals CF Chris Quichocho: 1 for 3, 1 run, 1 BB, 1 RBI