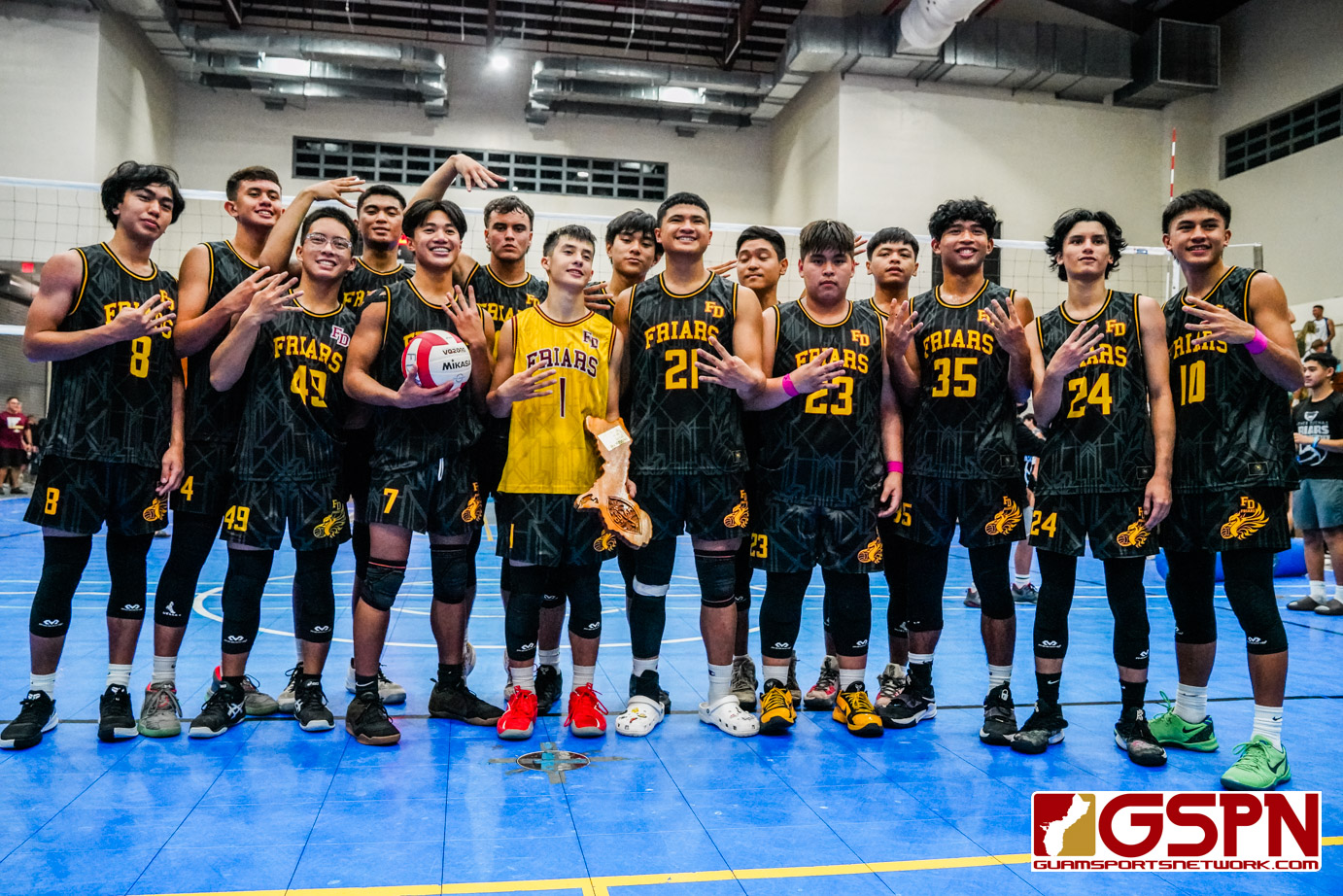 By Jay Leon Guerrero
Make that four in a row!
The Father Duenas Friars dynasty continues as they won their fourth straight IIAAG Boys Volleyball Championship after defeating the Harvest Eagles in straight sets (25-17, 25-22, 25-21) Tuesday night at the Southern gym.
Ethan Alvarez had an MVP-like performance and led the Friars to their fifth title in six years.
"This championship is a result of hard work. We did two-a-days from Monday to Friday and I'm proud of our team," said Alvarez. Alvarez had nine kills and seven aces for FD.
1st set
The Friars were fired up to start the contest with Alvarez picking his spot on the service line and recorded five – yes five – straight aces. The Alvarez jump serve was deadly and the Eagles needed to sub their rotation to finally get a clean pass. The Friars used those aces early in the match to maintain their lead and take the opening set 25-17.
"The first thing I had to make sure was to make the serve hard and in. Once it gets to their side of the net, it's their problem," said Alvarez. He had four kills and five aces in the first set alone to set the tone for the rest of the game.
The Friars learned a great deal from their regular season matches against the Eagles and it started with their defense. "We had to adjust both our front court defense and maintain good back row coverage against them. Wes Keith is an incredible hitter so we had to adjust to him and their middle hits," said Alvarez.
2nd set
The Eagles found their groove in the second set and setter Seungchan Lee went to Wes Keith to capture their first lead, 12-11. Keith recorded four early kills to help the Eagles take the advantage and they were up comfortably, 20-17.
The Friars called a timeout to regroup and their strategy worked with David Del Carmen on the service line. Del Carmen started a rally serving five straight points with Gabriel Sarmiento recording two kills during the run. Joseph Mafnas finished off the job with the final kill to give the Friars a 25-22 victory.
3rd set
The Friars looked to make it a sweep and went up 13-7 with accurate passes and seven straight points at the service line from libero Thomas Moylan. Facing elimination, the Eagles bit back with their own rally behind the offense of Coleman Pool and Jack Keith to tie the game 15-15.
The Eagles went ahead 19-16 with Wes Keith and Traven Ka'ae making plays at the net. The Friars countered with Mafnas attacking from the middle and Sarmiento recording another kill to surge ahead.
Alvarez marched up to the service line and blasted another ace and the final point was made by Barcinas to win the third set 25-21.
Wes Keith had a game-high 13 kills for the Eagles. Ka'ae contributed six kills while Raito Atsuta had two aces for the Eagles.
"He's (Wes Keith) such a great hitter, there's only so much you can do. You just have to try and guess on where he's going to hit," said Moylan. "For great players like him you have to try and take away his most efficient shot."
Moylan, a senior, said that the hard work for the last four years paid off. "I'm very glad to have finished with this team; this season was really good for us," said Moylan.
Kiko Damian had another solid performance for the Friars with seven kills and four blocks. Mafnas led the Friars with 10 kills; Sarmiento had nine kills.
"I had a lot of nerves for this game, I had to take deep breaths and remind myself to put the team first. I'm just glad we did it this year and we are going to try and do it again next year".

– Friar Gabriel Sarmiento
"Of course we are going to have confidence for next year but we are still going to have to continue to work hard to earn it," said Alvarez.
The ND Royals won the third place consolation game in four sets against the St. Paul Warriors.
PHOTO GALLERY BROUGHT TO YOU BY:

QUICK HITS
3rd place: Big ups to the Para Todu Rugby Club for finishing 3rd out of 16 teams in the Manila 10's Rugby Tournament today. Biba Guam Rugby!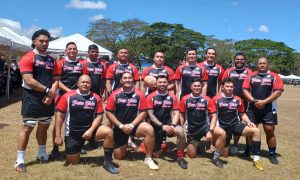 ——————————————
Guam MTB National Championship: Edward Oingerang and Jennifer Camacho are your 2023 MTB national champions. Oingerang finished the course in 1:13:24 while Camacho won her second straight title in 54:08.