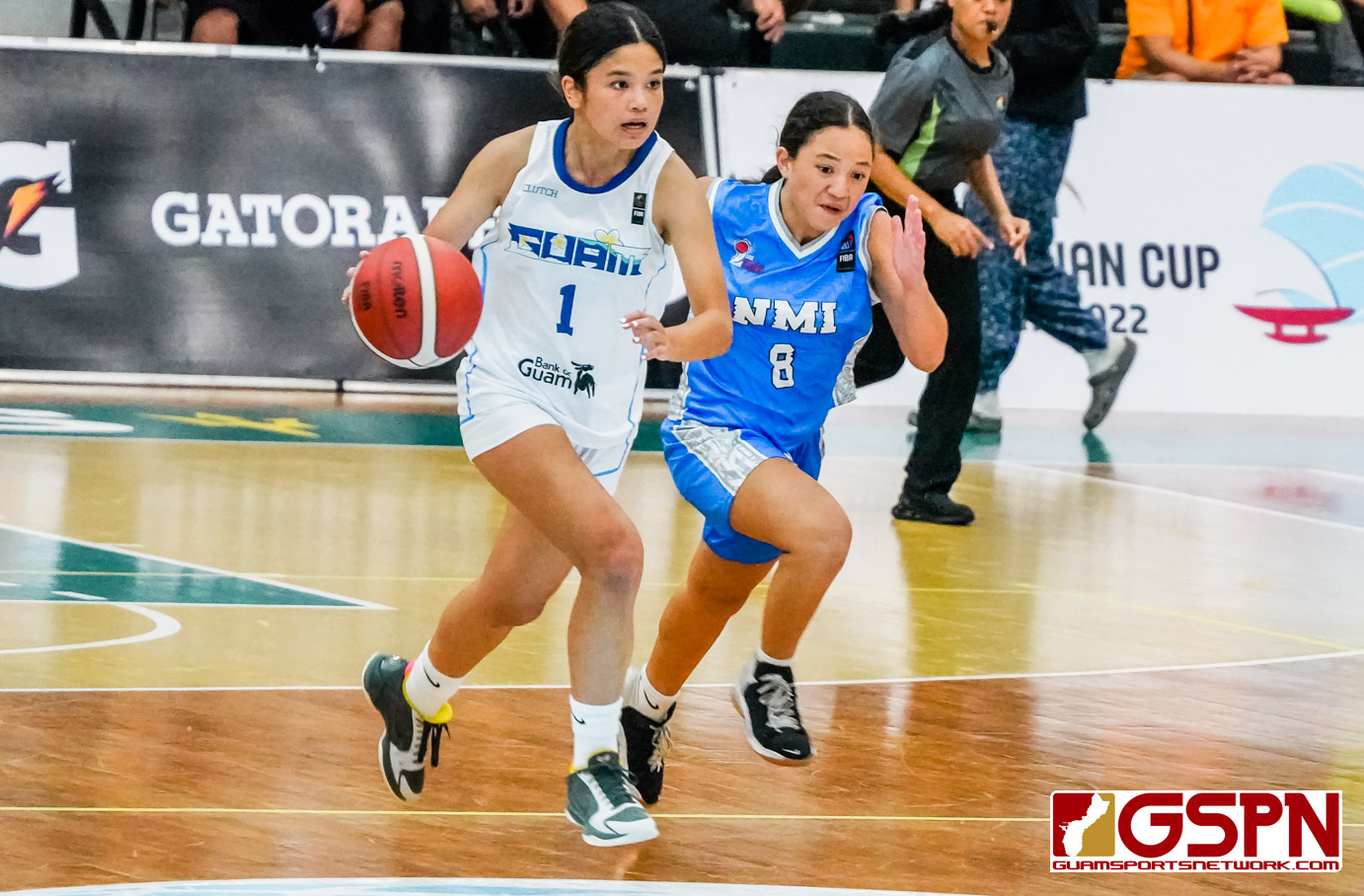 By Jay Leon Guerrero
The National Men's and Women's Team accomplished their mission and won the 2022 FIBA Micronesia Basketball Cup in front of the home crowd. The double victory comes to no surprise for local fans and supporters who witnessed the championship game held at the Calvo Field House in Mangilao.
The Guam Women defeated the Commonwealth of the Northern Marianas Islands (CNMI) 70-37, the Guam Men defeated Palau 93-45 to scoop both gold medals.
Four countries participated in the four-day tournament competing for the first time since the Micronesian Games. The CNMI, the Federated States of Micronesia (FSM), Guam and Palau participated in the tournament. Guam hosted the tournament with FIBA organizing the event.
Women's Final
Guam led from start to finish and defense was again the main strong point for the home team coached by Arlene Mad. Guam forced 30 turnovers and recorded 20 steals in the contest.
Mia San Nicolas had another solid game with 20 points and 13 rebounds. Elysia Perez made five three-pointers for Guam for 15 points; Kara Duenas contributed nine points, 11 rebounds, three steals and three blocks.
Men's Final
It was a different game but the strategy was the same for head coach EJ Calvo and the Guam Men's Team – get the ball to the big men. Guam had an obvious height advantage with power forwards Ben Borja and Matt Fegurgur combining to score the first 10 points for Guam.
Palau came out strong in the third quarter behind former JFK All-Islander Jerry Ngiraremiang. Ngiraremiang led Palau with 12 points.
Ben Borja once again led Team Guam in scoring with 23 points and nine rebounds. Mark Johnson Jr. posted a double-double for Guam with 14 points and a game-high 11 rebounds. Reo Aiken contributed 13 points; Matt Fegurgur added 11 points with two steals and two blocks.
"It's a great honor and opportunity to play in front of the home crowd again," said forward Michael Sakazaki. "I want to thank our island for the endless support they give to our national team and our players. I know we have many players that live on island and abroad, but our island never fails in supporting all that we do as players."
"Being born and raised here, it feels great to represent Guam on our chest and have our crowd behind us again," said Borja.
Just having the support from our crowd lifts us up as a team and we feel and feed off the energy. We have the sense of family and that runs deep with Guam," said Borja.
In the bronze medal games, the Palau women's team defeated the FSM 79-35 and the CNMI men's team defeated the FSM 82-78 in one of the closest games of the tournament. Chioni Dela led the men's CNMI team with a game-high 32 points.
PHOTO GALLERY BROUGHT TO YOU BY: