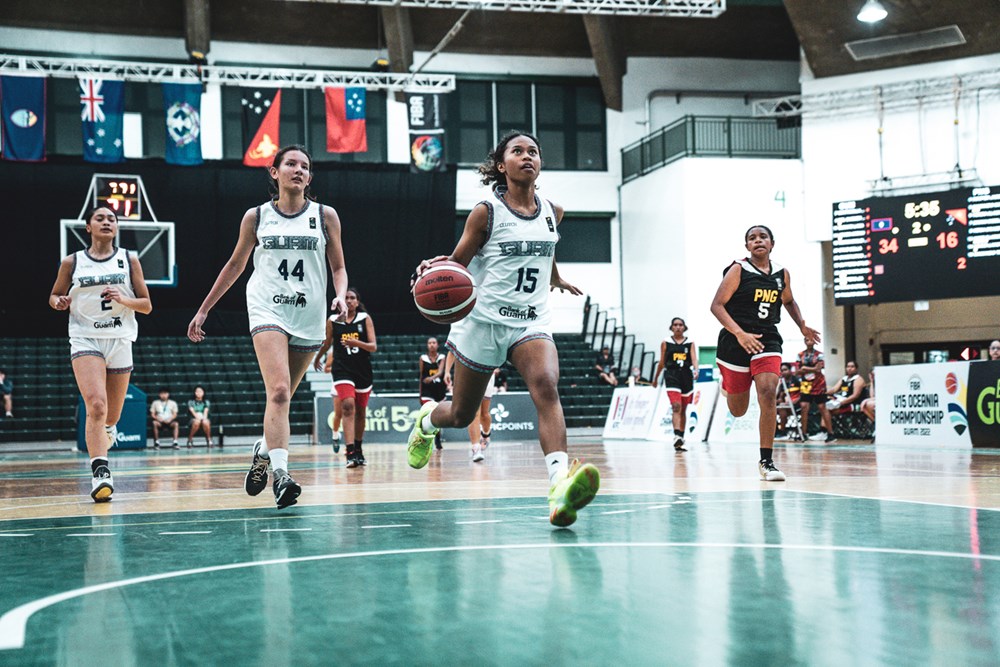 Team Guam had their way with Papua New Guinea in Day 2 of the 2022 FIBA U15 Oceania Championship, trouncing PNG 121-23 at the UOG Calvo Field House Tuesday evening.
Maria-Jean Paulino led the way for Guam with 20 points, 10 steals, six assists and four rebounds as Guam allowed zero points in the third quarter and only four points in the fourth quarter. That's right, four points allowed in the second half.
Eight Guam players scored in double digits: Ryanna-Lee Ngirchomlei (17), Lana Quinata (14), Arriah Arceo (13), Maddy Ada (12), Kimora Charfauros (11), Sazzanei Quintanilla (11) and Princess Amaragem Del Carmen (10) all chipped along with Paulino.
It was a steal fest as Guam picked PNG's pockets 48 times and outrebounded their opponents 59-40.
Guam finishes atop Pool B at 2-0 and and has Wednesday off. They return to the court Thanksgiving morning at 9 am where they will take on the loser of Wednesday's Australia/New Zealand matchup.
OTHER TUESDAY GAME: New Zealand 78, Samoa 70
ALL PHOTOS COURTESY OF FIBA
PHOTO GALLERY BROUGHT TO YOU BY:

2022 GSPN I MÅS METGOT COMPETITION
2022 GSPN I Mås Metgot Competition Recap
2022 GSPN I MÅS METGOT COMPETITION
2022 GSPN I Mås Metgot Competition Recap
2022 GSPN I MÅS METGOT COMPETITION
2022 GSPN I Mås Metgot Competition Recap
COMING SOON …