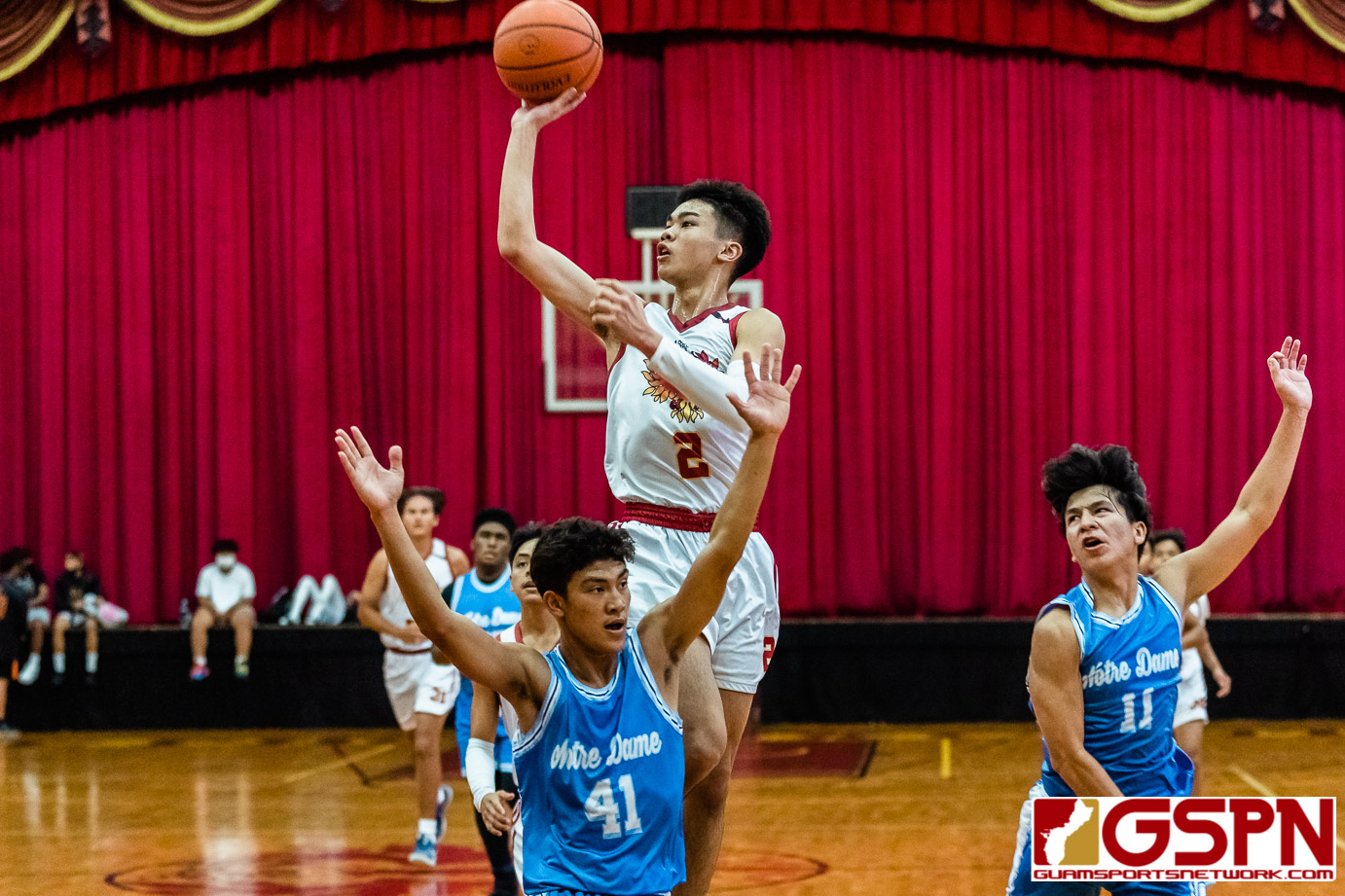 By Robert Balajadia
The FD Friars got their 2022 ISA/IIAAG Boys Basketball Season started on the right track after holding off the visiting ND Royals 46-39 Saturday afternoon. A strong opening 1st quarter with timely buckets in the 4th allowed the defending champs to get the tip-off win.
Friar Kaine Santos scored a game-high 20 points and teammate Jaden Santos added 16 big points with the Royals keeping the contest close in the second half.
ND's Kevin Tainatongo would split a pair of free throws to get the Royals within a single possession 40-37 with just under two minutes left to play. The Friars would respond on the ensuing possession as Kaine Santos would find Jaden open on the left wing for a much needed three-pointer to extend the lead 43-37.
"It's about patience; that's what wins our games. We treat every possession like it's so valuable because just one possession could cost us the game. So in that situation when I shot that three, I was just calm and trusted myself," said Jaden on nailing the big late-game bucket.
The Royals would get a late bucket from Dylan Santiago, but ND was forced to foul as Jaden and teammate EJ Acda would put the game out of reach.
"They dive for every dead ball, pressure you hard and they're just a good team overall," said Jaden on the Royals ability to keep fighting.
Tyler Concepcion lead all Royals with 10 points. Despite trailing 18-5 in the opening period, the Royals continued to fight after opening the 2nd quarter on a 10-2 run. The Friars too rolled with the punches with Kaine pacing the scoring for the team in the first half where he scored 12 of his 20.
"I think it had a lot to do with rebounding and our confidence," said Kaine on the Friars up and down quarters. "Energy had a lot to do with it to. We just needed to get over that."
Grabbing a win on opening day win was important for the relatively new-look Friars as they aim to get better on a game-to-game basis.
"This win gives us confidence in every other game we have and it really helps us build rhythm," added Kaine.
The Friars take on the Harvest Eagles Monday before setting up for a mid-week battle against the rival St. Paul Warriors on Wednesday. The Royals will host the Guam High Panthers Monday evening.
PHOTO GALLERY BROUGHT TO YOU BY: