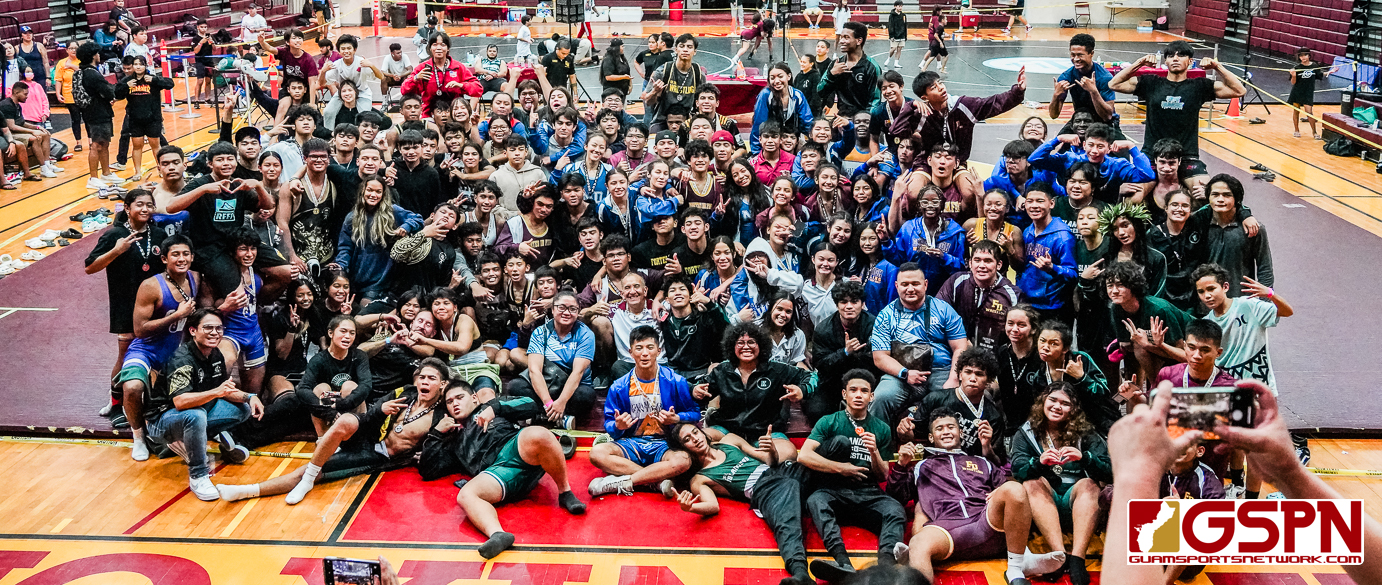 By Jay Leon Guerrero
The Father Duenas Friars won their seventh straight high school wrestling title after earning the 2022 ISA Wrestling Championship last night at the Phoenix Center in Mangilao. The dynasty continues with head coach Terry Debold leading the way for the Friars.
In the girls league, the ND Royals won their second straight title. The Royals came in as favorites and made a statement with five gold medals.
Boys results:
1st – FD Friars (131 pts)
2nd – Guam High Panthers (64 pts)
2nd – Tiyan Titans (64 pts)
4th – GW Geckos (48 pts)
5th – Southern Dolphins
6th – St. Paul Warriors
7th – JFK Islanders
8th – Okkodo Bulldogs
Girls results:
1st – ND Royals (107 pts)
2nd – JFK Islanders (67 pts)
3rd – Tiyan Titans (42 pts)
4th – Southern Dolphins (tie)
4th – Guam High Panthers (tie)
6th – GW Geckos
7th – St. Paul Warriors
Golden Royals
Aliana Eclavea (113), Sophia Kelly (119), Anita Manglona (126), Mia Naputi (155) and Aveyani Babauta (168) all won gold medals for the Royals to help defend the championship.
"As a team, we started really rough but came out on top in end," said Eclavea. Eclavea went undefeated for the year and was proud to help the team by winning an All-Island championship in her senior year.
Friars Dynasty continues
The Friars went undefeated for the season and their dynasty continues with another boys championship. Chalk another one up for head coach Terry Debold which dates back to the IIAAG league to make it seven straight.
"Our coaching staff is really good and also the wrestlers put in alot of hard work and effort. As long as you are consistent with the sport; you eventually will improve," said Eclavea.
Kyler Gambala, the 113-lb. champion, continued the legacy his two older brothers started. Gambala, a sophomore, credits disciplined coaching and the work ethic of the organization.
"It's both the conditioning and intensity of practices. We worked really hard as a team and kept each other going," said Gambala.
Gambala started it off with a gold in the 113-lb. division and Chris Angoco had an exciting come-from-behind win in the 126-lb. division to help the Friars establish early momentum.
Juan Flores (152), Trey Blas (162) and Tristan Burgos (182) secured the championship with gold medal victories.
Gandaoli wins 3rd All-Island gold
Laralei Gandaoli, a senior representing the St. Paul Warriors, celebrated her third gold medal in the All-Island event. "I have three, we missed a year due to COVID. This gold is a pretty big deal because it is my last year competing and I've been training for a while," said Gandaoli who won the 134-lb. division.
Gandaoli, along with Thomas Santiago from the boys 132-lb. division, won gold medals for the Warriors.
Rios brothers win medals for GW
Rayce and Rayn Rios won bronze and gold medals, respectively, for the Geckos. Rayn Rios won gold in the 170-lb. division, Rayce won bronze in the 152-lb. division.
Rayn, a freshman, went undefeated for the season. "This is my first year wrestling and this gold medal is special," said Rayn Rios who was later named MVP. "We all worked hard in practice and gave it 100 percent out there tonight."
Rayn Rios said the Gecko wrestling program is on an upward trend and he looks to help the team contend for a title in the future.
Four MVP'S were named for their outstanding performances at the All-Island meet. Seraya Garrido (JFK), Geziah Biou (Tiyan), Tani Aguero (JFK) and Rayn Rios (GW) were named MVPs in the respective weight classes after the meet.
PHOTO GALLERY BROUGHT TO YOU BY:
GIRLS DIVISION RESULTS
97
Guaranteed Places
1st Place – Alieah Garrido of John F. Kennedy High School Girls
2nd Place – Joie Santos of Notre Dame High School
3rd Place – Reana Sanchez of Tiyan High School Girls
4th Place – Destiny Cruz of George Washington High School Girls
1st Place Match
Alieah Garrido (John F. Kennedy High School Girls) 14-0, Fr. over Joie Santos (Notre Dame High School) 9-3, Jr. (Fall 2:29)
3rd Place Match
Reana Sanchez (Tiyan High School Girls) 5-5, So. over Destiny Cruz (George Washington High School Girls) 4-6, Fr. (Fall 1:25)
102
Guaranteed Places
1st Place – Seraya Garrido of John F. Kennedy High School Girls
2nd Place – Tori Debold of Notre Dame High School
3rd Place – Aubrey Blas of Tiyan High School Girls
4th Place – Dolores San Gil of Notre Dame High School
1st Place Match
Seraya Garrido (John F. Kennedy High School Girls) 14-0, Jr. over Tori Debold (Notre Dame High School) 4-3, Jr. (MD 10-0)
3rd Place Match
Aubrey Blas (Tiyan High School Girls) 4-4, Sr. over Dolores San Gil (Notre Dame High School) 5-6, Jr. (Fall 5:29)
107
Guaranteed Places
1st Place – Cirie Hawkins of Guam High School Girls
2nd Place – Ava Bennet of Notre Dame High School
3rd Place – Terilyn Agualo of Tiyan High School Girls
4th Place – Elyana Cruz of John F. Kennedy High School Girls
1st Place Match
Cirie Hawkins (Guam High School Girls) 15-0, So. over Ava Bennet (Notre Dame High School) 10-3, Sr. (Dec 13-9)
3rd Place Match
Terilyn Agualo (Tiyan High School Girls) 8-5, So. over Elyana Cruz (John F. Kennedy High School Girls) 7-7, Fr. (Fall 3:39)
113
Guaranteed Places
1st Place – Aliana Eclavea of Notre Dame High School
2nd Place – Auriana Hobson of John F. Kennedy High School Girls
3rd Place – Genae Villaluna of Southern High School Girls
4th Place – Camille Camacho of Notre Dame High School
1st Place Match
Aliana Eclavea (Notre Dame High School) 13-0, Sr. over Auriana Hobson (John F. Kennedy High School Girls) 9-3, Jr. (For.)
3rd Place Match
Genae Villaluna (Southern High School Girls) 10-3, So. over Camille Camacho (Notre Dame High School) 3-3, Jr. (Fall 3:47)
119
Guaranteed Places
1st Place – Sophia Kelly of Notre Dame High School
2nd Place – Zaira Leon Guerrero of George Washington High School Girls
3rd Place – Pettrini Blas of Guam High School Girls
4th Place – Jasani Taylor of John F. Kennedy High School Girls
1st Place Match
Sophia Kelly (Notre Dame High School) 11-0, So. over Zaira Leon Guerrero (George Washington High School Girls) 7-7, Fr. (TF-1.5 2:35 (17-2))
3rd Place Match
Pettrini Blas (Guam High School Girls) 5-1, Jr. over Jasani Taylor (John F. Kennedy High School Girls) 2-4, Jr. (MD 14-2)
126
Guaranteed Places
1st Place – Anita Manglona of Notre Dame High School
2nd Place – Laurieann Cavaco of Guam High School Girls
3rd Place – Sophia Limin of George Washington High School Girls
1st Place Match
Anita Manglona (Notre Dame High School) 9-0, Sr. over Laurieann Cavaco (Guam High School Girls) 6-3, So. (TF-1.5 4:00 (15-0))
3rd Place Match
Sophia Limin (George Washington High School Girls) 6-6, Fr. over () , . (Bye)
134
Guaranteed Places
1st Place – Laralei Gandaoli of St. Paul Christian School Girls
2nd Place – Kaila Castro of Guam High School Girls
3rd Place – Elyssa Gonzalez of Notre Dame High School
4th Place – Deajah Santos of Southern High School Girls
1st Place Match
Laralei Gandaoli (St. Paul Christian School Girls) 8-1, Sr. over Kaila Castro (Guam High School Girls) 10-2, Jr. (Fall 1:45)
3rd Place Match
Elyssa Gonzalez (Notre Dame High School) 7-5, Sr. over Deajah Santos (Southern High School Girls) 10-5, So. (Dec 6-2)
143
Guaranteed Places
1st Place – Makai`la White of Tiyan High School Girls
2nd Place – Skylar Nangauta of Southern High School Girls
3rd Place – Dina Soriano of John F. Kennedy High School Girls
1st Place Match
Makai`la White (Tiyan High School Girls) 11-0, So. over Skylar Nangauta (Southern High School Girls) 10-2, So. (Inj. 0:00)
3rd Place Match
Dina Soriano (John F. Kennedy High School Girls) 5-5, So. over () , . (Bye)
155
Guaranteed Places
1st Place – Mia Elizabeth Naputi of Notre Dame High School
2nd Place – Khloe-Ann Reyes of Southern High School Girls
1st Place Match
Mia Elizabeth Naputi (Notre Dame High School) 6-1, Jr. over Khloe-Ann Reyes (Southern High School Girls) 4-2, Jr. (Fall 0:55)
168
Guaranteed Places
1st Place – Aveyani Mirella Babauta of Notre Dame High School
2nd Place – Keanilynn Flores of George Washington High School Girls
1st Place Match
Aveyani Mirella Babauta (Notre Dame High School) 6-1, Fr. over Keanilynn Flores (George Washington High School Girls) 6-3, Fr. (Fall 1:32)
235
Guaranteed Places
1st Place – Tani Aguero of John F. Kennedy High School Girls
2nd Place – Daesha Fernandez of Southern High School Girls
3rd Place – Sage Luisa Domingo-Castro of Tiyan High School Girls
4th Place – Leila Jane Senior of John F. Kennedy High School Girls
1st Place Match
Tani Aguero (John F. Kennedy High School Girls) 13-0, Fr. over Daesha Fernandez (Southern High School Girls) 12-1, Jr. (Dec 6-3)
3rd Place Match
Sage Luisa Domingo-Castro (Tiyan High School Girls) 8-5, So. over Leila Jane Senior (John F. Kennedy High School Girls) 6-8, Jr. (Dec 3-1)
BOYS DIVISION RESULTS
106
Guaranteed Places
1st Place – KOA DELOACH of Guam High School
2nd Place – CAIDEN ALFEROS of Father Duenas Memorial School
3rd Place – ELIJAH ILAGAN of Father Duenas Memorial School
4th Place – EDGERIEN ESCUADRA of Southern High School
1st Place Match
KOA DELOACH (Guam High School) 2-0, . over CAIDEN ALFEROS (Father Duenas Memorial School) 1-1, . (Dec 9-8)
3rd Place Match
ELIJAH ILAGAN (Father Duenas Memorial School) 1-1, . over EDGERIEN ESCUADRA (Southern High School) 0-2, . (Fall 5:07)
113
Guaranteed Places
1st Place – KYLER GAMBALA of Father Duenas Memorial School
2nd Place – KAI DUENAS of Guam High School
3rd Place – RAIDEN HOBSON of John F. Kennedy High School
4th Place – JADEN ESCUADRA of Southern High School
1st Place Match
KYLER GAMBALA (Father Duenas Memorial School) 2-0, . over KAI DUENAS (Guam High School) 1-1, . (Dec 4-3)
3rd Place Match
RAIDEN HOBSON (John F. Kennedy High School) 2-1, . over JADEN ESCUADRA (Southern High School) 1-2, . (Dec 14-7)
120
Guaranteed Places
1st Place – CHRISTIAN VALENCIA of Tiyan High School
2nd Place – MICHAEL PETROS of St. Paul Christian School
3rd Place – MENDIOLA SHAWN of John F. Kennedy High School
4th Place – BRUNO DOAMARAL of Guam High School
1st Place Match
CHRISTIAN VALENCIA (Tiyan High School) 3-0, . over MICHAEL PETROS (St. Paul Christian School) 2-1, . (Fall 5:47)
3rd Place Match
MENDIOLA SHAWN (John F. Kennedy High School) 2-1, . over BRUNO DOAMARAL (Guam High School) 2-2, . (MD 12-0)
126
Guaranteed Places
1st Place – CHRIS ANGOCO of Father Duenas Memorial School
2nd Place – MELVEN ANICETO of St. Paul Christian School
3rd Place – SU`ANU DUENAS of Father Duenas Memorial School
4th Place – IAN SANTOS of Tiyan High School
1st Place Match
CHRIS ANGOCO (Father Duenas Memorial School) 2-0, . over MELVEN ANICETO (St. Paul Christian School) 2-1, . (OT 19-17)
3rd Place Match
SU`ANU DUENAS (Father Duenas Memorial School) 3-1, . over IAN SANTOS (Tiyan High School) 2-2, . (Dec 7-6)
132
Guaranteed Places
1st Place – THOMAS SANTIAGO of St. Paul Christian School
2nd Place – LANDON TAITINGFONG of John F. Kennedy High School
3rd Place – LOGAN ROSARIO of Father Duenas Memorial School
4th Place – MALCOLM ARENIEGO of Okkodo High School
1st Place Match
THOMAS SANTIAGO (St. Paul Christian School) 2-0, . over LANDON TAITINGFONG (John F. Kennedy High School) 1-1, . (Dec 8-7)
3rd Place Match
LOGAN ROSARIO (Father Duenas Memorial School) 1-1, . over MALCOLM ARENIEGO (Okkodo High School) 0-2, . (Inj. 0:00)
138
Guaranteed Places
1st Place – TAVION DUENAS of Guam High School
2nd Place – COLLIN NAPUTI of Southern High School
3rd Place – SEBASTIAN RILEY of Father Duenas Memorial School
4th Place – RAYNARD TONGOHAN of Tiyan High School
1st Place Match
TAVION DUENAS (Guam High School) 2-0, . over COLLIN NAPUTI (Southern High School) 3-1, . (MD 12-2)
3rd Place Match
SEBASTIAN RILEY (Father Duenas Memorial School) 3-1, . over RAYNARD TONGOHAN (Tiyan High School) 2-2, . (Fall 5:54)
145
Guaranteed Places
1st Place – GEZIAH BIOU of Tiyan High School
2nd Place – CODY GOGUE of Father Duenas Memorial School
3rd Place – MICHAEL ANICETO of St. Paul Christian School
4th Place – VICTOR BABAUTA of Guam High School
1st Place Match
GEZIAH BIOU (Tiyan High School) 3-0, . over CODY GOGUE (Father Duenas Memorial School) 2-1, . (OT 9-7)
3rd Place Match
MICHAEL ANICETO (St. Paul Christian School) 4-1, . over VICTOR BABAUTA (Guam High School) 4-2, . (Fall 1:17)
152
Guaranteed Places
1st Place – JUAN FLORES of Father Duenas Memorial School
2nd Place – GOFEL BMOON of Tiyan High School
3rd Place – RAYCE RIOS of George Washington High School
4th Place – GERALD MALANA of Tiyan High School
1st Place Match
JUAN FLORES (Father Duenas Memorial School) 3-0, . over GOFEL BMOON (Tiyan High School) 2-1, . (Dec 7-3)
3rd Place Match
RAYCE RIOS (George Washington High School) 3-1, . over GERALD MALANA (Tiyan High School) 2-2, . (Dec 11-6)
160
Guaranteed Places
1st Place – TREY BLAS of Father Duenas Memorial School
2nd Place – AETHAN LIMIN of George Washington High School
3rd Place – NATHAN BALBIN of Father Duenas Memorial School
4th Place – DRE AGUON of Tiyan High School
1st Place Match
TREY BLAS (Father Duenas Memorial School) 3-0, . over AETHAN LIMIN (George Washington High School) 2-1, . (Fall 1:22)
3rd Place Match
NATHAN BALBIN (Father Duenas Memorial School) 3-1, . over DRE AGUON (Tiyan High School) 2-2, . (Fall 4:55)
170
Guaranteed Places
1st Place – RAYN RIOS of George Washington High School
2nd Place – RYAN GOFIGAN of Father Duenas Memorial School
3rd Place – FRANCISCO LANADA of Okkodo High School
4th Place – BRIAN HAYES of George Washington High School
1st Place Match
RAYN RIOS (George Washington High School) 3-0, . over RYAN GOFIGAN (Father Duenas Memorial School) 3-1, . (MD 13-5)
3rd Place Match
FRANCISCO LANADA (Okkodo High School) 3-1, . over BRIAN HAYES (George Washington High School) 3-2, . (Fall 1:47)
182
Guaranteed Places
1st Place – TRISTAN BURGOS of Father Duenas Memorial School
2nd Place – IAN KIM of Okkodo High School
3rd Place – MIGUEL CHOLYMAY of George Washington High School
4th Place – CAMERON TAINATONGO of Southern High School
1st Place Match
TRISTAN BURGOS (Father Duenas Memorial School) 2-0, . over IAN KIM (Okkodo High School) 1-1, . (Fall 2:28)
3rd Place Match
MIGUEL CHOLYMAY (George Washington High School) 3-1, . over CAMERON TAINATONGO (Southern High School) 2-2, . (Fall 4:54)
196
Guaranteed Places
1st Place – GAVIN SAN NICOLAS of Tiyan High School
2nd Place – LANDON MENO of George Washington High School
3rd Place – SHAEDEN TAITAGUE of Southern High School
4th Place – MICHAEL JESUS of Southern High School
1st Place Match
GAVIN SAN NICOLAS (Tiyan High School) 2-0, . over LANDON MENO (George Washington High School) 1-1, . (Dec 9-2)
3rd Place Match
SHAEDEN TAITAGUE (Southern High School) 3-1, . over MICHAEL JESUS (Southern High School) 2-2, . (Dec 9-3)
220
Guaranteed Places
1st Place – TOMAS AGUERO of John F. Kennedy High School
2nd Place – AVERY ATOIGUE of Father Duenas Memorial School
3rd Place – JHAVIN MANIEBO of Southern High School
4th Place – ADYN THOMAS of Guam High School
1st Place Match
TOMAS AGUERO (John F. Kennedy High School) 3-0, . over AVERY ATOIGUE (Father Duenas Memorial School) 2-1, . (Fall 1:40)
3rd Place Match
JHAVIN MANIEBO (Southern High School) 2-1, . over ADYN THOMAS (Guam High School) 2-2, . (MD 12-0)
285
Guaranteed Places
1st Place – KWESI ANIAGYEI of Guam High School
2nd Place – RICHARD BORJA of Southern High School
3rd Place – MASON TAIJERON of Father Duenas Memorial School
4th Place – DONOVAN FLORES of Father Duenas Memorial School
1st Place Match
KWESI ANIAGYEI (Guam High School) 2-0, . over RICHARD BORJA (Southern High School) 1-1, . (Fall 1:32)
3rd Place Match
MASON TAIJERON (Father Duenas Memorial School) 3-1, . over DONOVAN FLORES (Father Duenas Memorial School) 2-2, . (Fall 0:50)