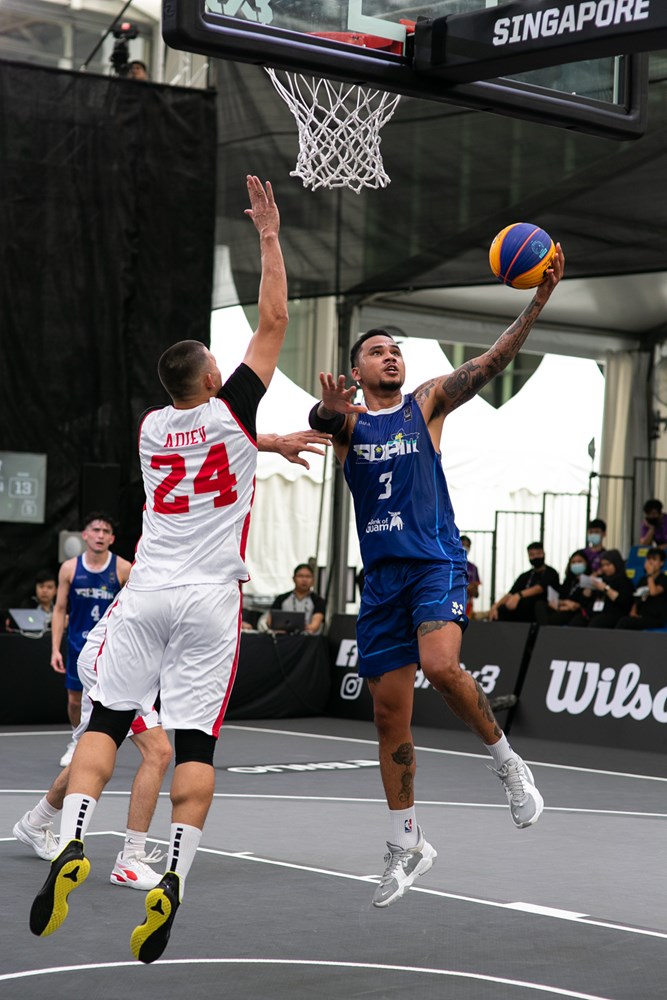 By Jay Leon Guerrero
Guam Basketball leaped over another hurdle Wednesday with victories in the FIBA Asia Cup 3×3 tournament in Singapore.
According to head coach EJ Calvo, Guam notched its first victories in the event. Guam entered the tournament ranked 22nd in the women's division and the men's team was 28th. Both teams would face higher ranked teams in their pool and definitive upset victories were needed to advance. Despite landing a day before their games, both teams were ready.
The women's team were only able to field three players with center Mia San Nicolas unable to attend.
Expect the unexpected when Guam takes the court.
Despite not advancing, both teams were able to get a victory – a first in the 3×3 Asia Cup.
"We are confirming…but our wins on Wednesday appear to be the first for Guam in FIBA Asia 3×3 competition," said Calvo. "They were awesome!".
Women's Team
The women's team had no subs with young prospects Kara Duenas, Elysia Perez and Mia Taitano taking on Asia's best.
In their first game, Guam faced a tall squad from Turkmenistan and fell 21-14. Duenas had to play center but her toughness showed the taller Turkmenistan players that Guam was not to be out hustled. Duenas was aggressive with her defense which frustrated the Turkmenistan forwards. Perez and Taitano were able to create shots for themselves and the game was close until the whining moments. Perez led all scorers in the contest with eight points.
In the women's next game, they faced Papua New Guinea and Taitano set the tone early with a 2-pointer. Perez continued to be aggressive and scored 11 points as Guam made history and won their first Asia 3×3 Cup game with a final score of 20-9.
The ladies played their third game of the tournament and after arriving the day before, fatigue may have been a factor against the 9th ranked Kazakhstan. Guam fell 21-4 in a game that eliminated them from advancing.
Men's Team
In the men's division, the team of Reo Aiken, Tomas Calvo, Matt Fegurgur and Mark Johnson entered the tournament ranked 28th. They took on the 8th-ranked Qatar team and struggled offensively. Guam lost 13-7 with Johnson leading the way with four points.
In their next game, Guam took on 13th-ranked Kyrgyzstan. The game started with Kyrgyzstan taking the lead and it looked like Guam was on their way to another loss. The young team dug deep, playing good defense and showing more patience on offense. Momentum shifted after Calvo rattled in a two-pointer. That paved the way for Fegurgur who added to his highlight reel with another dunk. Calvo's lay-up high off the glass gave Guam the lead for good as time wined down on Kyrgyzstan to give Guam the 15-13 victory over a higher ranked team.
The men's team finished 1-1 in pool G. Although both teams did not score enough to advance to the next round, their play earned them respect in the 3×3 game. Expect bigger things to happen in the future.

QUICK HITS
3rd place: Big ups to the Para Todu Rugby Club for finishing 3rd out of 16 teams in the Manila 10's Rugby Tournament today. Biba Guam Rugby!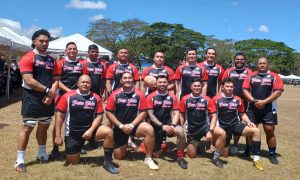 ——————————————
Guam MTB National Championship: Edward Oingerang and Jennifer Camacho are your 2023 MTB national champions. Oingerang finished the course in 1:13:24 while Camacho won her second straight title in 54:08.