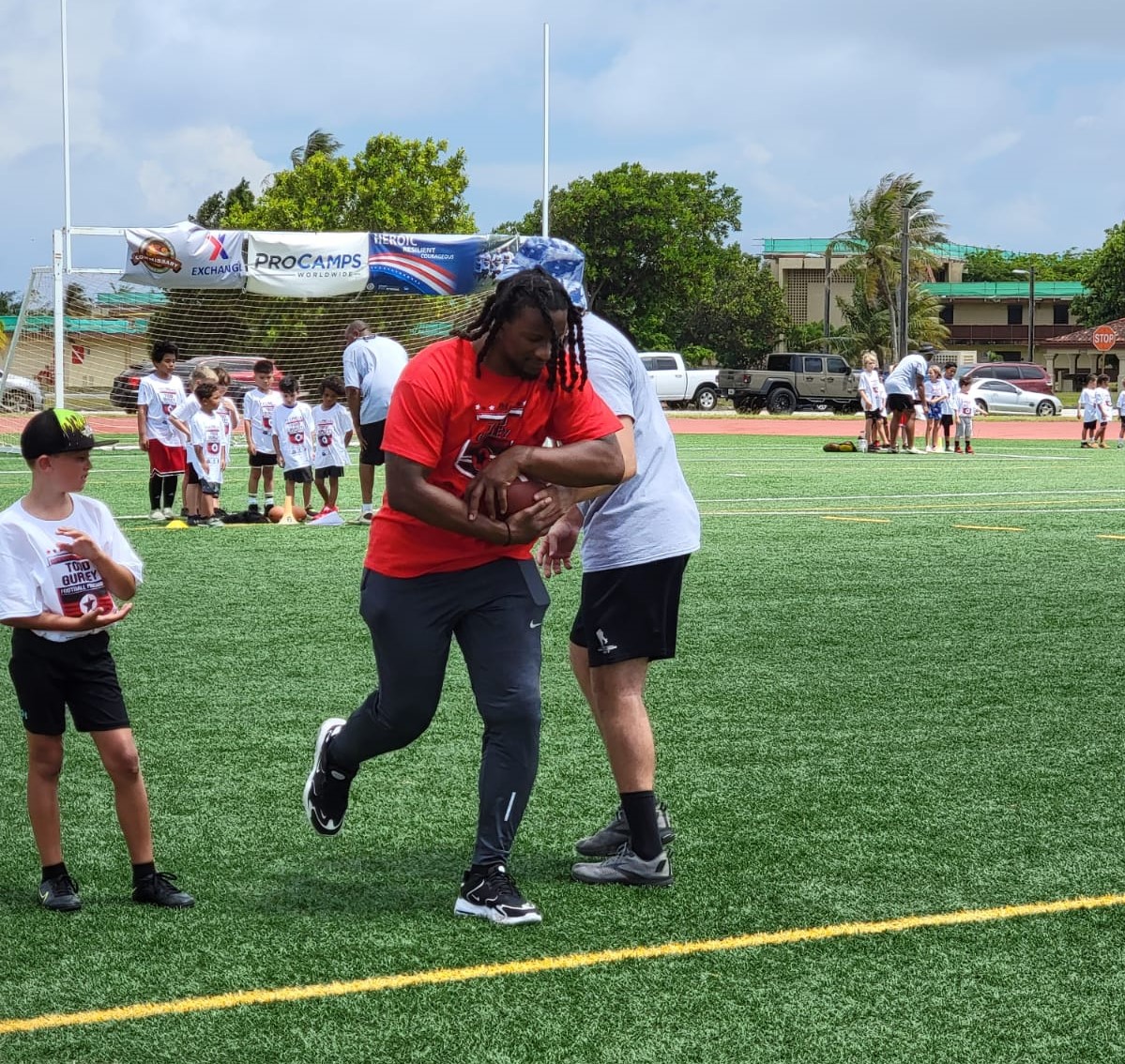 By Patrick Lujan
Former NFL All-Pro and Rookie of the Year running back Todd Gurley hosted his first day of two football camps on Saturday at the Andersen Air Force Base track.
Gurley, who brought along his dad Todd, is on island for the first time as part of a special program from Proctor & Gamble and the Air Force Commissary for military children.
Over 100 kids were on hand from ages 5-14 and were properly divided for drills that included running, passing and catching the football.
"I didn't know football was this big out here," Gurley told GSPN. "Never in a million years did I think I'd be doing a camp on Guam. A lot of my friends, including myself, didn't even know where Guam was, but look at me now."
Rain or Shine
Like a typical tropical Guam day, the weather went from warm and breezy to minutes of downpouring of rain followed by blistering heat.
That didn't stop Gurley, the volunteer coaches and the participants as they powered through.
"We got a little rain too, but a little rain don't hurt no body," Gurley said in the middle of the camp. "We're here to have fun. That's one of the biggest things we're telling the kids: have fun, treat other people with respect and work hard."
The former L.A. Rams star who's career was cut short due to injury is making the most out what life brings him.
He's managed to take in a few tours including lunch at Two Lover's Point and a round of golf at Talofofo Golf Course.
"It's been cool man. I'm been able to put my feet in the water and just relax."
"I like your red rice. The red rice is good."

– former NFL star Todd Gurley
Todd the Dad
The elder Todd came along with his son for the visit, helping out where a good dad could during the camp. The older Gurley was seen dancing along with the music on the sidelines and delivering bottled water to the volunteers.
"I just want to travel the world with my dad, especially being out here with him is an experience. When I was always playing, we never really had that much time, so to have my dad out here with me definitely means a lot, just having a good time and having fun."
PHOTO GALLERY BROUGHT TO YOU BY:

2022 GSPN I MÅS METGOT COMPETITION
2022 GSPN I Mås Metgot Competition Recap
2022 GSPN I MÅS METGOT COMPETITION
2022 GSPN I Mås Metgot Competition Recap
2022 GSPN I MÅS METGOT COMPETITION
2022 GSPN I Mås Metgot Competition Recap
COMING SOON …