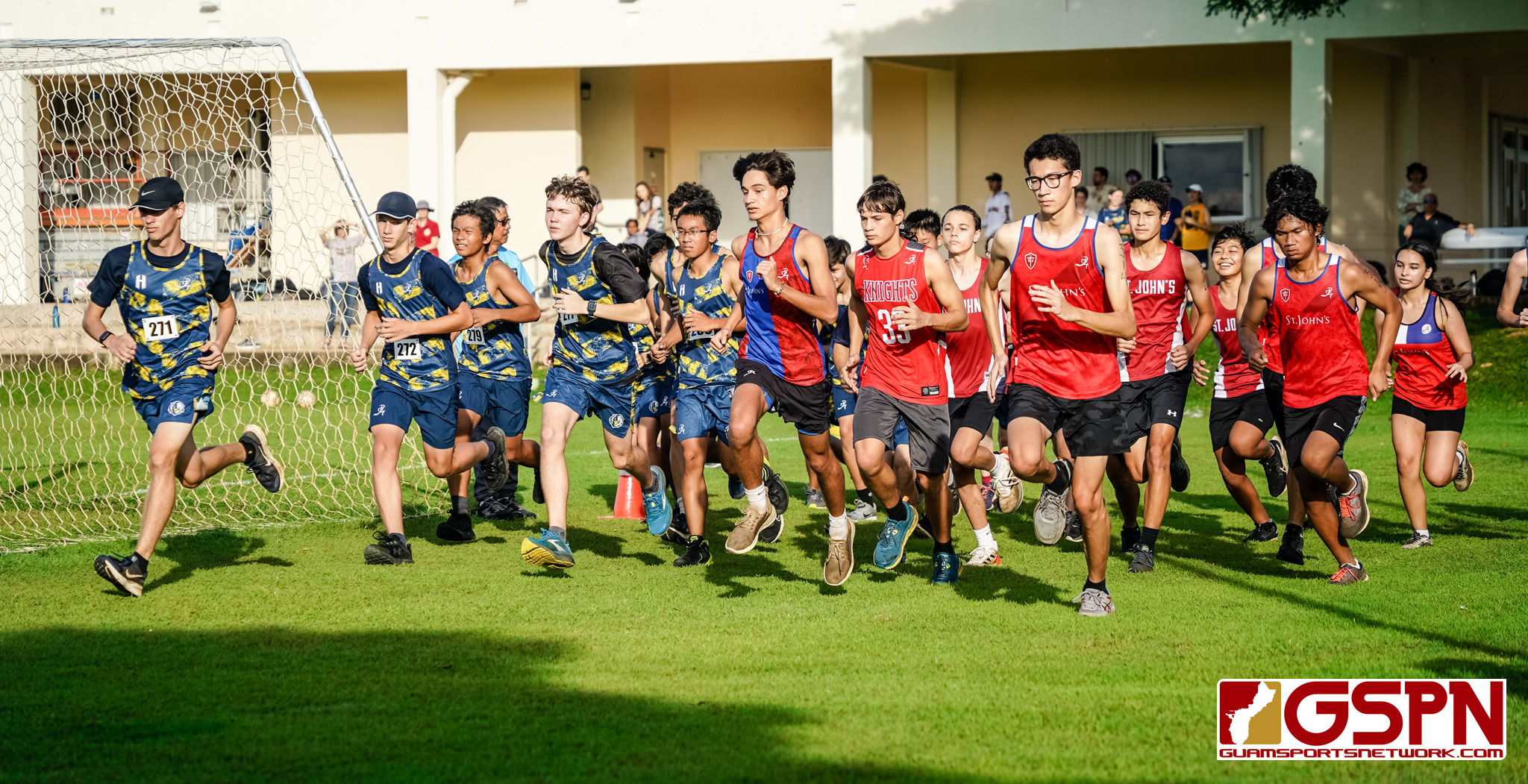 By Jay Leon Guerrero
The 2022 IIAAG Cross Country League started on Thursday with the first contest between the host Harvest Eagles and the St. John's Knights.
Elijah Dixon crossed the finished line first on his home course with a time of 20:57. St. John's sophomore Elizabeth Higley was the first female to cross the finish line at 27:29.
The Harvest boys won the meet 27-30. Harvest finished 1st, 3rd, 5th, 6th and 12th for a score of 27. St John's boys finished 2nd, 4th, 7th, 8th and 9th for 30 points in a close battle.
Dixon said some of his teammates helped coach the middle school team last quarter as assistant coaches. He said the pre-season coaching also helped prepare them for the season.
The girls race was a double forfeit with both teams unable to have the minimum five runners.
"Some of my teammates are sick and were unable to run today," said Higley. With more practices, both teams are hoping to have a full female squad next week.
"I think our team has a really good chance of winning a championship this year. If everyone works hard and shows up everyday, we can win a championship," Higley.
Higley, a new resident to Guam, has a goal of improving each week. "I want to get my times better with every meet," said Higley.
Team scores:
Harvest boys – 27, St. John's-boys – 30
Harvest girls – forfeit, St. John's girls – forfeit
Individual results:
1. Dixon, Elijah, HCA 20:57
2. Jackson, Jacob, SJ 22:49
3. Prins, Troy, HCA 22:59
4. Harmon, Curtis, SJ 23:12
5. Tran, Tony, HCA 24:30
6. Dixon, Gabe, HCA 24:35
7. Chun, Joshua, SJ 25:37
8. Hutapea, Tim, SJ 25:51
9. Flores, Nico, SJ 26:07
10. Marutani, Ryan, SJ 26:51
11. Olson, Drew, SJ 27:06
12. Tran, Jack, HCA 27:17
13. *Higley, Elizabeth, FSJ 27:29
14. Gonda, Shotaro, HCA 27:44
15. *Hughes, Olivia, FCHA 28:48
16. Duvall, Kaleb, HCA 28:57
17. *Shibanata, Shiyori, FHCA 29:07
18. *Wilson, Hazel, FSJ 30:18
19. Legaspi, Noah, SJ 30:35
20. Wei, Roger, HCA 30:50
21. Espia, Koren, HCA 31:52
22. Campus, Isaac, SJ 31:55
23. Dungca, Elijah, HCA 32:23
24. *Harper, Elisabeth, FHCA 34:06
25. Taylor, Devin, HCA 34:30
26. *Johnson, Nichole, FSJ 35:35
27. Whitehead, Zane, SJ 39:04 
* DENOTES FEMALE RUNNER
PHOTO GALLERY BROUGHT TO YOU BY: