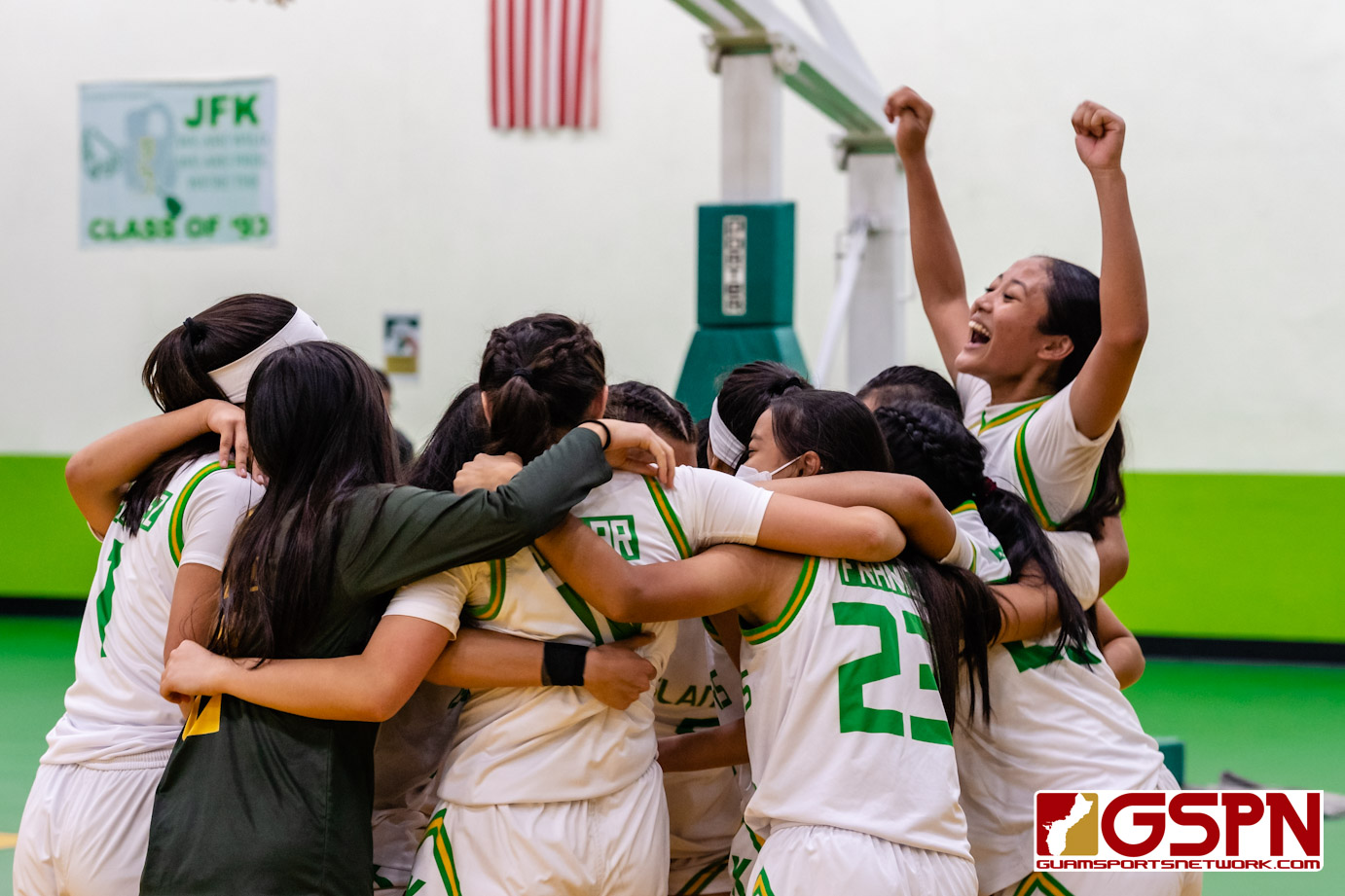 By Christine-Danielle Leon Guerrero
After 17 long years, the JFK Islanders are once again champions of girls basketball after defeating the Okkodo Bulldogs 44-41 to claim the 2022 ISA Girls Basketball Championship Friday night at JFK.
Reigning MVP Jada Han paved the way with a double-double (13 points and 12 rebounds) and Laila Smartt had a game-high 16 points and two huge blocks down the stretch.
Both teams struggled early to maintain possession of the ball as each team committed multiple turnovers, however, it was Han and Smartt who led the way for the Islanders scoring a combined nine points to give the Islanders an early 13-6 lead.
In the 2nd quarter, things began to pick up for the Islanders converting Okkodo turnovers into points and extending their lead to as much as 12 points. But it was Okkodo's Erin Moldez, Amaiya Fontanilla and Jasmine Samson who provided a much-needed spark for the Bulldogs. Moldez hit a 3-pointer with 10 seconds left in to cut the Islanders lead down to eight heading into halftime.
JFK's Smartt lad all scores at the half with eight points while teammate Han added seven points and seven boards. Okkodo's Moldez led her team with six points points and three boards.
Nursing an eight-point lead at the half JFK head coach Merwin Martin reiterated to his team the need to play solid defense in the second half. "I just told them to trust one another, continue to play solid defense, move the ball around and just be patient. I knew coming in that they were a very talented and well coached team. You cannot fall asleep against a team like Okkodo."
In the 3rd quarter, the Bulldogs cut into the Islanders lead behind back-to-back 3-point shots by Jaime Samson, but it was the Islanders Han and Smartt who combined for 10 point to extend the lead to 10 heading into the final quarter.
JFK had 10-point lead
In the final period, the Bulldogs began to cut into the lead as the Islanders struggled to find the basket. With 3:20 left in the game down 42-38, the Bulldogs Moldez found fellow teammate Samson for a wide open 3-point shot to cut the Islanders lead to one.
With the lead quickly slipping away, JFK's Smartt stated that, "we had a lead and it slipped away from us but I knew that I had to keep the team together…and keep them focused so that we can pull off the win."
With under 40 seconds left in the game, the Bulldogs fouled JFK's Han to send her to the free throw line for a one-and-one free throw. After the missed attempt by Han, Smartt grabbed the offensive board and was fouled in her attempt for a put back sending her to the line for a pair of successful free throws to extend the Islanders lead 44-41 with 36.6 seconds remaining.
"Those free throws were just about staying focused…focus was the main thing," said Smartt recalling her demeanor heading to the line with the opportunity to extend the lead for her team. Adding, "I haven't done one of those all season…I was waiting for it. I knew I had to get to the line to pull a bigger lead."
The Bulldogs had a few attempts to tie the game with a couple of 3-pointers, however, the shots could not hit their mark. JFK's Han came up big in the game's final 4 seconds with a huge block on the Bulldogs final attempt at a trey in hopes of sending the game into overtime. Han gained possession of the ball as the time expired, giving the Islanders their first championship since 2004.
"I knew they were going to try and shoot a three, so I had to look for the people who were going to shoot it…I found that person and just went for it and hoped for the best and I did it," said Han referring to her block in the final seconds of the game. Looking forward to next year Han stated that, "we're going to keep working hard and keep moving forward. I'm really excited for the future and I hope that we can keep that intensity going."
"I'm so proud of them…tonight it's about the girls. They were the ones on the court, fought hard and made sure that we brought a championship back to JFK. When I took over the program three years ago, it was my goal to bring a championship back to my alma mater. I've been very fortunate to have a lot of girls who were very coachable and willing learners who work hard every day." – JFK head coach Merwin Martin
TAITANO COACHING TREE
Coaching his first high school championship game, JFK's Martin is no stranger to the big stage. He was a star player for the 2004 Islanders championship team under then JFK head coach Joe Taitano.
Martin credited his past coaches for molding him into the coach he is today. "I can say that I wouldn't be the coach I am today if it wasn't for the coaches I had in the past…including Joe Taitano, Arleen Mad (current Okkodo head coach), Eladio Manansala and Ben Leon Guerrero. I learned a lot from that group and the core and backbone of my philosophy is from that coaching staff."
"I'm grateful for having the opportunity to have played for those coaches as well as the coaches I came across along the way with the junior nationals and nationals. I owe it all to them."
CHAMPION vs. CHAMPION on Saturday
With the win, the Islanders have punched their ticket to the 2022 Guam High School National Championships to face the IIAAG girls basketball champions Academy Cougars. The Girls Varsity National Championship game is set for Saturday 4 pm at the UOG Calvo Field House.
PHOTO GALLERY BROUGHT TO YOU BY:

Foody's Fun Facts
Foody's Fun Facts with Arren Yatar
UOG Tritons Pitcher Arren Yatar shares some of his fun facts and tells us about his favorite YouTube channel!
Foody's Fun Facts
Foody's Fun Facts with Arren Yatar
UOG Tritons Pitcher Arren Yatar shares some of his fun facts and tells us about his favorite YouTube channel!
Foody's Fun Facts
Foody's Fun Facts with Arren Yatar
UOG Tritons Pitcher Arren Yatar shares some of his fun facts and tells us about his favorite YouTube channel!
COMING SOON …
Spirit of '76 Run
National Triathlon Championships
GML Makeup Games
FD Alumni Basketball Tournament (ongoing)