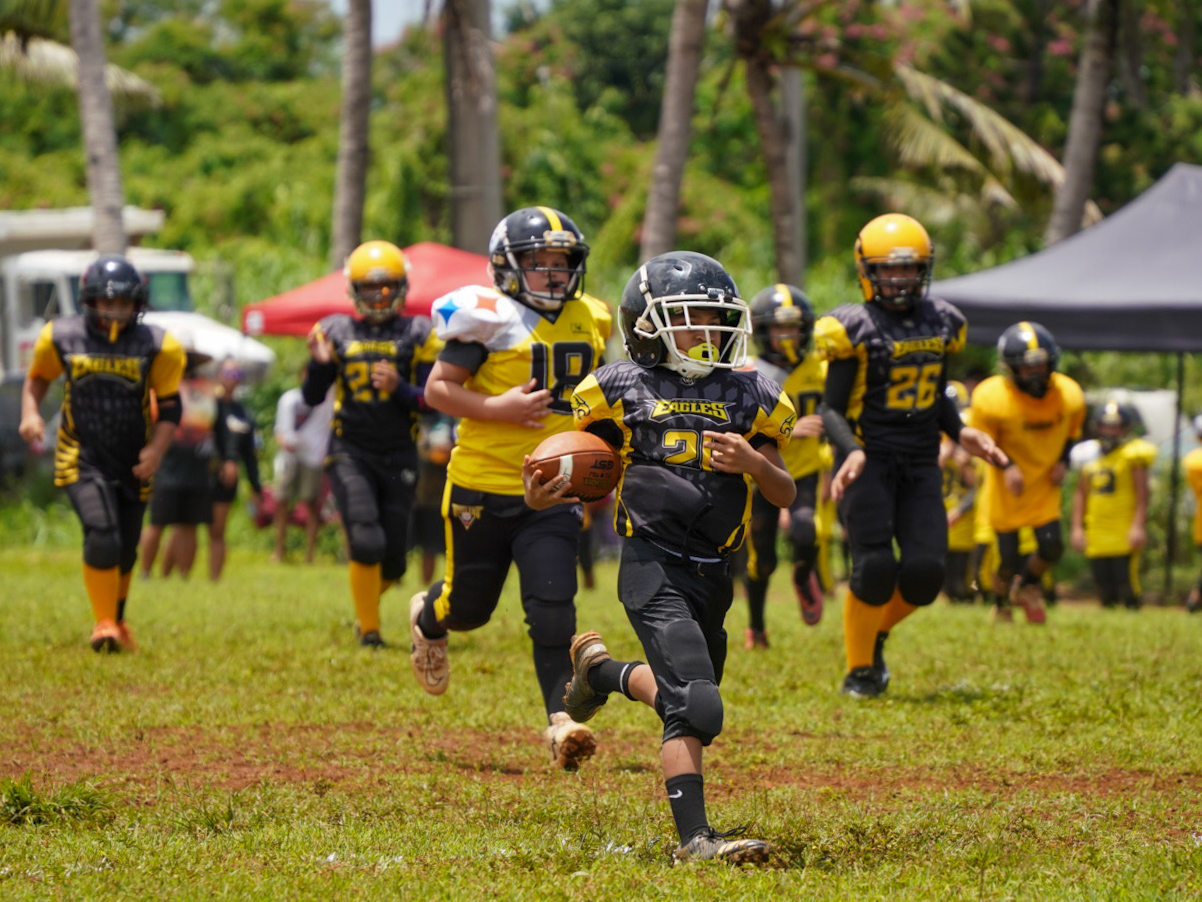 By Cody Sanchez
As the 2022 Triple J Ford GNYFF League winds down in Week 8, Saturday's Metgot Division matchup between the Eagles (3-3) and Steelers (2-4) seemed to be the most competitive matchup on paper – but that's why they play the game. An added interest was the similarity in team colors (black and yellow) that made things even more difficult to follow.
The Eagles jumped out early and finished strong led by Cole Brub and Rio Reyes, on their way to a big 42-17 win, keeping their slim playoff hopes alive.
Eagles Field was sunny and had a familiar heat and humidity that is textbook for a typical Saturday afternoon youth football game. As the first kickoff started, almost immediately, points were added to the scoreboard by the speedy Reyes, who ran for over 30 yards into the end zone for the Eagles.
The Steelers, however, showed they would not back down as they actually took a 12-6 lead highlighted by a 30-yard touchdown by Kanaloa Aflleje.
The tandem of Brub and Reyes took over from there as two long Brub scoring runs and another from Reyes saw the Eagles take a comfortable 27-12 lead at halftime.
The second half opened slightly cooled than the start of the game due to the rainfall. This rainfall caused many sudden slips and trips in some plays made by both teams. The Eagles seemed to not mind the change of weather, since Brub scored all the touchdowns in the second half. One of his best plays was at the tail end of the game, where he stripped the ball on a defensive play and ran for 30 yards to solidify the Eagles win with again another touchdown.
PLAYER OF THE GAME
No surprise that Brub was the Wendy's Player of the Game. The young man ran for over 100 yards, and scored five touchdowns. Not to mention his contribution on both sides of the field. "The rainfall had no effect on our plays, and this win means everything to us," said Brub during a postgame interview. Eagles coach Mitchell Charfauros said, "This win means a lot to us, but we still got a lot to learn."
In order for the Eagles to sneak into the Metgot playoffs, they will have to win their final regular season game against the Angels next Sunday and the Southern Cowboys will have to lose their last two games.
MATUA DIVISION
The Eagles remained unbeaten at 7-0 with a convincing 32-8 win over the Steelers. It was only the second touchdown allowed by the Eagles defense and the first conversion all season.
If the Hal's Angels take care of business on Sunday against the Outlaws, it will set up a showdown of 7-0 teams on the final regular season game next Sunday between the Angels and Eagles.
OTHER SATURDAY GAMES
Metgot: Raiders 7, Crusaders 6
Matua: Crusaders 10, Raiders 6
PHOTO GALLERY BROUGHT TO YOU BY:

2022 GSPN I MÅS METGOT COMPETITION
2022 GSPN I Mås Metgot Competition Recap
2022 GSPN I MÅS METGOT COMPETITION
2022 GSPN I Mås Metgot Competition Recap
2022 GSPN I MÅS METGOT COMPETITION
2022 GSPN I Mås Metgot Competition Recap