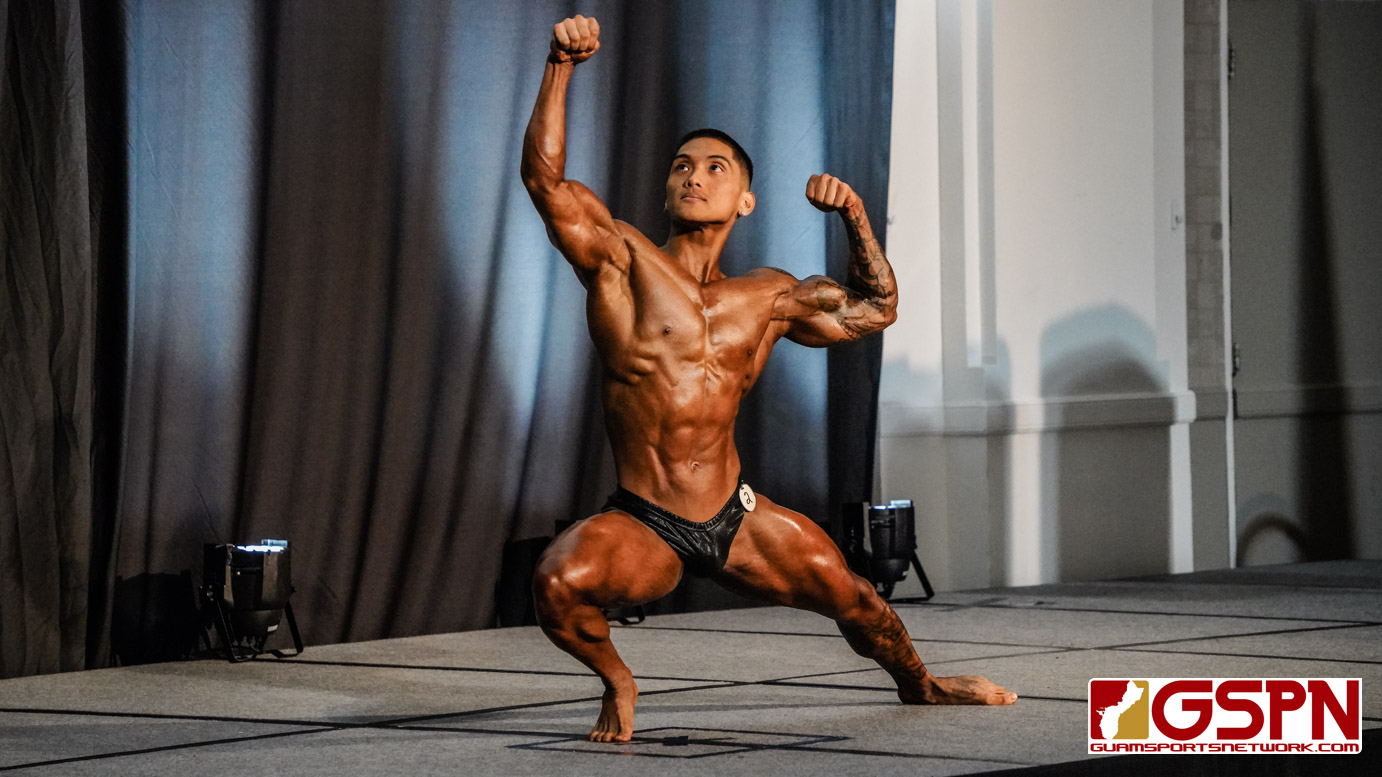 By Jay Leon Guerrero
The ballroom was packed!
Supporters flocked the RIHGA Royal Laguna Resort to witness the 2022 NPC Guam National Bodybuilding Championships presented by Michelob Ultra and Paradise Fitness Center Saturday night.
Runell Balecha (men's overall classic title), Joshua Cantara (men's overall physique title) and Zoey Chargualaf (women's overall) celebrated wins in their respective categories.
From the seating areas to the doorways and the hallways, fans chanted for their favorite contestant. The men took the stage first with Bulecha winning the bantamweight category and later crowned the overall champion.
Cantara advanced to win the overall classic physique division after being crowned the category B division winner.
After an intermission, the ladies took the stage for the finale. Chargualaf won the Bikini A category to stamp her ticket to the overall finals.
The judges called upon Chargualaf and Bikini B division winner Brittany Borja to center stage as the judges deliberated. "It was incredible to be up there, all the girls looked amazing," said Chargualaf.
"I'm blessed to have great people to guide me. From my nutrition coach Steve Oshiro, to my posing coach Jeralyn Mesa and most especially my dad (Joseph Chargualaf) who had been training me for the last two years," said Chargualaf.
For most competitors, this marked their first competition but the results of hard work were displayed on stage.
Leanne Biasa won the master bikini division and was grateful for the opportunity. "This is my first time competing. I came here to get on stage and that was my win," said Biasa.
"I dedicated seven days a week, bringing three of my kids with me to train for this. I felt I got to the best shape of my life and it felt so awesome," said Biasa.
In the men's heavyweight bodybuilding division, Jason Cruz worked his way onto the stage for the 20 year in a row, this time taking top honors.
BODYBUILDING
Bantamweight
1st: Runell Balecha
2nd: Manuel Bondoc III
Lightweight
1st: Alfie Silverio
2nd: Jaime Rodriquez
Light Heavyweight
1st: Bryen Carbullido
2nd: Roy Flores
Heavyweight
1st: Jason Cruz
Masters
1st: Jaime Rodriquez
2nd: Jason Cruz
PHYSIQUE
Classic Class A
1st: Runell Balecha
2nd: Aldriick Kittles
3rd: Daniel Tate
4th: Alex Torres
5th: Anthony Bragg
Classic Class B
1st: Joshua Cantara
2nd: Alfie Silverio
3rd: Jerome Diyco
Classic Class C
1st: Bryen Carbullido
Men's Class A
1st: Ian Milan
2nd: Wickbol Monno
3rd: Rene Picayo
4th: Kyle Aninzo
5th: Dannie Baisa
6th: Sherwin Movida
7th: Manual Mondoc III
Men's Class B
1st: Joshua Cantara
2nd: Ryan Tyler
Men's Class C
1st: Ikhyun Tevid
2nd: Brandon Blas
Men's Class D
1st: SeongJu Pak
Bikini Class A
1st: Zoey Chargualaf
2nd: Angel San Agustin
3rd: Rea Dimag
4th: Kimberly Kaneshiro
5th: Leanne Baisa
6th: Meghan Perisco
7th: Dev Curtis
8th: Angelina Villacrusis
9th: Lucy Johnson
Bikini Class B
1st: Brittany Borja
2nd: Dareon Rios
3rd: Nicole Glory
Bikini Class C
1st: Shanika Tophia
2nd: Chelsey Murphy
3rd: Phoebe Palisoc
Bikini Class D
1st: Rachel Scott
Masters Bikini
1st: Leanne Baisa
2nd: Lucy Johnson
PHOTO GALLERY BROUGHT TO YOU BY:

QUICK HITS
The Guam Smokin' Hot women's softball team captured first place in the Asia Cup Softball Championships 2023 in Bangkok, Thailand.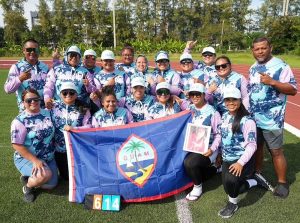 ——————————————————-
Roque Martinez gets the unanimous decision win Saturday night in his debut fight in South Korea's Black Combat promotions.
The 37-year-old controlled the tempo all three rounds and bloodied his opponent with some 3rd round ground and pound.