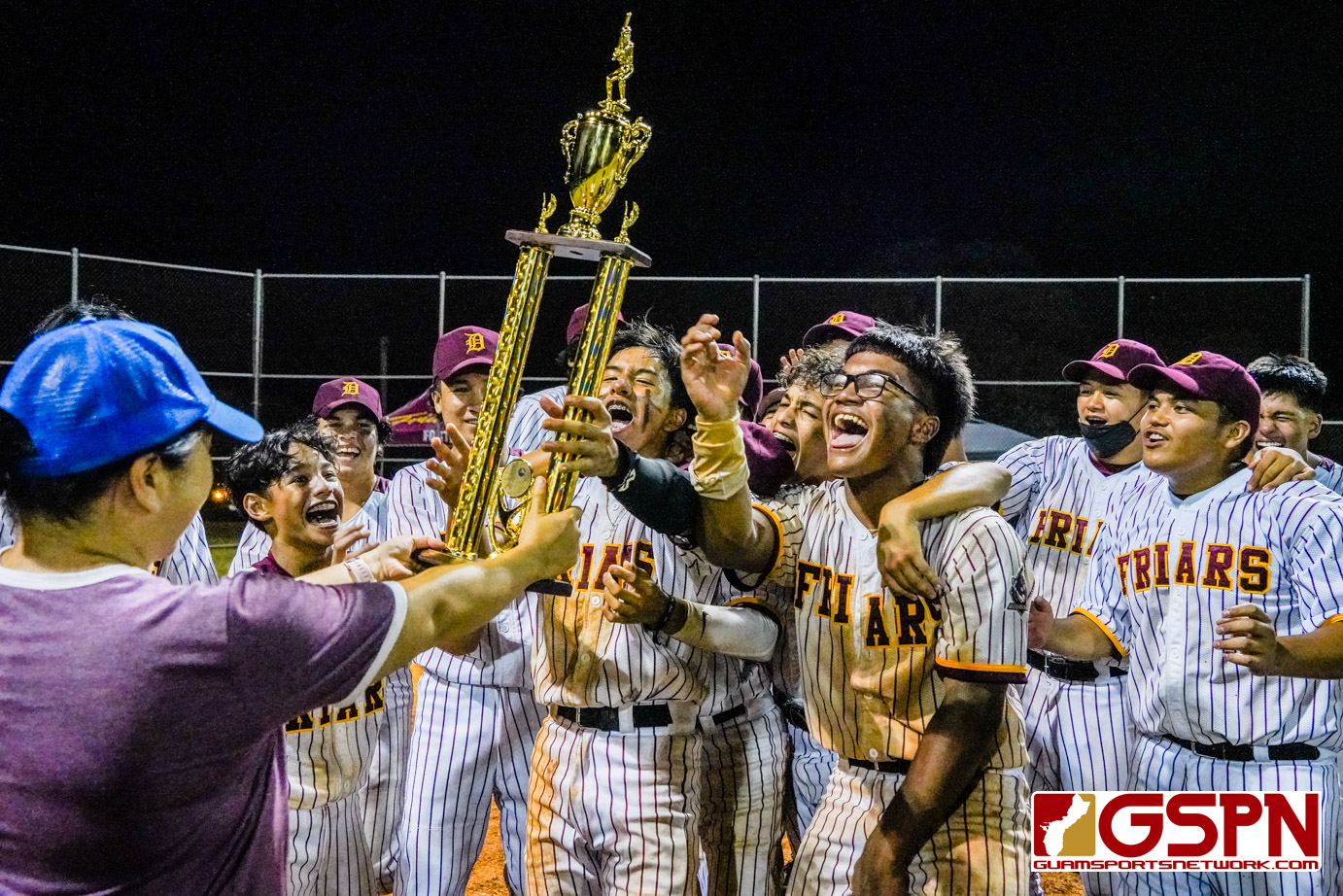 By Patrick Lujan
Franklin Ninete, Jr. switched schools last year from GW to FD with one goal in mind: win a championship.
This year's league MVP came through on the big stage with a complete game on the mound, striking out 15 batters as the Friars edged out the tough Notre Dame Royals 4-3 Saturday night in the 2022 ISA Baseball League championship game.
"This is why I came to FD," the junior pitcher said. "My team put in the work ever since December. We never took any team lightly and tonight showed our results."
Ninete didn't find his groove until midway through the game. He got into trouble in the top of the third as he walked two and gave up an infield single. ND's Rick Leon Guerrero made him pay with a two-run double to give the Royals a 3-2 lead.
From that point on, Ninete was lights out as he struck out eight of the next nine batters and four of the last five he faced on the night.
"As they started making contact, that was it. I had to bring it. I didn't expect that, but I had to bring it to them, too."
The Royals' lead was short-lived. In the bottom of the third, catcher Ayden Aguon delivered what would be the game-winning hit as his clean single past ND shortstop Dominic Cruz, Jr. scored Sean Balauro and Ninete.
It was a pitching gem from then on as Ninete and ND's Leon Guerrero were matching each other's excellence. In fact, Leon Guerrero kept the high-powered Friar offense at bay, giving up only three hits and striking out 11 FD batters to go the distance himself.
ROYALS FIGHT
The Royals were never out of the game despite being severely compromised. Nolan Cruz, arguably their best player, couldn't recover from a sprained ankle suffered in the semifinals on Wednesday and fellow stud Dominic Cruz, Jr. was in serious visible pain from a shoulder injury. Every time Dominic would make contact at the plate, he'd grimace in pain holding his left shoulder. His last at bat, he was forced to bat left handed to attempt to minimize the pain.
ND got on the board right away when sparkplug catcher Xavier Panes look the first pitch of the game to the gap in left center for a quick double. He'd score on a heads up play, catching the FD defense sleeping while on the base paths as he slid in for the game's first score.
Panes had two of ND's three hits, but it was the last at bat that he wished to get a hit as his pop up to short in the 7th inning ended the game.
It was also Ninete's 123rd and final pitch of the night, an amount he didn't realize he threw.
"I never threw this much, but anything for my team and anything to get this trophy."

– Spider Jr. on throwing 123 pitches
The Friars are totally loaded for next season as they will be losing only Balauro to graduation. Everyone else is expected to return.
GECKOS TAKE 3rd
The GW Geckos took a wild and exciting consolation game 10-9 over the Southern Dolphins. The game went into two extra innings and took nearly four hours. That extra time delayed the 7 pm championship game back to 8:16 pm.
PHOTO GALLERY BROUGHT TO YOU BY:

COMING SOON …
High school girls volleyball playoffs
Brawl 3: Oct 13
Guam's Strongest Man and Woman Competition October 29
QUICK HITS
The Figo Islanders 40s women's softball team took gold in the Senior Softball World Championship in Las Vegas. Figo came out of the loser's bracket and beat the Arizona Belles 17-3 in the AA division championship game Sunday afternoon.
Other Guam teams that played in the 40s tournament were: Team SOTTA (women's) and Bud Light Guam, Friars 671 and Sindalun Guahan (men's).
Sindalu finished a respectable 4th out of 24 AAA division teams.