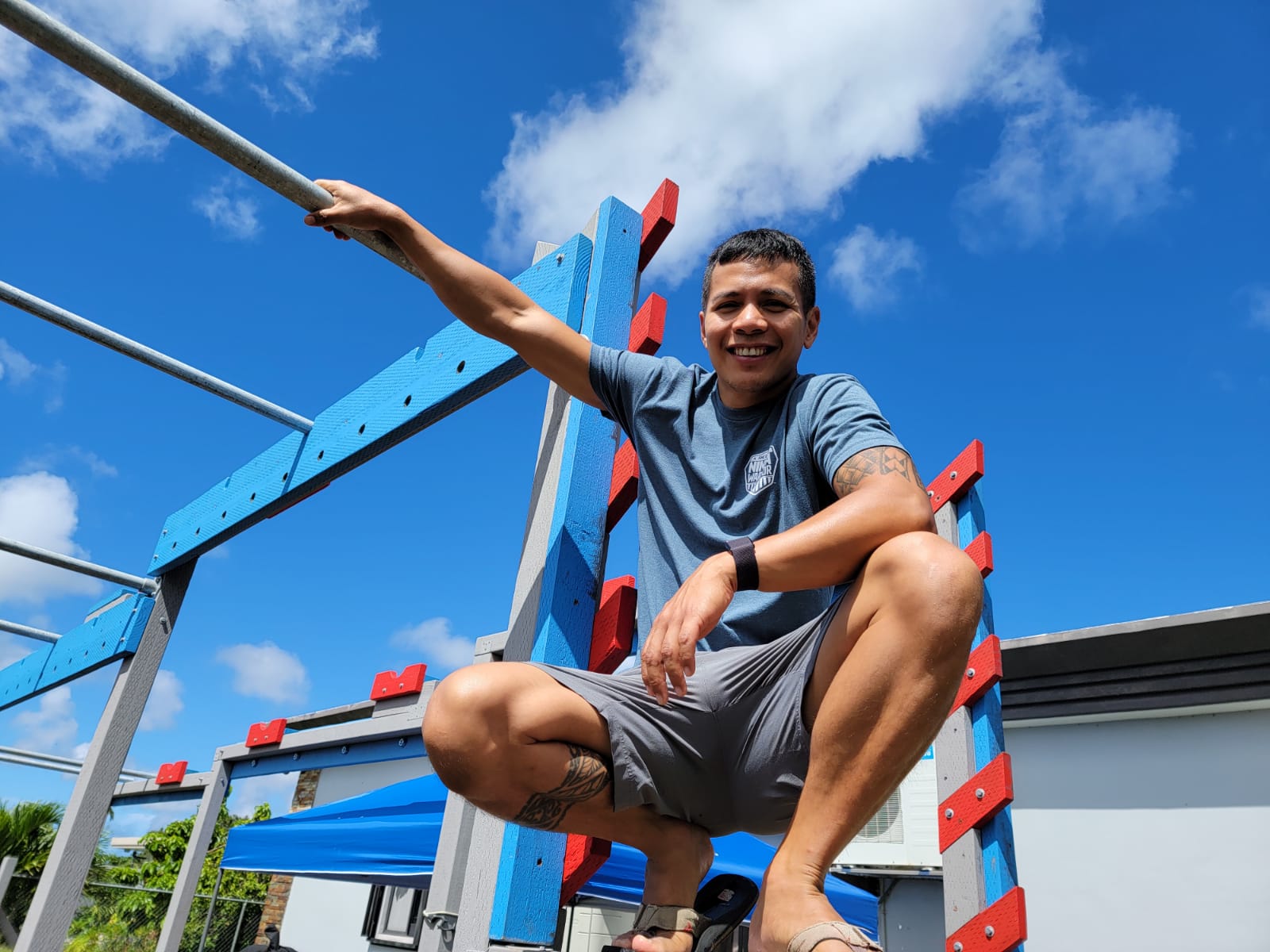 By Patrick Lujan
"If you built it, they will come."
Made famous by the 1989 Field of Dreams movie and overused since then, it isn't furthest from the truth when it comes to American Ninja Warrior veteran Deren Perez.
Competing in the unique athletic competition since 2015, Perez has always dreamed of bringing the event to Guam.
Now that the active duty Coast Guard member is stationed back home, Perez is literally building his dreams in his own back yard in Dededo.
"I absolutely love this sport and what the community is all about, and that's helping each other rise to the challenge of overcoming obstacles. So I want to bring that camaraderie to the Pacific islands."
The dream of bringing the sport to Guam started over two years ago when Perez was still stationed in the states. He said he's visited over a dozen gyms to get ideas on what rig he wanted to build. He's worked with the CEO of the Ultimate Ninja Athletic Association, became a member and is now preparing for Guam's very first sanctioned event.
"Now that I'm here on island and the dream is slowly becoming a reality, I feel a heightened sense of pride. I've poured a lot of my own time, money and months of intense manual labor to bring Guam it's very first Ninja Warrior competition. I would love for the sport to get big enough to host inner island competitions and eventually a Southeast Asia Pacific games."
JUNE 25 IS GAME TIME
So used to preparing to compete, Perez is grinding to produce the challenging competition.
"The logistics for hosting a competition was definitely a learning curve. Being an athlete, training and knowing yourself is one thing. But working through all the different rules that come with hosting or being associated with a league was definitely a challenge. But at the end of the day it's just another obstacle that I had to overcome to see my vision come to fruition.
"Ninja is still very new to the island. I feel this year's competition to will be more of an eye-opener for those looking for an alternative style of sports/workouts."
His main goal is to bring awareness to the sport, allow like-minded individuals the same opportunities to compete in Ninja Warrior style competitions and ultimately lead team from Guam to the world championships each year.
"The upcoming competition is not solely for the highly competitive individuals but this is also a chance for people to simply try out the course, to try out this style of competition and to basically provide people with a fun event while getting fit."
If you are interested in trying your hand on the competition, you can register at https://ninjamasterapp.com/events/3494-guam-ninja-championship or contact Perez at
[email protected].
PHOTO GALLERY BROUGHT TO YOU BY:

QUICK HITS
The Figo Islanders 40s women's softball team took gold in the Senior Softball World Championship in Las Vegas. Figo came out of the loser's bracket and beat the Arizona Belles 17-3 in the AA division championship game Sunday afternoon.
Other Guam teams that played in the 40s tournament were: Team SOTTA (women's) and Bud Light Guam, Friars 671 and Sindalun Guahan (men's).
Sindalu finished a respectable 4th out of 24 AAA division teams.