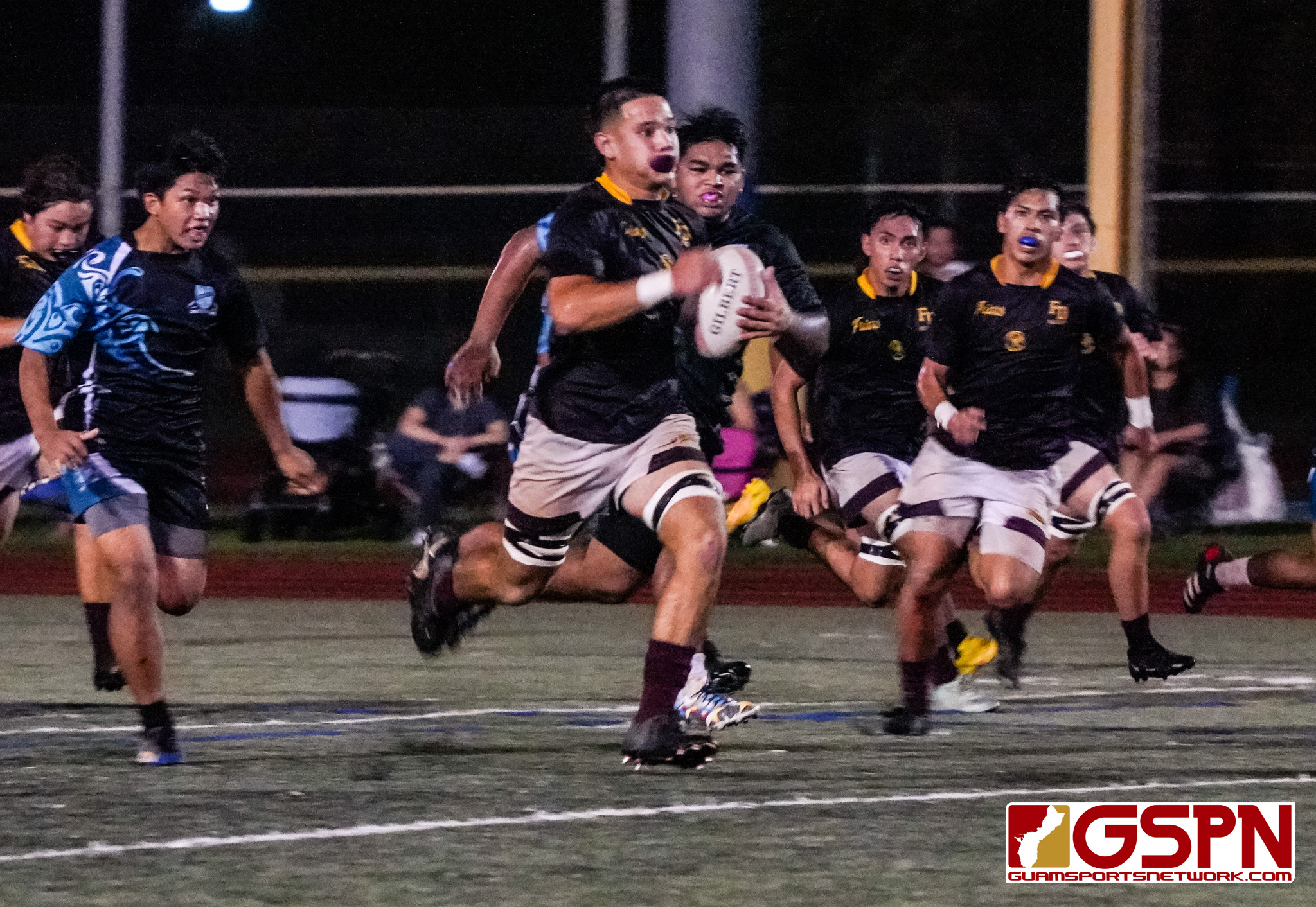 By Patrick Lujan
The FD Friars remained unbeaten in the ISA High School Rugby League Wednesday night, beating the Southern High Dolphins 19-0 to improve to 6-0 with one regular season game remaining.
It was a rematch from last year's championship game, and the result was another shutout as the FD rugby machine continues to roll on to what they hope will be their fourth straight championship.
Southern came into the match with a 2-3 record, but you couldn't tell as the Dolphins stood tooth and nail against the Friars in an evenly-played first half.
Only a botched kick deep in the Dolphins territory that resulted in an easy try for sophomore Christian Manglona made the difference as FD took a 7-0 halftime lead.
"I thought Southern came out strong in the set piece and the contact area against us," Friars head coach Joshua Lujan said. "We definitely need to work on our set piece and ball skill under defensive pressure like that."
The second half was a complete difference as the Friars steady play was too much for the Dolphins, who seemed to run out of gas and committed too many errors they couldn't afford.
FD was on constant attack mode, not allowing a single Southern possession to move into its territory. With the persistent pressure, sophomore bruiser Tristen Burgos rammed over a helpless defender for the second Friars try.
On the ensuing kickoff (in rugby, the team that scores receives the ball), senior star Caleb Murphy fielded the short kick and took it to the house from 70 yards out, juking a couple of Dolphins on his way for the third and final try of the night for FD.
"This was definitely not our best game but we'll keep our heads up," Coach Lujan said. "There's a lot of lessons to be learned for us in this game in terms of building pressure through ball possession and multiple phases. Credit to Southern though for staying in the fight the whole game."
The Friars finish their season against the JFK Islanders while the Dolphins take on the Okkodo Bulldogs to wrap up their season this Saturday.
"I think my team did well considering all the circumstances that this season brought," Southern head coach Enrique Baza said. ".We just feel that we need to tighten up some aspects of our game."
OTHER GAMES
Guam High 47, Tiyan 7 (GH: Deshawn Baird 3 tries)
Okkodo 24, Sanchez 5
GW 19, JFK 0
BOYS VARSITY STANDINGS
FD 6-0
Okkodo 5-1
GW 4-2
Guam High 4-2
Sanchez 2-4
Southern 2-4
JFK 1-5
Tiyan 0-6
GIRLS VARSITY STANDINGS
Southern 9-1
Notre Dame 8-2
Academy 7-2-1
Sanchez 6-3-1
Guam High 5-4-1
Okkodo 3-7
GW 0-10-3
Tiyan 0-9-1
PHOTO GALLERY BROUGHT TO YOU BY: