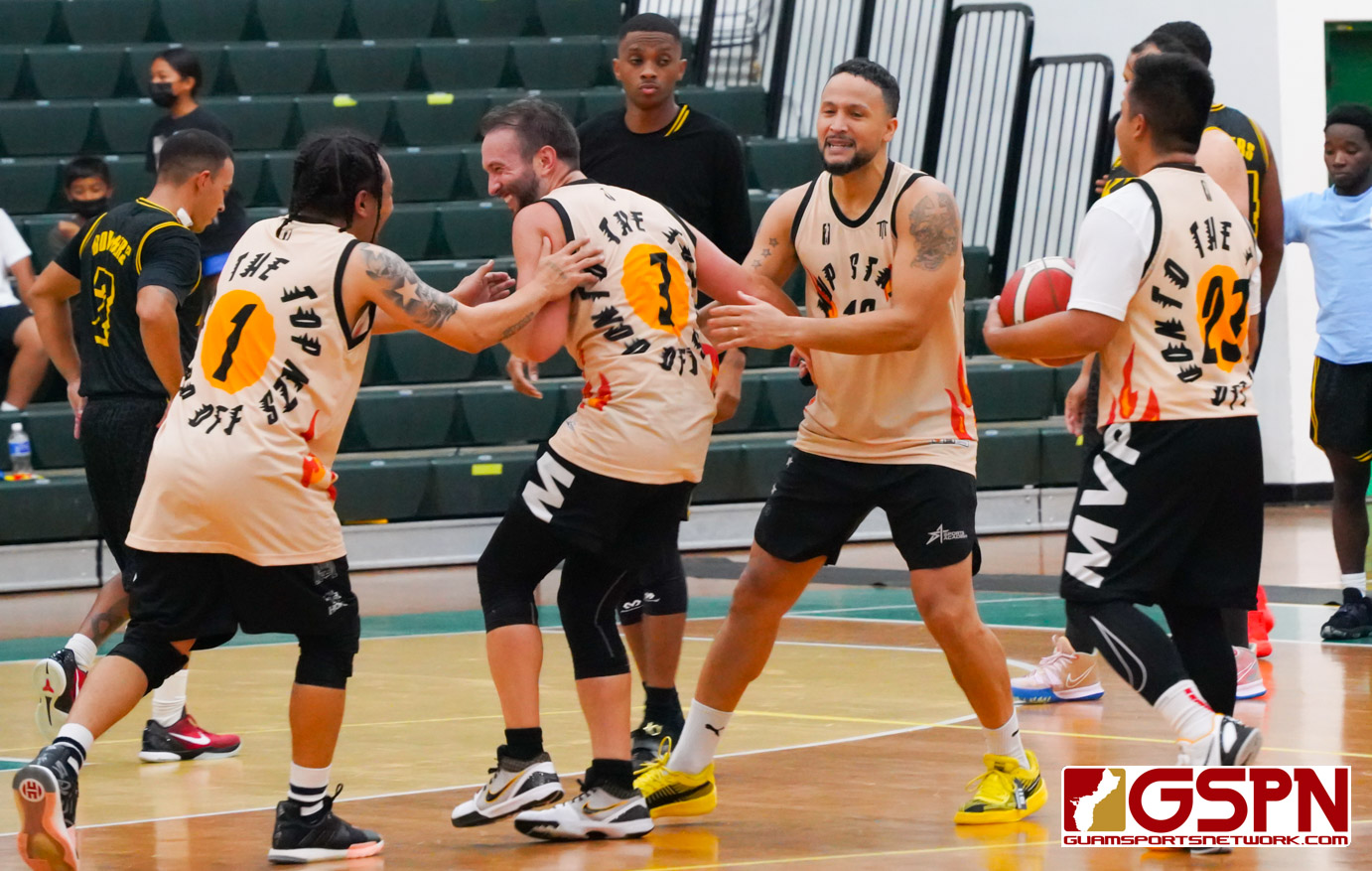 By Jay Leon Guerrero
Two of Guam's top basketball clubs battled it out Friday night in a thriller between the KFC Bombers and MVP Stars. At the end of regulation, the Stars prevailed on a wild four-point play by MVP's James Stake with 4.7 seconds left.
With seconds left in game, the ball was in Stake's hands as he saw a small opening and hoisted a 3-pointer. The shot rattled in and he was fouled in the process. Stake made the free throw and Stars avoided a game winning 3-point attempt by KFC's Jared Glenzer to claim the Tritons Men's Basketball League championship 94-92.
"The KFC guards are quick so I timed my shot and thankfully it went in," said Stake.
Prior to Stake's game winner, the Bombers mounted a comeback in the fourth quarter, going on an 8-0 run in the final minute of regulation. KFC captured a 92-90 lead with less than 20 seconds left with plays made by guard Jaden Finley.
After leading the entire first half, the Bombers surrendered their lead to start the third quarter. MVP's "Big 3" composed of Joe Blas, Darren Hechanova and JP Cruz, led the charge in the third quarter that had the Stars leading 72-63.
The game took a turn when MVP's Blas fouled out with seven minutes left in regulation and Hechanova left at the 4:30 mark after suffering a leg injury. Cruz later fouled out as well late in the fourth quarter but all three still had faith in their team.
"We had a small lead, so we had some cushion. We needed to just get some stops and make a couple shots," said Blas. "Unfortunately, we committed some turnovers and gave the lead up but…
'Big Game James' came through for us.

– Joe Blas
With 90 seconds left in regulation, MVP forward Vince Estella made a jumper and the Stars were up 90-84.
The Bombers scored off an offensive rebound put-back by Divine Cox. The Bombers immediately went to the full court press and Finley got a steal and scored to make it 90-88.
MVP had a chance to end the game but a missed shot attempt turned that turned into a basket by Finley and the score was tied 90-90.Finley forced a turnover once again and scored to go ahead 92-90 with 10 ticks left on the clock. The Stars got the ball passed half court and Stake's four-point play made it 94-92.
"I knew James would make something happen, I had all confidence in him and our squad. I knew our team has heart and they didn't give up," said Cruz. Cruz had a team-high 30 points for the Stars.
Cruz said it's good to have high level leagues back after the pandemic halted basketball league play for
almost two years. "All I have to say is, praise God. I'm blessed to be able to still play at this level and we
are all looking forward to more games for the rest of the year," said Cruz.
KFC's Cox had a game-high 34 points; Francisco Cerda added 14 points. Finley had 26 points, five assists and five steals for KFC.
Blas had 29 points, nine rebounds and five assists for MVP; Hechanova added 16 points and 14 rebounds.
PHOTO GALLERY BROUGHT TO YOU BY:

2022 GSPN I MÅS METGOT COMPETITION
2022 GSPN I Mås Metgot Competition Recap
2022 GSPN I MÅS METGOT COMPETITION
2022 GSPN I Mås Metgot Competition Recap
2022 GSPN I MÅS METGOT COMPETITION
2022 GSPN I Mås Metgot Competition Recap
COMING SOON …