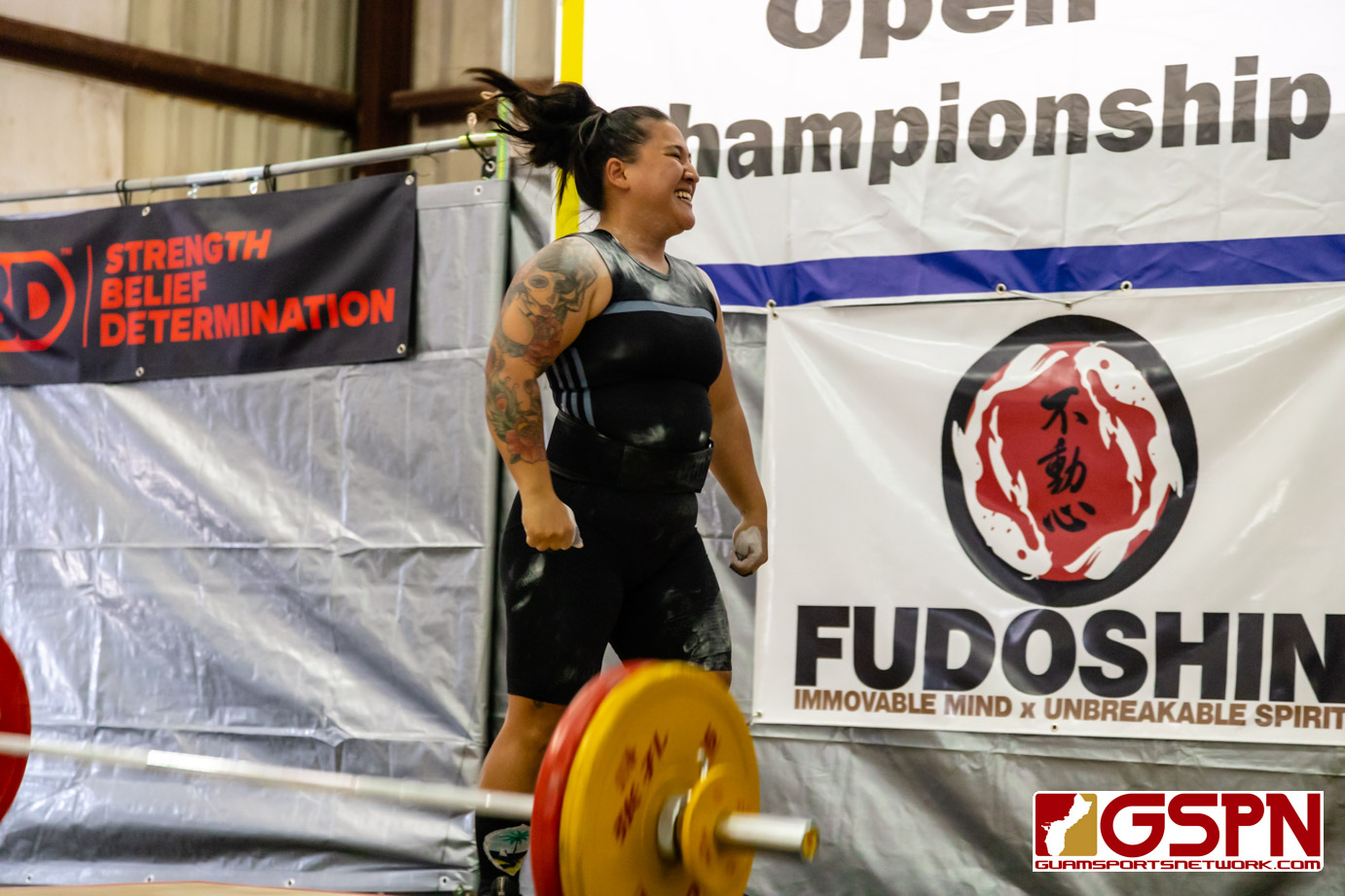 By GSPN
As the island returns to somewhat normalcy, Guam national federations are now able to host sporting events to prepare athletes for international competitions and showcase the upcoming talent. The Guam Weightlifting Federation hosted the 2022 Guam Weightlifting Open Championships and their event was a huge success Saturday afternoon.
Thirty four athletes assembled at the Fudoshin Training Center in Tamuning with the intention to break personal records and attend their first event in 2022. For a majority of the athletes, personal records were broken while other athletes gained the experience for the next one.
Sumagaysay and Elwell win Sinclair awards
The Sinclair Award is given to the top male and female lifters who accumulated the most weight output according to their body weight. Jacinta Sumagaysay and Ethan Elwell took home those awards and were presented a medal from the Guam Weightlifting Federation.
Sumagaysay delivered another stunning performance with a PR (personal record), lifting a total of 178 kilos (75kg in the snatch and 103kg in the clean & jerk).
"It feels great to lift in front of a crowd again after two years of not lifting."

Jacinta Sumagaysay
"I hit PR's in both my snatch and the clean & jerk so I'm very happy about that. This meet today helped lift a fire in me to prepare for the Pacific Mini Games," said Sumagaysay. The Pacific Mini Games will be in Saipan this summer and Sumagaysay is on the roster to compete once again for Guam.
Elwell, Guam's top Crossfit standout as a youth competitor, won his division and also took home the Sinclair award. Elwell lifted a total of 296kg (135kg in the snatch and 161kg in the clean & jerk).
"This is just the beginning for me. I'm going to continue training and my goal is to try and make the Olympics for 2024," said Elwell.
"With all the training I did for this, I felt like I was prepared. Hearing the cheers from the crowd also help. I wish they didn't keep silent right before I lifted, I wished they'd keep cheering because I like it," said Elwell.
Girl Power
Guam's Strongest Woman, Brittney Pereda, won her weight division and once again put on a show.
"Hearing the crowd never gets old! I love coming out here and showing the abilities of what women can do," said Pereda. "I want to showcase the sport; I love feeding off the energy from the crowd the best I can".
At 13 years old, Malachi Lujan came into the competition as the youngest competitor. "I was nervous but I felt I did really good today," said Lujan. "I never clean & jerked 50 kilos but I did it today and I was really excited after I did that."
Spectators from different gyms came to support their training partners and athletes. Despite the competitive nature, athletes and spectators cheered on each and every athlete on stage despite the affiliation. A true showing of the island culture. Kudos to the Guam Weightlifting Federation and Fudoshin Fitness for hosting a successful event!
Here are the official results:
FEMALE DIVISION
49KG
1. CHLOE SANTOS, FUDOSHIN FITNESS – 116 KG
2. DAYALANI CALMA, NA – 109 KG
55 KG
1. ERIKA CAMACHO, FUDOSHIN FITNESS – 140 KG
59 KG
1. DAYAMAYA CALMA, NA – 120 KG
64 KG
1. JACINTA SUMAGAYSAY, FUDOSHIN FITNESS – 178 KG
76 KG
1. ANTONETTE LABAUSA, NA – 167 KG
87 KG
1. BRITTNEY PEREDA, FUDOSHIN FITNESS – 191 KG
MALE DIVISION
55 KG
1. EZEKIEL CABACCANG, CUSTOM FITNESS- 162 KG
61 KG
1. VINCI LEVI EBIDAG, FUDOSHIN FITNESS – 178 KG
67 KG
1. HAROLD ARANDA, FUDOSHIN FITNESS – 223 KG
2. MATTHEW JAVIER, CUSTOM FITNESS – 215 KG
3. RYO SUZUKI, CUSTOM FITNESS – 176 KG
4. MIGUEL HERNANDEZ, CUSTOM FITNESS – 159 KG
5. MALACHI LUJAN, FUDOSHIN FITNESS – 85 KG
73 KG
1. KRYSTHIAN VILLANUEVA, FUDOSHIN FITNESS – 225 KG
2. BRANDON KINSELLA, CUSTOM FITNESS – 183 KG
3. VIRANOUSITH KHAMVONGSA, FUDOSHIN FITNESS – 132 KG
81 KG
1. MICHAEL JAMES, CROSSFIT LATTE STONE – 232 KG
2. EDWARD JOHN FEJERAN, FUDOSHIN FITNESS – 205 KG
3. DRAKE TORRES, BRIDGE FITNESS – 200 KG
4. JOHN CAMACHO JR., CUSTOM FITNESS – 190 KG
5. TIMOTHY B. WALLACE, NA – 165 KG
89 KG
1. FRANCIS CHARGUALAF, UNIFIED – 239 KG
2. JOSEPH TUDELA, NA – 190 KG
96 KG
1. ETHAN ELWELL, CUSTOM FITNESS PHYSICAL THERAPY – 296 KG
2. TOMMY BLAS, BRIDGE FITNESS – 167 KG
109 KG
1. PETER SAN NICOLAS, FUDOSHIN FITNESS – 240 KG
PHOTO GALLERY BROUGHT TO YOU BY:

QUICK HITS
3rd place: Big ups to the Para Todu Rugby Club for finishing 3rd out of 16 teams in the Manila 10's Rugby Tournament today. Biba Guam Rugby!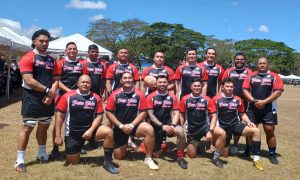 ——————————————
Guam MTB National Championship: Edward Oingerang and Jennifer Camacho are your 2023 MTB national champions. Oingerang finished the course in 1:13:24 while Camacho won her second straight title in 54:08.