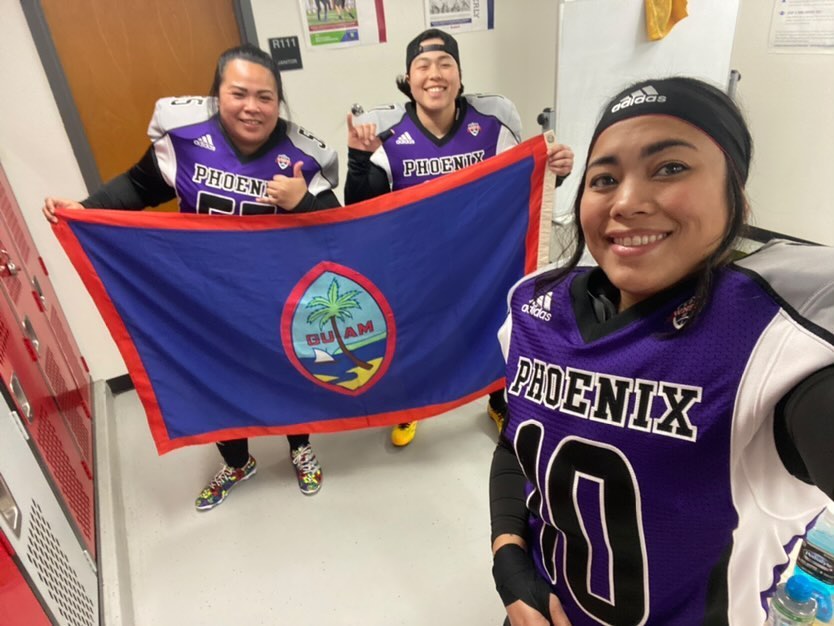 By Patrick Lujan
It's always tough to be a trail blazer.
For three Guam women who's quest is to make way for others to play pro football in the states, blazing the trail is no small feat.
Kimberlyn Tupaz, Hannah Laguana and Chachi Francisco are making their way to that level, currently playing for the Phoenix Prowlers – part of the Women's National Football Conference. The WNFC is a pro league made up of 17 teams from across America established in 2018.
The struggle is real. No big contracts. No fancy cars. No chartered flights.
In fact, it's a non-paid gig that players foot the bill for 'away' games.
Nevertheless, the thrill of playing football is all worth it.
"When we step on that grid iron we play with our hearts and talk with our pads. We miss our football sisters on Guam and we can only hope they can come out and represent our island and our people the same way."

– Kimberlyn Tupaz
All three are veterans of the Guam Women's Football League where Tupaz and Laguana played for the Lady Raiders while Francisco suited up for the Steel Blazers.
"We owe it to our coaches back home: Paul Blas, Fred Tupaz, Ray Macias, Raymond Macias, Isiaiah Macias, Kaohu Ruiz, Dave Elliot and Andrew Blas for helping us throughout the years to get where we are now," Tupaz added.
While still striving and building a young league, our island ladies still have to make ends meet. Chachi and Kim work for Prologistix while Hannah is working on her realtor's license.
Playing football some 6500 miles and eight time zones away, football is football – except in the desert air.
"We feel like the only thing different out here is the AIR. Other than that, to us football is the same no matter where we play."
You can watch live and previously recorded football Prowlers games on VyreNetwork.com.
WHY WE PLAY
I play for many reasons.
I play to pave the way for younger female athletes.
I play in hopes that one day women get paid to play professional football.
I also play to showcase Guam's talent.
I want my daughters to grow up knowing that they are more than just what society pictures them to be and I want my sons to grow up learning how to stand with a strong woman and support her on and off the field.
We have so many talented CHamoru athletes at home and around the world. We need to continue to make our stand and let the world know we are coming and we are coming strong because we are built different…
#Islandbuilt
#islandstrong
– Hannah Laguana; defensive tackle
The main reason why I play is because I love the sport. It's not just a hobby, it's been a passion of mine since I was a kid. I play to become better & in hopes of becoming a professional paid player. I believe in equality & want to make more of myself by using my platform to encourage young ladies to chase after their dreams. To spread love & share my stories so women who need inspiration can push through the struggles of life.
My performance on the field heightens knowing people doubt me because of my gender, size or question why I play. I also want to make my family & supporters proud when they watch me on their screen.
– Kimberlyn Tupaz; Tight End/Wide Receiver, Cornerback, Special Teams
I joined because football is my passion. Ever since I started playing, I fell in love with the sport more and more. It helped me gain more confidence and knowledge that I could use in my everyday life from believing in myself to believing in those around me. There wouldn't be anything else I'd rather be doing than playing football.
– Chachi Francisco; linebacker