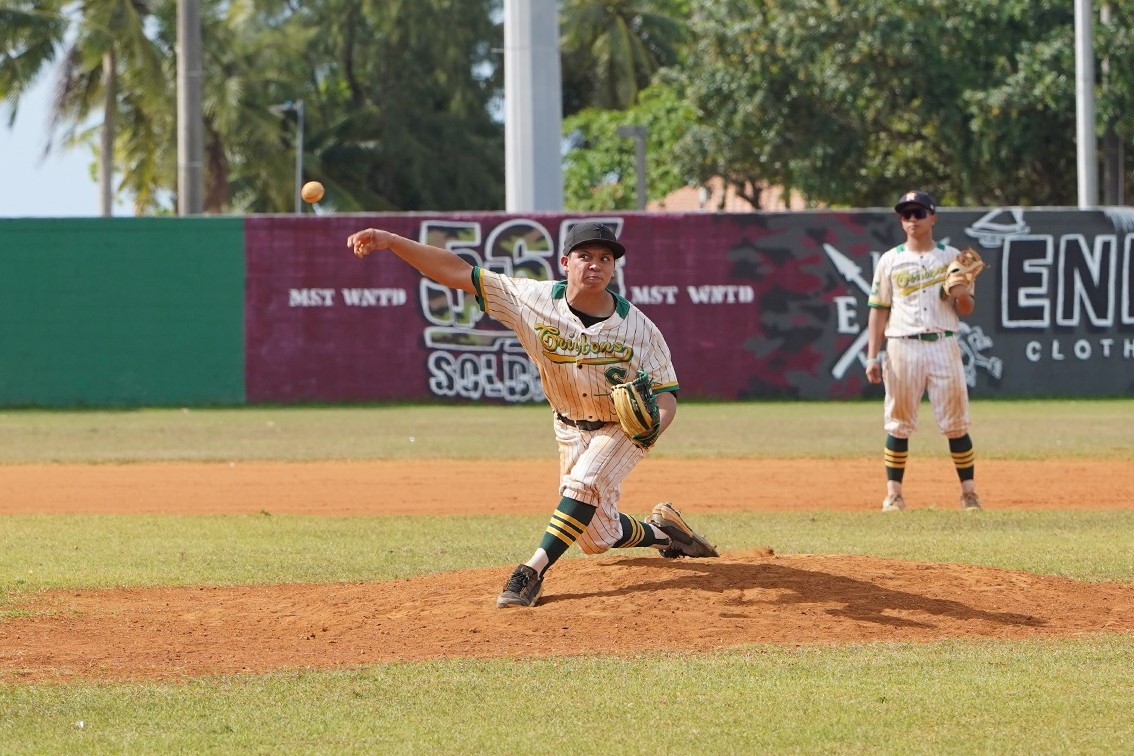 The top four teams in the 2022 Guam Major Leaguewere in action on Sunday at the Paseo Stadium. The UOG Tritons handed the Jr. Nationals their first loss of the season after starting off 9-0, while the Dodgers are on a roll, winning their fifth straight game over the Yigo Typhoons.
TRITONS 11, JR. NATIONALS 4
In the Sunday matinee, Andrew Perez and Kyle Martinez hit home runs for UOG to pave the way in dethroning the Jr. Nationals from the unbeaten ranks.
Perez was 3-for-3 with 2 RBI while Martinez knocked in three runs. Darin Eclavea and Jaythan Muna Barnes added run-scoring hits.
Arren Yatar proved once again to be arguably the best pitcher in the league, earning the win and striking out seven in a complete game performance.
John Salas, Jr. went 2-for-4 for the youngsters as they wrap up their GML competition before heading to Saipan for the Pacific Mini Games which starts this weekend.
DODGERS 11, TYPHOONS 1
Both teams came in at 6-2 and both were riding four-game win streaks. The Dodgers proved to be the much better team with a 10-run rule win.
Ryan Martinez and Mike Concepcion led the 16-hit attack with three hits each, Concepcion just a home run shy of the cycle. Randy Alcantara added a pair of hits as well.
Derwin Aguon struck out eight in six innings of work to get the win for the Dodgers.
"Even though our season got off to a rough start we always show to the ballpark with the mentality that we're the team to beat," said Dodgers catcher Mike Bautista. "We are such a tightknit team, we're way more than teammates – we're family. Having lost our captain's dad and another one of us' dad suffering a stroke over the weekend, a season means much more than just a game to us. We're on a mission."

2022 GSPN I MÅS METGOT COMPETITION
2022 GSPN I Mås Metgot Competition Recap
2022 GSPN I MÅS METGOT COMPETITION
2022 GSPN I Mås Metgot Competition Recap
2022 GSPN I MÅS METGOT COMPETITION
2022 GSPN I Mås Metgot Competition Recap
COMING SOON …