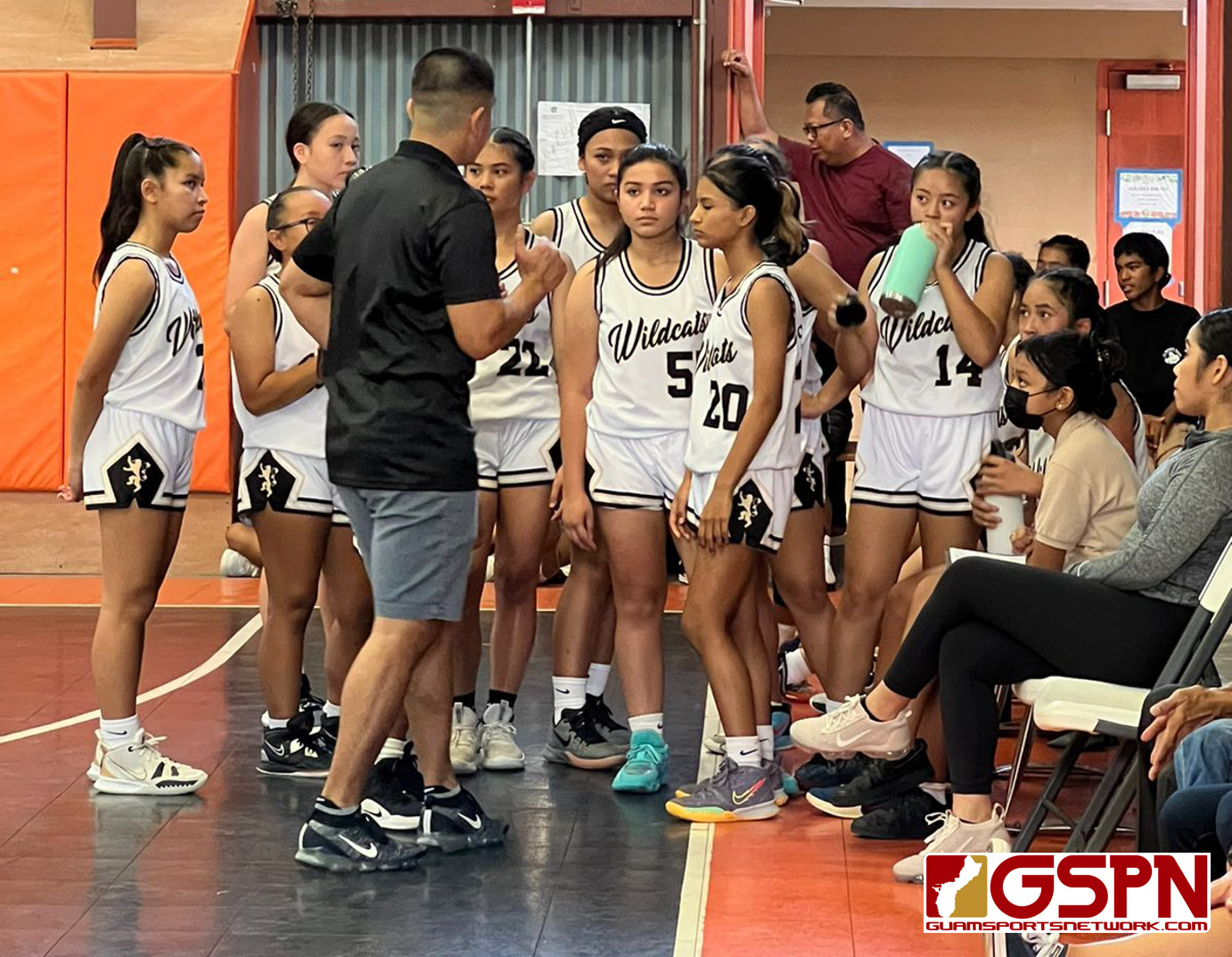 By Ben Leon Guerrero
The Untalan Wildcats are the 2022 ISA Middle School Girls Basketball Champions after defeating the Astumbo Dragons 23-20 Wednesday night at the Untalan gym. This is the first basketball championship in the post COVID era and the second title under head coach Merwin Martin who's in his third season as the Wildcats coach. Untalan shared the title with BMS and FBLG in 2019 before the pandemic shut down all sports.
Untalan shooting guard Cadence Guzman scored 10 points and point guard Jaelyn Han added six points to lead the way.
Both teams started out aggressive on both ends of the court but it was the Wildcats who found the bottom of the net jumped to a big 10-0 lead behind Guzman and Mikaela Borja scoring four points each and a basket by Han.
Untalan held Astumbo scoreless for most of the quarter until the Dragons Sazhmere Quintanilla rebounded a missed free-throw by the Wildcats and found teammate Jaenahlee Reyes wide open for her first three points of the game.
The first quarter ended with the score 10-3.
In the second quarter, the Dragons came roaring back. Down 12-3 and coming out of an Untalan timeout, Reyes went to work scoring on nearly simultaneous possessions to cut the lead to 12-7. On the next possession, Guzman would receive the inbound pass going coast to coast for the easy layup for her eighth point of the game.
On the very next play, Astumbo's Taurehn Arjona attacked the basket on the right side passing two defenders and laid it up for the easy two points. Down 14-9 with under 30 seconds left in the half, Astumbo's Tianna Rain found Reyes at the baseline, on an inbound play, who drove to the basket for her ninth point of the game cutting the once 10-point Wildcat lead to three 14-11.
2nd HALF
Coming out of the half, the Dragons seemed to be the aggressors as their defense began to turn up the heat. Astumbo took advantage off multiple Untalan turnovers but were unable to convert those into points.
Two minutes into the third quarter, Astumbo's Rain again found Reyes wide open for a layup cutting the lead to one at 14-13 and putting pressure on the Wildcats who lost their 10-point lead.
"Yes, there was pressure on us during this time because we had a big lead and it slipped away. But because we wanted to bring the win home our team was able to push through it," said Han when asked if losing the lead created a lot of pressure on her team to perform.
The Dragons continued to put pressure on defense holding the Wildcats to no shot attempts in the quarter until Untalan's Azaria Chargualaf was fouled putting her on the line for two free throws. Chargualaf made one of two to extend their lead to 15-13. Astumbo was on a 6-0 run since the second quarter up to the free throw attempt.
"I told my girls not to pay attention to the scoreboard but to pay attention to the way they were playing on the court," said Martin. Quoting the great basketball coach John Wooden, Martin advised his team to, "be quick but don't hurry!" Reminding his team to give it their 100% and to play their hearts out.
With under a minute left in the quarter, Han found her second wind putting the pressure on the Dragons and forcing multiple turnovers. On the offensive side of the ball Han would be fouled on her attacks to the basket putting her on the line twice, both for a pair of free throws. Han sank two of her four free throws in the quarter to give the Wildcats a 17-13 lead as the quarter came to an end.
In the final quarter of the game, the Dragons made a valiant effort outscoring the Wildcats 7-6 in the final period behind four points from Reyes, a basket from Arjona and a free throw by Blas. But Untalan's six points from Han, Guzman and Chargualaf was all that was needed to secure the 23-20 victory.
"It feels really good because the last two years we didn't have sports, but it definitely feels good to be back and to win the championship."

– Untalan Wildcats Cadence Guzman
"I felt I needed to play with all my heart, work my hardest and to stay humble the whole time."
Han, whose older sister plays for the JFK Islanders basketball team, added, "Being that it is our first time playing together in basketball, I'm really proud of my team and how we were able to push through to the end and finish it with a championship for our school."
Coming off a recent championship with his JFK girls basketball team, Martin acknowledged the important characteristics his athletes both in middle and high school have that attributes to the success he's had this year.
"I've been truly blessed to have athletes who are willing to learn and who are willing to work hard and get better each day," said Martin. "It's surreal to win both high school and middle school titles but I give my girls a lot of credit bringing the championship to Untalan," he added. "When things weren't going our way, I told them not to get mentally defeated. Keep pushing, keep being aggressive, play smart basketball and continue to persevere, and that's what they did."
"The credit really goes to my players and especially the support we get from the parents and our admin."
"The goal really is to elevate girls basketball on the island…not matter what program they end up at…to prepare them for the next level."
Side Note
Untalan's Martin and first year Astumbo Coach Napoleon Finch were teammates on the 2004 JFK Islanders boys basketball championship team. Earlier this year, Martin who also coaches for JFK, led his lady islander's basketball team to their first championship in 18 years.
"Its such an amazing feeling to see everything come full circle," said Martin. "Playing for the championship against Nap's (Finch) team who was my teammate when we won the title at JFK, and my coaches (Mad/LG) in attendance watching us, it just speaks of the program we came from."
Martin had high praise for his former teammate and the success his team has achieved in such a short period of time.
"Astumbo has a very good team. A lot of credit goes to Coach Finch and Coach Hernandez for doing a great job with the Astumbo program. This is their first season, and they did a tremendous job. Tonight could have gone either way and we were just fortunate to have been able to win the championship."
PHOTO GALLERY BROUGHT TO YOU BY:

Foody's Fun Facts
Foody's Fun Facts with Arren Yatar
UOG Tritons Pitcher Arren Yatar shares some of his fun facts and tells us about his favorite YouTube channel!
Foody's Fun Facts
Foody's Fun Facts with Arren Yatar
UOG Tritons Pitcher Arren Yatar shares some of his fun facts and tells us about his favorite YouTube channel!
Foody's Fun Facts
Foody's Fun Facts with Arren Yatar
UOG Tritons Pitcher Arren Yatar shares some of his fun facts and tells us about his favorite YouTube channel!
COMING SOON …
Spirit of '76 Run
National Triathlon Championships
GML Makeup Games
FD Alumni Basketball Tournament (ongoing)