By Cody Sanchez
For the first time in two years, the Guam National Youth Football Federation was back in action after COVID prevented youth football since 2019.
The Hal's Angels took on the Guam Raiders Saturday afternoon at Angels Field in Wettengel under the scorching heat, tents, and excited screams of the youth's family brings back a nostalgic feel and optimism for the upcoming season.
"It feels good (to be playing again)," Hal's Angels Reiko Mendiola said. "Everybody wanted to play and we thank the Lord that we got back to playing again."
One big difference this season is the Manha Division, the youngest of the three ages 6-8, going to flag football. Two main reasons behind that is 1) it allows teams to develop the sport while avoiding injury and 2) there was a shortage of equipment for the younger group.
MATUA DIVISION
The Matua division is the oldest, with the age group being 12-14 years. Traditionally a powerhouse team, the Angels came out firing.
The Angels were dominant on both ends of the ball, especially defense. They practically suffocated the Raiders, rarely allowing them to gain yards. This was the pattern for most of the half, leaving the Raiders in the dust and a huge 29-0 halftime lead.
Immediately after halftime, the Angels scored a touchdown off a running play to further secure their lead. However, the Raiders came back with a touchdown of their own, showing that they will not be held down even when the odds are against them. The game ended with the score 3t5-12 Angels.
The Angels' Talan Wolford said having fun and meeting other people makes football worth coming out to play, while teammate Zackery Manuel shared his thoughts on the dominant victory. "It feels good because we earned this, and our coaches put us to work."
SATURDAY'S RESULTS
Metgot Division
Packers 37, Outlaws 14
Angels 40, Raiders 0
Matua Division
Packers 19, Outlaws 14
Angels 35, Raiders 12
PHOTO GALLERY BROUGHT TO YOU BY:

QUICK HITS
Guam MTB National Championship: Edward Oingerang and Jennifer Camacho are your 2023 MTB national champions. Oingerang finished the course in 1:13:24 while Camacho won her second straight title in 54:08.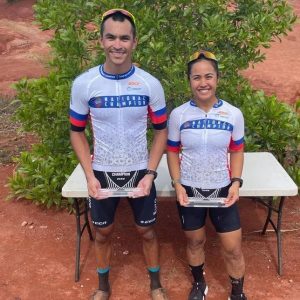 ——————————————
Kobe Miyashita, with St. John's coach Arvin Flores, was named the 2023 IIAAG Middle School Boys Volleyball MVP!