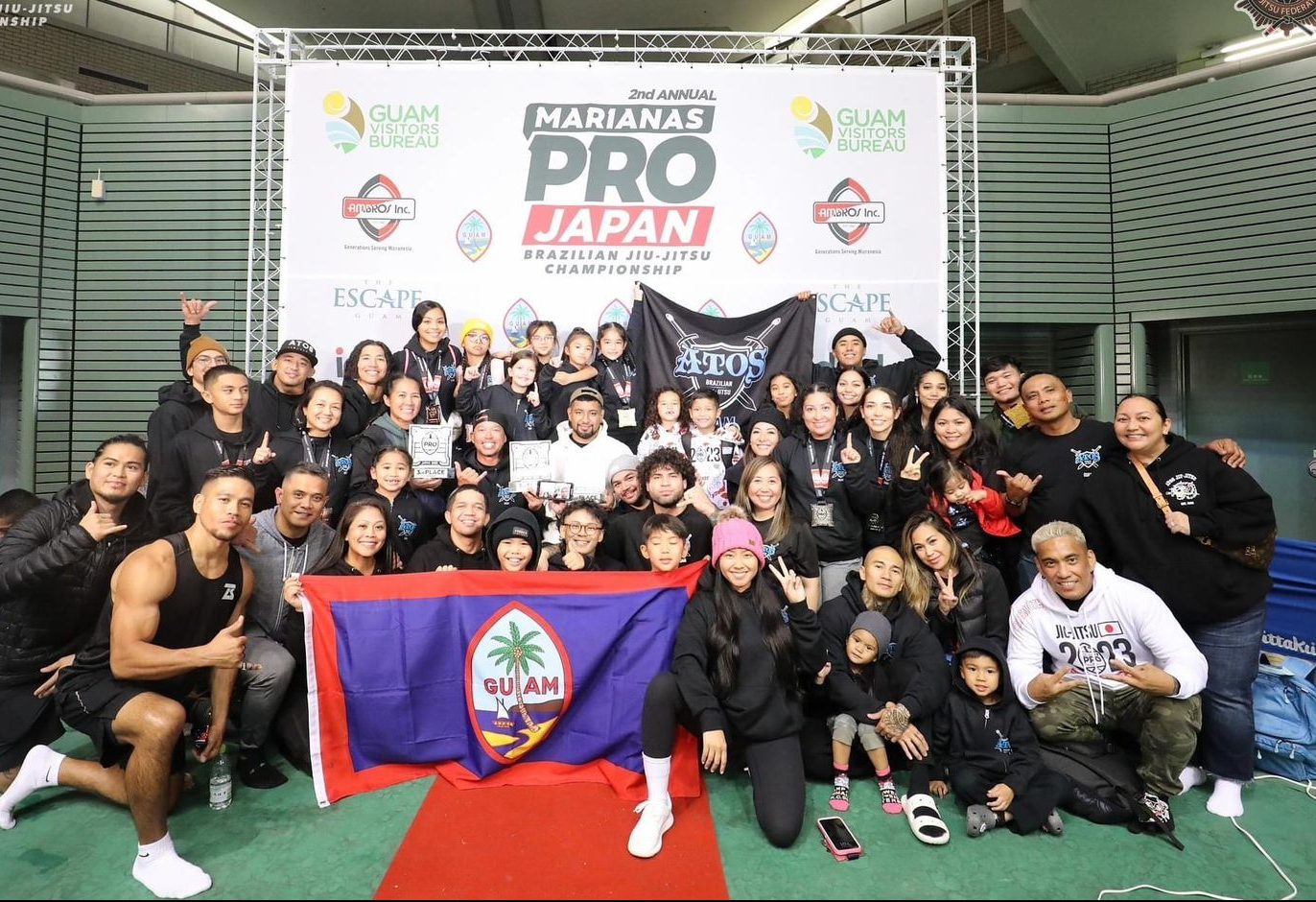 PRESS RELEASE – On March 25, 2023, Atos Jiu-Jitsu Guam sent a team of 52 kids & adults competitors to Tokyo, Japan to compete at the 2023 Marianas Open Pro – Japan Brazilian Jiu-Jitsu Championship. The event was held at Komazawa Olympic Park General Sports Ground Gymnasium and is considered to be one of the most elite competition for jiu-jitsu in the region; bringing close to 800 competitors from various countries in Asia, Europe, Brazil, USA, and Guam; Atos Jiu-Jitsu Guam brought home a total of 13 gold medals; 18 silver and 13 bronze medals.
SEE FULL RESULTS FROM 2023 MARIANAS OPEN JAPAN
Competing in its first off-island tournament, Atos Jiu-Jitsu Guam also brings home third place team awards in Adult Male, Masters Male, Adult Female and Masters Female categories. Being the only Guam team to podium in multiple team category titles.
"Thank you to our island's community, government agencies and local businesses, such as: GTA and Eli Jumpers who contributed directly to the Atos Competition Team, Guam Visitors Bureau, and multiple island businesses who supported fundraising events for the Atos Competition Team. Your continued support towards Jiu-Jitsu on our island allows our people to represent Guam on an even greater scale. It is our honor to represent our island, our people and our strength- and we cherish every opportunity to carry our flag. Your support continues to play a big part in us reaching our goals, achieving our vision and continuing the growth of Jiu-Jitsu on Guam.", stated Mike Carbullido, Owner & Professor.
Atos Jiu-Jitsu Guam's vision is: "…to build & grow an Academy and Jiu-Jitsu family founded on the values of respect, community, discipline, honor and support. Together, we hope to inspire & change lives through Jiu-Jitsu and create life champions!"
For more information, contact Atos Jiu-Jitsu Guam's Communications Manager, Kristy Carbullido at (671) 486-5147 or email: [email protected]
LIST OF COMPETITORS & AWARDS
KIDS DIVISION
Luck Cruz Gold
Sage Cruz Gold
Gabe Delino Gold
T'ana Adamos Gold
Zomu Carbullido Silver
Laveah Ogo Silver
Troy Rosario Silver
Demi Baisa Silver
Amiah Leonen Silver
Xander Quitugua Silver
Nolan Lizama Silver
Josiah Pangelinan Bronze
Mykaela Borja Bronze
Lexi Deflin Bronze
FEMALE ADULT & MASTERS DIVISION
Salve Respicio Bronze (Division) Silver (Open Weight)
Dominique Cepeda Silver (Division)
Kat Dunn Silver (Division)
Sumika Johnson Silver (Open Weight)
KaeAna Camacho Bronze (Division)
Sophia Kelly Bronze (Division)
Adele Dimalanta Bronze (Division) Bronze (Open Weight)
MALE ADULTS & MASTERS DIVISION
Randy Blas Gold (Division) Gold (Open Weight)
Myke Borja Gold (Division) Gold (Open Weight)
Jaoquin Mesa Gold (Division)
Austin Gogo Gold (Division)
Naoki Noguchi Gold (Division)
Joey Cruz Gold (Division) Silver (Open Weight)
Valiant Borja Silver (Division)
Ryan Jesus Silver (Division)
Zander Taitano Silver (Division) Silver (Open Weight)
Dannie Baisa Silver (Division)
Rico Repicio Silver (Division)
Eithen Cepeda Bronze (Division)
Gonzo Quintanilla Bronze (Division)
Randall Lizama Bronze (Division)
Jerry Hinkle Bronze (Division) Gold (Open Weight)
Jeremiah Manley Bronze (Division)

COMING SOON …
GUAM SPORTS ON HOLD DUE TO SUPER TYPHOON MAWAR
QUICK HITS
Bishop Obispos beat Mt. Carmel for the IIAAG Middle School Girls Basketball championship 37-25.
—————————————-
The Benavente Roadrunners crushed the Agueda Pirates 17-1 to win the 76 PONY Middle School Baseball League. Rodney San Nicolas was a beat, striking out 13 batters in a complete game while going 4-for-4 at the plate, including a homer and 4 RBI.