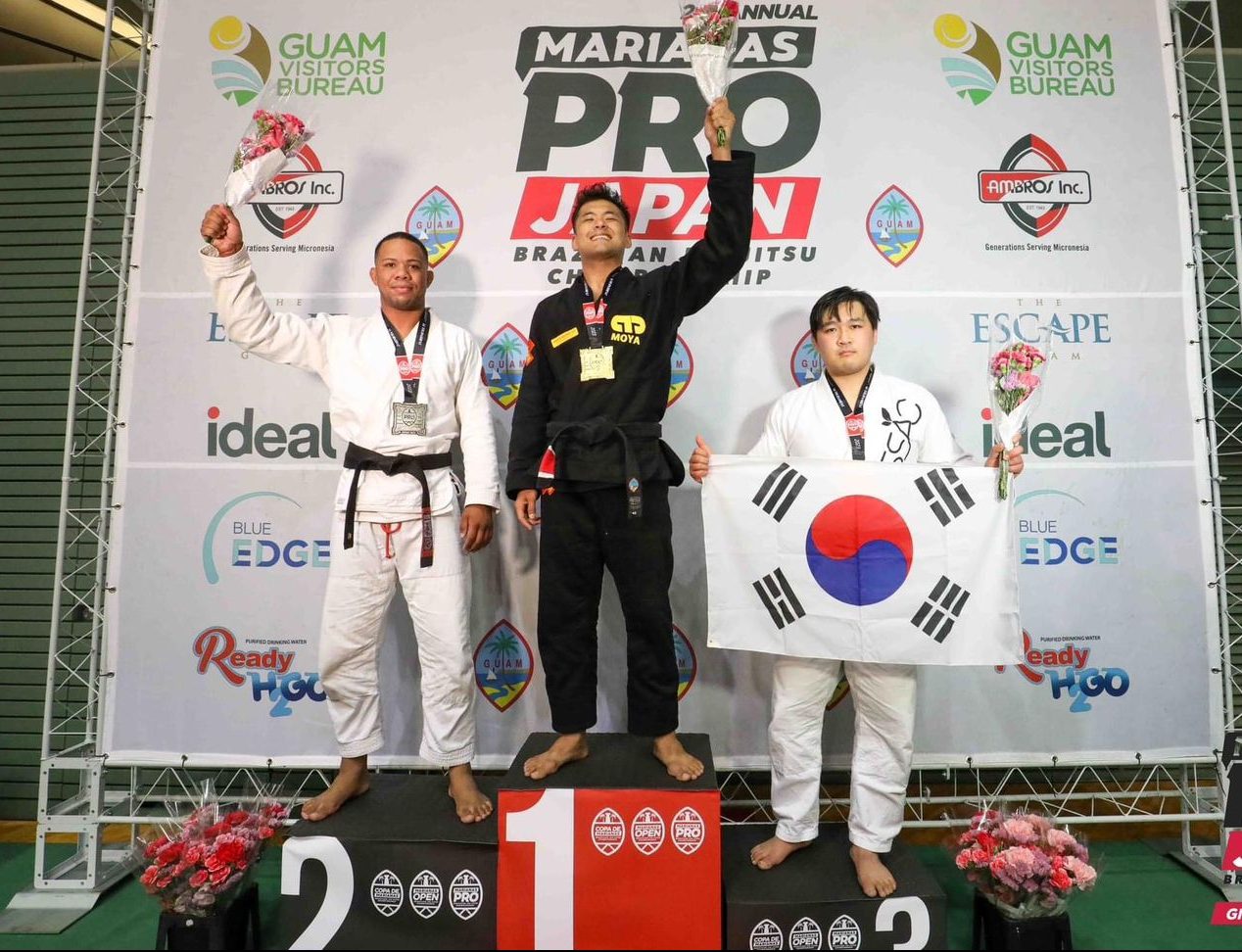 PRESS RELEASE – From March 23-26, 2023, the Carlson Gracie Guam Bulldogs set their sights on competing in this year's Marianas Pro & Tokyo International Spring BJJ Championship.
With 10 competitors, CG was proud to bring home 10 medals.
"We've always been about quality over quantity," said Professor Gabe Baker, head instructor of Carlson Gracie Jiu Jitsu Academy. "As proud as I am of my squad that competed out there, as a Guam guy, I'm extremely proud of all the teams that went out. Never mind that we're from different academies – out there, we're Team Guam."
This year's Japan Competition Team highlighted CG's youth/kids' members, the youngest to compete being 6 years old.
"We're all very proud of how our teens and kids performed," said coach Waioleka Kaapuni. "It's a great experience for them, and we're glad that Professor Anthony and coach Eric were out there with them, setting great examples and being great leaders."
Despite their modest numbers, they put their best foot forward. "They did great! With more experience and training, I believe this group can be unstoppable," commented coach Eric Francisco, who competed alongside the baby Bulldogs.
"I hope they move on to the next competition with even more confidence and drive!"
When questioned about their own performances, the answers were introspective. "I feel I did ok." Francisco said, "I know and feel I'm capable of more."
ANOTHER GOLD FOR CRUZ
For Professor Anthony Cruz the work is never done. He was able to win the gold in the super heavy weight division, but despite powering through with two more submission wins during the Absolute Division, his streak was tripped up at the semifinals where the match was lost by points.
But that wasn't about to dampen his spirits.
"No sad stories," Cruz said in his Instagram post, "every setback brings with it a seed of [an equivalent] success." It's only up from here.
CG Guam Medalists
Anthony Cruz: Gold
Eric Francisco: Bronze (Absolute)
Arora Villaverde: Double Gold
Zarie Sayles: Gold
Raejia Blas: Gold
Quorra Francisco: Gold & Silver
Raizel Blas: Bronze
Jesse Cruz: Bronze


About Carlson Gracie Jiu Jitsu Academy: The academy was founded in 2003 and is still going strong. Homegrown and family-oriented, our mission is to empower people through the art of Brazilian Jiu Jitsu by building self-confidence and enhancing self-awareness. We strive to help cultivate the ability to work under pressure; to find comfort in discomfort that's not limited to training but can also translate to daily life.
We currently have two locations in Anigua & Upper Tumon.
For more information please contact Professor Gabe Baker at 671-929-7456.
PHOTO GALLERY BROUGHT TO YOU BY:

COMING SOON …
GUAM SPORTS ON HOLD DUE TO SUPER TYPHOON MAWAR
QUICK HITS
Bishop Obispos beat Mt. Carmel for the IIAAG Middle School Girls Basketball championship 37-25.
—————————————-
The Benavente Roadrunners crushed the Agueda Pirates 17-1 to win the 76 PONY Middle School Baseball League. Rodney San Nicolas was a beat, striking out 13 batters in a complete game while going 4-for-4 at the plate, including a homer and 4 RBI.