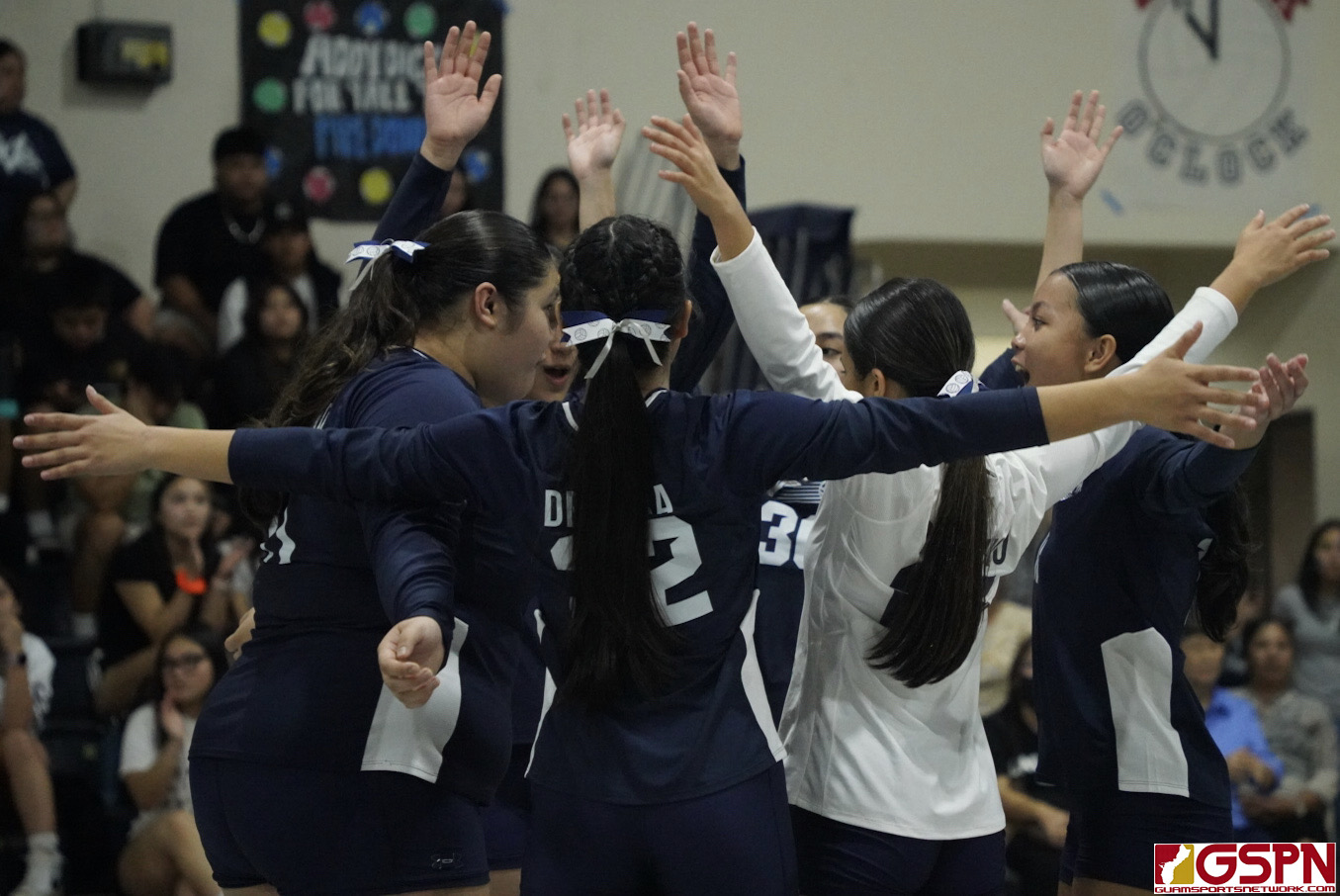 By Eriele Salas
It was a back and forth rally the whole Tuesday night between the Academy Cougars and Harvest Eagles in the 2023 IIAAG Girls Volleyball League. Each playing catch up, both teams kept good defense and absolutely killed on offense.
The Eagles Talia San Nicolas, Madi Moyer, and Patricia Cassidy were influential in the battle against the Cougars in Hagatna. They deservingly secured their victory, coming from two sets down to take over the Cougars 20-25, 24-26, 26-24, 25-14, 15-13.
1st set
The Cougars started off really strong with Maria Cruz managing to serve five consecutive times. They were in the lead, but not not as far as they desired to be. Harvest's determination is what kept them pushing and they managed to play catch-up with them. Cougar Mercedes Mendiola-Cruz had solid serves against the Eagles, and it made them scramble the court for the ball. After losing this set, Harvest knew they had to keep pushing.
Harvest knew they were going to be a challenging team to beat. "We just have to beat them," said San Nicolas. The Eagles have won over them on their home court before, and they were determined to do it again.
2nd set
With the Cougars still coming in strong, the Eagles have more motivation to keep playing. Both teams ended up deucing as they both came in to win. Harvest's Kaelyn McConkay carried the team with her outstanding digs and saves, along with Zoe Leung. The Cougars had some advantages, but some couldn't find the court. Academy's Isabella Paulino, luckily, was consistent in covering the tips and blocks from the Eagles. Now, Harvest had to find their rhythm and get the momentum back.
3rd set
More committed now, the Eagles have fire in their eyes, they wanted it. They showed out and proved that they are resilient enough to make a comeback. Now, the Cougars are starting to get more worried, and they get hits out and shank some balls. Both teams slacked on their serves, as they found themselves serving out or into the net. The service errors were back to back. Eventually, the Eagles got lucky and managed to win their first set.
According to Moyer and San Nicolas, communication and serves are just what the Eagles are going to work on in order to progress more into the season.
4th set
Fully locked in, the Eagles disappoint the roaring crowd of Academy supporters by dragging them on by 11 points. Still, neither team can find a rhythm to keep their serves consistent. While Academy had some kills, Harvest's McConkay had no problem diving to keep the ball in play. The Eagles managed to keep that winning energy, and it helped them to advance to a fifth set.
5th set
Academy decided to try playing it safe, but in the end, it didn't work out for them. Now, the Eagles had the Cougars running and scrambling for their balls. Harvest's Sofie Kongolo had great kills against the opposing team, and Niesha Chen had some notably good digs. The Eagles were motivated to keep the ball off the floor. Thanks to a service error from the Cougars, Harvest won a second time on their court, just like they wanted to. "We're very excited (to bring a trophy home), and we're working for it as hard as we can," said Cassidy.
The Harvest Eagles will be taking on another big competitor, Notre Dame, this Friday at 5:30 p.m. in the Eagles' nest. The Academy Cougars will also be challenging a top opponent, St. John's, at the same time, but in the Obispos' home court. 
PHOTO GALLERY BROUGHT TO YOU BY:

COMING SOON …
High School Football starts Sept. 29
Brawl 3: Oct 13
Guam's Strongest Man and Woman Competition October 29