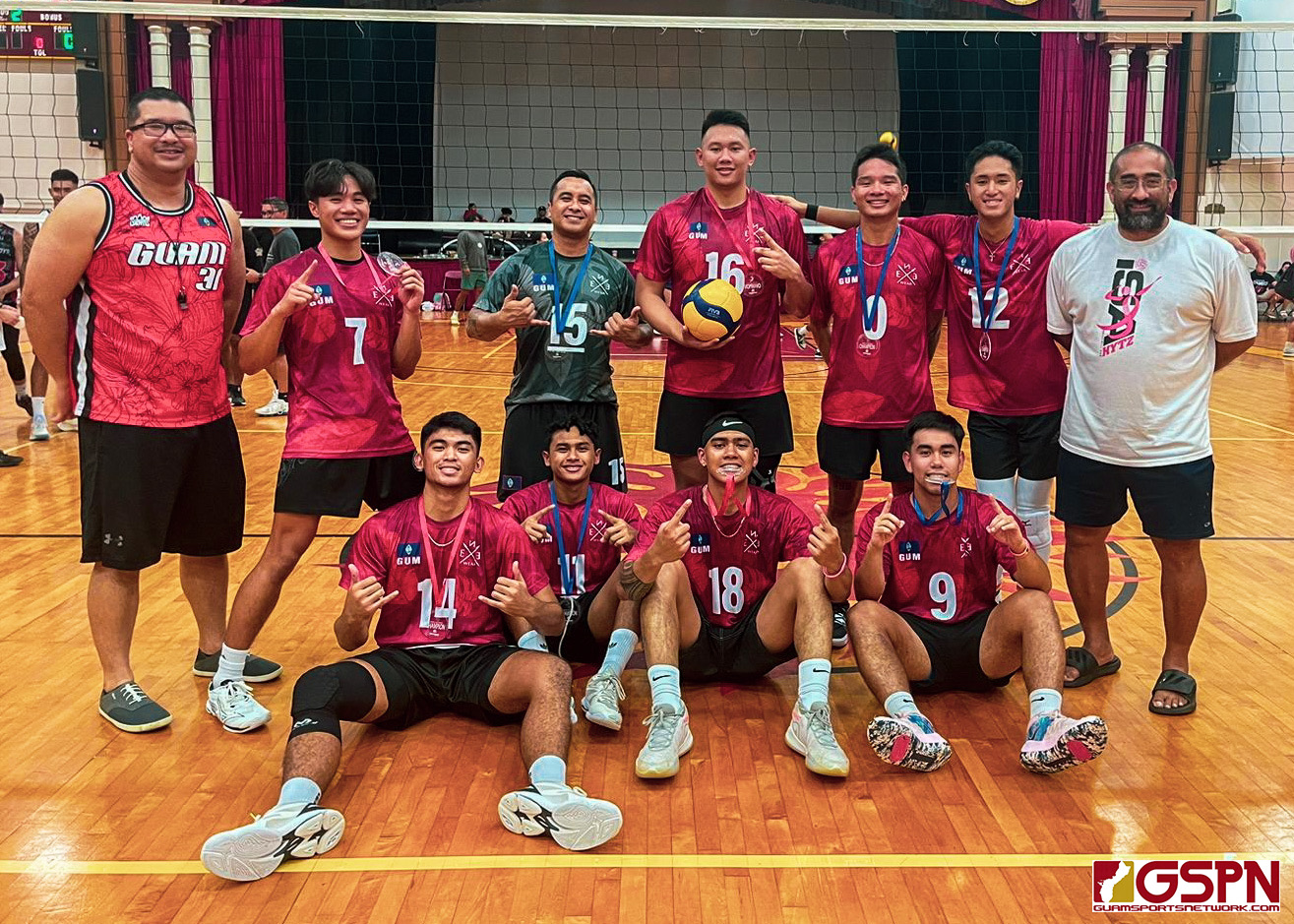 By Nick Akimoto
The Guam Volleyball Federation wrapped up on an action-packed week of volleyball as the 2nd Annual Liberation Volleyfest came to a close. Unlike last year, the tournament opted to use a ranking system based on tournament records to determine seeding for finals. This led to a climactic Sunday full of fairly even battles for titles in each division and Most Outstanding Player honors.
In the tournament's second year, the Liberation Volleyfest has seen an increase in both participation and competition, leading its tournament directors from the GVF to hold high hopes for its potential and growth.
"I think it went pretty well. I think the fact that there were two teams that were pretty equally matched each time is a good sign that we want to keep using that [ranking] system. We've traveled off-island to several big tournaments and we're learning from those. We actually want this tournament to become something big in our region that hopefully other islands can participate in, so we're aiming big to grow," said Tournament Director Steven Pangelinan.
TOURNAMENT TITLES 
In the women's division, Team Le Femme came out on top over Guahan Girls, who were made up of many of Guam's Junior National Players who had toppled Guam's Women's nationals to make it to the finals. 
La Femme, who stood at the top of last year's tournament, were themselves composed of former Guam National reps and was headlined by Janelle Besabe, who earned Most Outstanding Player in the division for her play.
"It was fun. We didn't have a lot of players, but we managed to get whoever wanted to play. It was a good competition and just a fun filled week. It was good to come back with the group and play in the championship," said Besabe.
In the men's division, Guam Red secured the tournament title over Team Xander. Guam Red was mostly Guam Men's National team players, but Team Xander trotted out a formidable squad of familiar names from highschool volleyball fame and were able to hold their own against the stacked squad. 
Guam Red just had too many weapons, however, and it was setter Logan Pangelinan who tied them all together. With a multitude of options at his disposal, Pangelinan managed to make sure to get them all involved in Guam Red's attack, securing the victory for his squad and earning Most Outstanding Player in the division.
"It's honestly an honor to get this kind of award here given the talent that I share on this team. It's really nice. I don't know if I should have gotten it, but it feels good. The entire week was honestly pretty busy because both of the Guam's men's teams not only had to play it, but work it as well. Having to work this as well as play it was pretty tough, but happy to get it done," said Pangelinan. 
In the co-ed division, the Mon$terosities won a close three-set match over the Mawarriors to reign on top of the competition. Both teams were a collection of top-tier volleyball talent, as the Mawarriors had Rui Ventura, Wes Kieth, Ella Wigsten, and Bella Paulino amongst their team, while the Mon$terositities had Faith Piper, Logan Pangelinan, and Kristen Serrano 
Aidan McDonald managed to set himself apart from the rest of the big names, being a crucial component in the team's victory and earning Most Outstanding Player.
"I just kept pushing. I trust in my teammates a lot, and we had really good talented players on our team, so I just trusted them and let them do their thing," said McDonald.
In the middle school divisions, Seythian Bell-Sablan earned Most Outstanding Player with Team Legacy for the girls division, while Chaz Apellado earned Most Outstanding Player with 'Båbå Deal' in the boys division.
PHOTO GALLERY BROUGHT TO YOU BY:

QUICK HITS
The Figo Islanders 40s women's softball team took gold in the Senior Softball World Championship in Las Vegas. Figo came out of the loser's bracket and beat the Arizona Belles 17-3 in the AA division championship game Sunday afternoon.
Other Guam teams that played in the 40s tournament were: Team SOTTA (women's) and Bud Light Guam, Friars 671 and Sindalun Guahan (men's).
Sindalu finished a respectable 4th out of 24 AAA division teams.