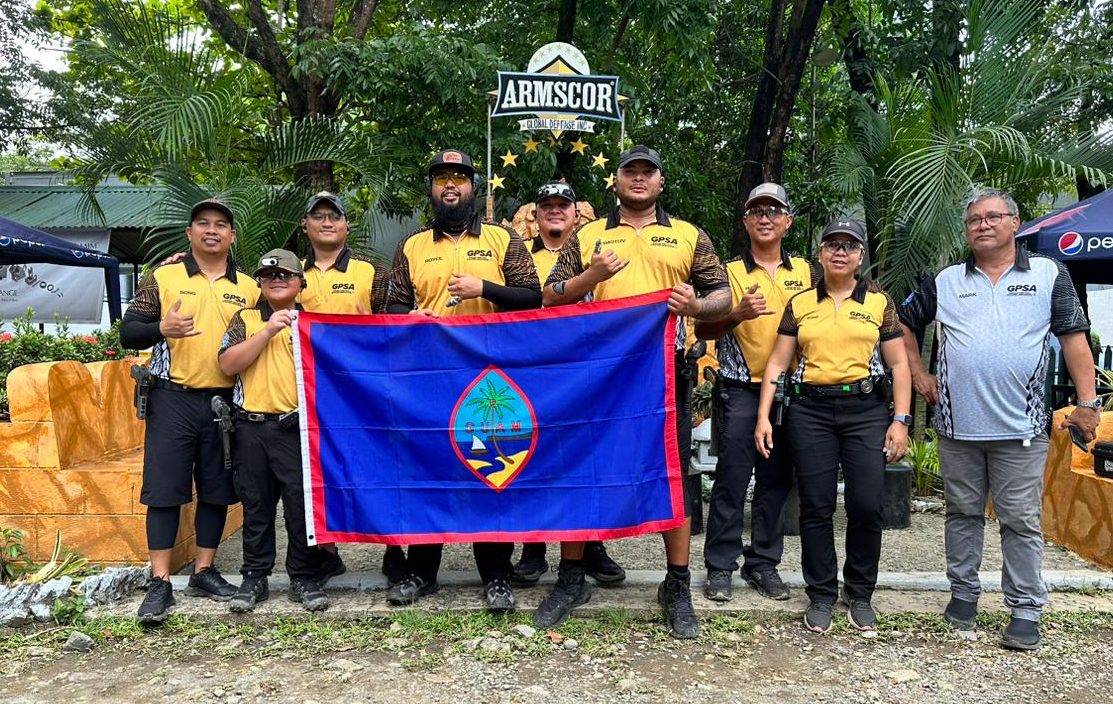 By Patrick Lujan
What started out as a group of small firearms enthusiasts has evolved into Guam's placement on the world stage for shooting.
Formed in 2016, the Marianas Practical Shooting Association (MPSA) aims to develop recreational shooting on Guam, focusing on safe firearms handling.
A squad just returned from competing in the Philippines' 2023 Bolo Cup which included Timothy Mills, Peter De Padua, Christian Caballero, Rose De Padua, Ronnie Alfonso, Ryan Unpingco, Arvi Quioc and Landon Royce.
Rose De Padua was the highest finisher as the men settled in the middle of the field out of over 100 shooters.
"In my book, the GPSA team did an outstanding job representing Guam and MPSA! That is a big win!," said Phil Santos, the local directorate for MPSA and the Regional Director of the International Practical Shooting Confederation (IPSC).
It's not the first international competition for the Guam shooters as they've represented Guam at the Pan American Handgun Championship in Florida (2022) and the IPSC Handgun World Shoot (HWS) in Thailand (2022). The IPSC HWS is the world's most significant and prestigious practical shooting event.
"We are determined to show the world's shooting community that Guam has skilled and
competitive shooters," Santos added.
RANGE OFFICERS
Not only is the MPSA developing its shooters, it's also growing a pool of range officers as a delegation will be sent to Greece to officiate in the 2023 European Handgun Championship (EHC) to be held in September.
INVITATION TO OTHER CLUBS/SHOOTERS
With momentum on its side, Santos and the MPSA hopes to spread the work and build on its recent accomplishment for better things in the future.
"As MPSA's representatives continue to establish a footprint in international competition, the next order of business here at home is to contact local shooting clubs and convince them to affiliate with MPSA. We will continue to provide services and assistance to the officers and members of the affiliated shooting clubs in their quest to send their members to international competitions."
If you are a shooting club or just want to get involved with the MPSA, you can contact Phil Santos at 671-898-8912 or [email protected].
ANTICIPATED FUTURE EVENTS
2024 Australasia Handgun Championship, Laos
2024 Latin America Handgun Championship, Argentina
2024 Rifle World Shoot, Finland
2025 PCC/Mini Rifle World Shoot I, Czech Republic
2025 Handgun World Shoot, South Africa
2025 European Shotgun Championship, Hungary
2026 Pan-American Handgun Championship, Aruba

QUICK HITS
The Figo Islanders 40s women's softball team took gold in the Senior Softball World Championship in Las Vegas. Figo came out of the loser's bracket and beat the Arizona Belles 17-3 in the AA division championship game Sunday afternoon.
Other Guam teams that played in the 40s tournament were: Team SOTTA (women's) and Bud Light Guam, Friars 671 and Sindalun Guahan (men's).
Sindalu finished a respectable 4th out of 24 AAA division teams.