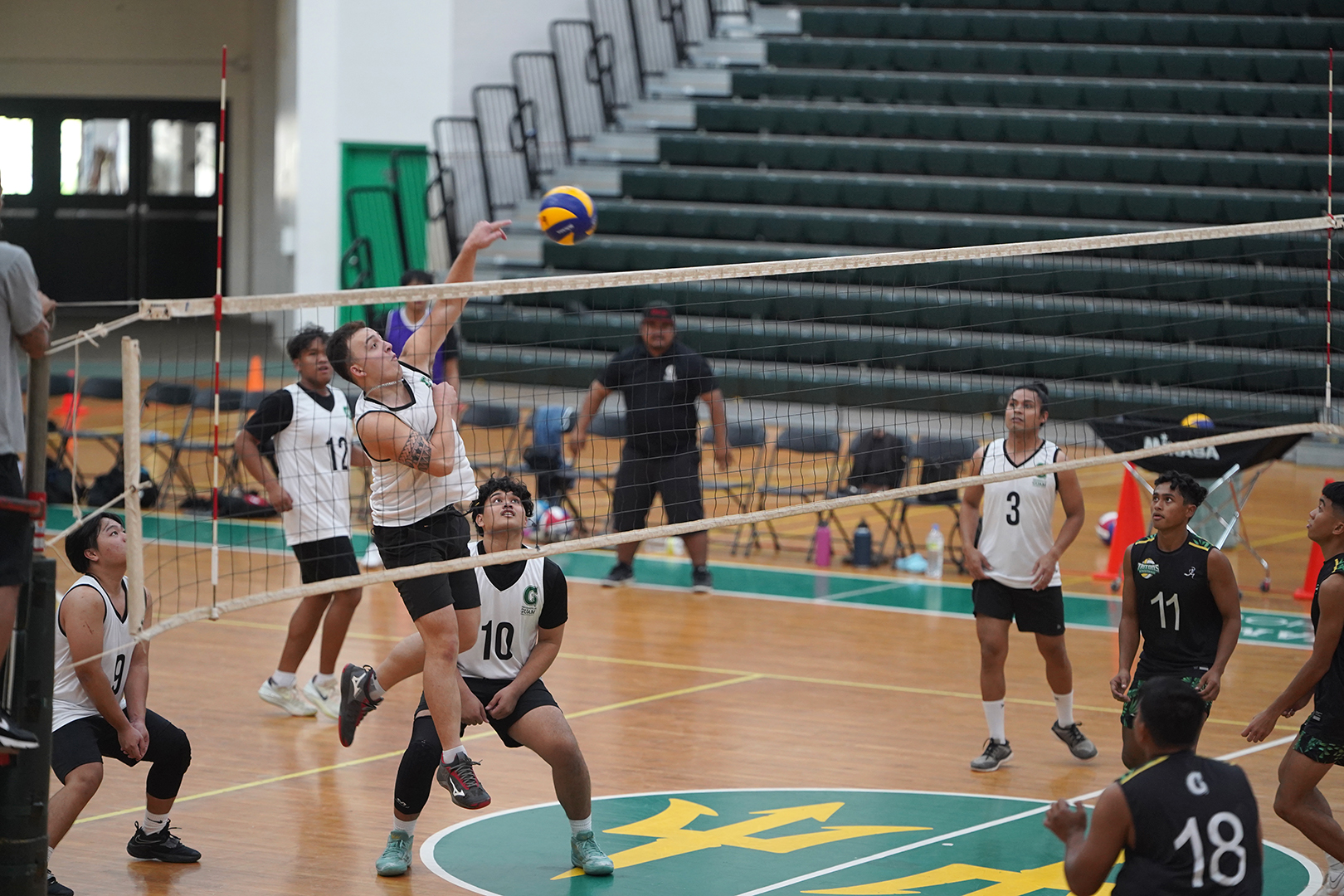 PRESS RELEASE – On Tuesday in the Triton Men's Volleyball League, the Guam Nationals and the Andersen Bombers clinched the #1 and #2 seeds in the league playoffs as both gained first round byes in the playoffs that start next Tuesday. The Guam Nationals defeated the UOG Tridents 3-0 while the Bombers defeated Limitless 3-1 in Triton League action.
In the opening match, Limitless played well early and gave the Bombers a good match through the first two sets, with the action being tied 1-1 as the Bombers won the first set 25-23 and then Limitless defeated the Bombers 25-20 in the 2nd set.
The Bombers took control in the 3rd set, with a 25-19 win and the Andersen team pulled out the 4th set with a 25-22 win and the Bombers won the match 3-1.
The Bombers finished the regular season at 4-1, with their lone loss coming to the Guam Men's National Team. Limitless is 1-3 in the Triton League and finish their regular season on Thursday night against the Guam National Team at 6:30pm.
In the 2nd match, the Guam National Team defeated the UOG Tridents 3-0 but like their Triton counterparts at UOG, the Tridents had a solid show against the National Team.
The Tridents lost the first set 25-23 in a close match that the Tridents had the lead late but could not hold off the National Team's rally. The Nationals won the 2nd set easily, 25-17, but the Tridents showed character and again led late, but the experienced national team was just too strong in the final points again and won 25-23.
The Guam Nationals are 4-0 on the season and finish the season on Thursday against Limitless. The Tridents finished the regular season 0-5 and will be the #6 Seed in the league.
The UOG Tritons face Au Mana on Thursday night at 8:15pm in the final match of the regular season, with the winner taking the 3rd Seed and the loser the 4th Seed in the Triton League playoffs. Limitless is the #5 Seed based on losing to both Au Mana and the Tritons heads up.
The Triton Men's Volleyball League playoffs begin next Tuesday night with the #4 Seed playing the #5 Seed (Limitless) at 6:30pm and the #3 Seed playing the #6 Seed (Tridents) at 8:30pm. The Guam National Team and the Bombers have first round byes and will play the winners of the first round matches in the semi-finals next Thursday.
The Triton League Championship and 3rd Place match is scheduled for Tuesday, October 3.
All playoff matches will be streamed "Live" from the UOG Calvo Field House. Entry to the UOG Calvo Field Course for the volleyball league is $3.00 for adults, $2.00 for seniors and non-UOG students, while UOG Students and Kids 5 and Under are free.

COMING SOON …
High School Football starts Sept. 29
Brawl 3: Oct 13
Guam's Strongest Man and Woman Competition October 29