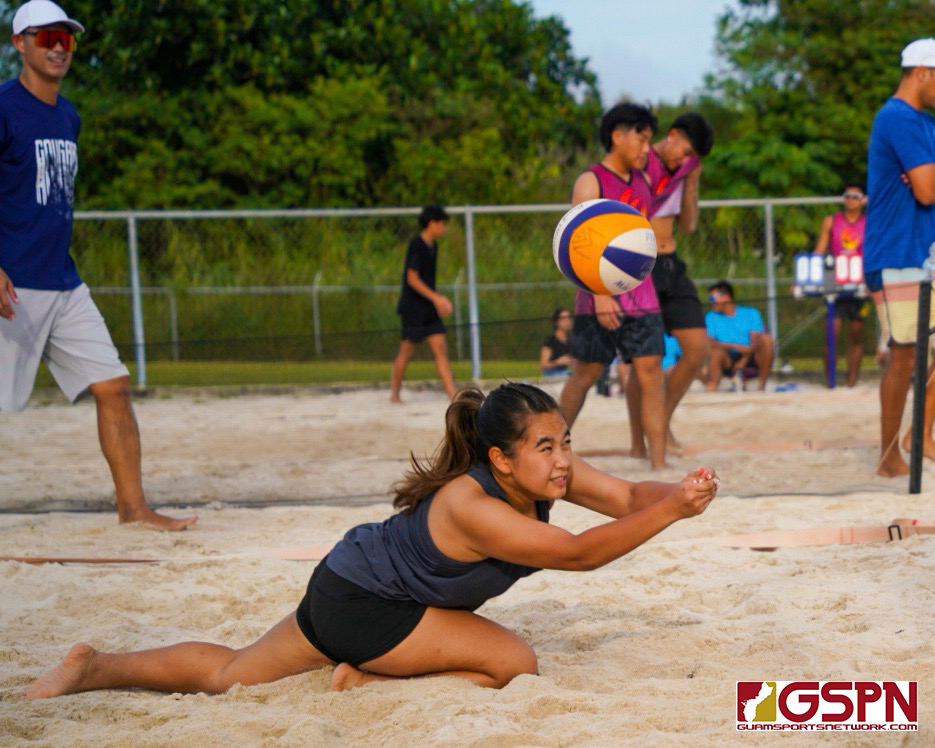 The 2023 High School Beach Volleyball League continued Thursday evening as all four matches saw 3-0 sweeps. Here are the results and photos:
Girls Division
Academy White def. St. Paul 3-0
Ha'ane Cruz/Sophia Kelly (AOLG) def. Mandy Acda/Anita Manglona 21-10, 21-6
Ariana Cruz/Landen DeVera (AOLG) def. Daisy Belyshev/Leah Peel 21-8, 21-18
– Natasha Kelly/Bella Paulino (AOLG) def Marie Paule/Cita Rivera 21-6, 21-15
St. John's Red def. Harvest 3-0
Jada Alcantara/Kanyce Thompson ((SJS Red) def. Zoe Chabanne/Madi Moyer 21-13, 21-9
Elle Wigsten/Wendy Zheng (SJS Red) def. Brianna Dolan/Izzy Sunga 21-11, 21-10
Shihori Fujisaki/Cyerra Lauron (SJS Red) def. Patricia Cassidy/Kaelyn McConkay 21-10, 21-14
Boys Division
FD Maroon def. St. Paul 3-0
Leiland Gumabon/Reo Okawa (FD) def. Paul Gapith/Corey Perez 21-14, 21-15
Christian Lobaton/Gabriel Sarmiento (FD) def. Nicolas Atoigue/Elijah Bautista 21-2, 21-10
Ethan Alvarez/Joseph Mafnas (FD) def. Nathan Hodges/Traven Kaae 21-11, 21-8
Tiyan def. St. John's Red 3-0
Ashton Aguon/Khole Martinez (THS) def. Luca Flores/Justin Li 22-20, 21-12
Skyler Blas/Noel Ericsson (THS) def. Jason Palmores/Zeke Sablan 19-21, 21-18, 15-7
Tyrone Buekis/Gerald Malana (THS) def. Aidan Johnson/Cameron Kelley 21-17, 21-17
PHOTO GALLERY BROUGHT TO YOU BY:

QUICK HITS
The Figo Islanders 40s women's softball team took gold in the Senior Softball World Championship in Las Vegas. Figo came out of the loser's bracket and beat the Arizona Belles 17-3 in the AA division championship game Sunday afternoon.
Other Guam teams that played in the 40s tournament were: Team SOTTA (women's) and Bud Light Guam, Friars 671 and Sindalun Guahan (men's).
Sindalu finished a respectable 4th out of 24 AAA division teams.