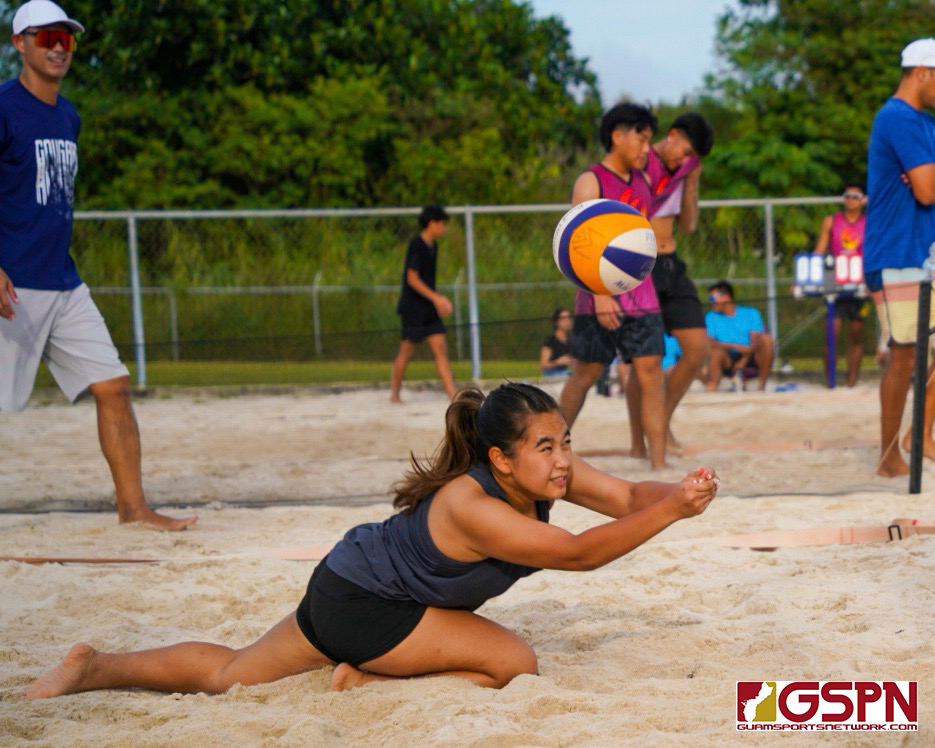 The 2023 High School Beach Volleyball League continued Thursday evening as all four matches saw 3-0 sweeps. Here are the results and photos:
Girls Division
Academy White def. St. Paul 3-0
Ha'ane Cruz/Sophia Kelly (AOLG) def. Mandy Acda/Anita Manglona 21-10, 21-6
Ariana Cruz/Landen DeVera (AOLG) def. Daisy Belyshev/Leah Peel 21-8, 21-18
– Natasha Kelly/Bella Paulino (AOLG) def Marie Paule/Cita Rivera 21-6, 21-15
St. John's Red def. Harvest 3-0
Jada Alcantara/Kanyce Thompson ((SJS Red) def. Zoe Chabanne/Madi Moyer 21-13, 21-9
Elle Wigsten/Wendy Zheng (SJS Red) def. Brianna Dolan/Izzy Sunga 21-11, 21-10
Shihori Fujisaki/Cyerra Lauron (SJS Red) def. Patricia Cassidy/Kaelyn McConkay 21-10, 21-14
Boys Division
FD Maroon def. St. Paul 3-0
Leiland Gumabon/Reo Okawa (FD) def. Paul Gapith/Corey Perez 21-14, 21-15
Christian Lobaton/Gabriel Sarmiento (FD) def. Nicolas Atoigue/Elijah Bautista 21-2, 21-10
Ethan Alvarez/Joseph Mafnas (FD) def. Nathan Hodges/Traven Kaae 21-11, 21-8
Tiyan def. St. John's Red 3-0
Ashton Aguon/Khole Martinez (THS) def. Luca Flores/Justin Li 22-20, 21-12
Skyler Blas/Noel Ericsson (THS) def. Jason Palmores/Zeke Sablan 19-21, 21-18, 15-7
Tyrone Buekis/Gerald Malana (THS) def. Aidan Johnson/Cameron Kelley 21-17, 21-17
PHOTO GALLERY BROUGHT TO YOU BY:

QUICK HITS
Guam MTB National Championship: Edward Oingerang and Jennifer Camacho are your 2023 MTB national champions. Oingerang finished the course in 1:13:24 while Camacho won her second straight title in 54:08.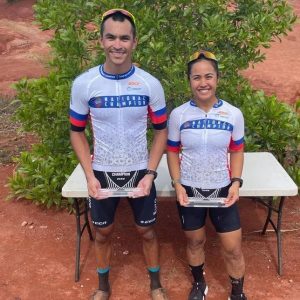 ——————————————
Kobe Miyashita, with St. John's coach Arvin Flores, was named the 2023 IIAAG Middle School Boys Volleyball MVP!