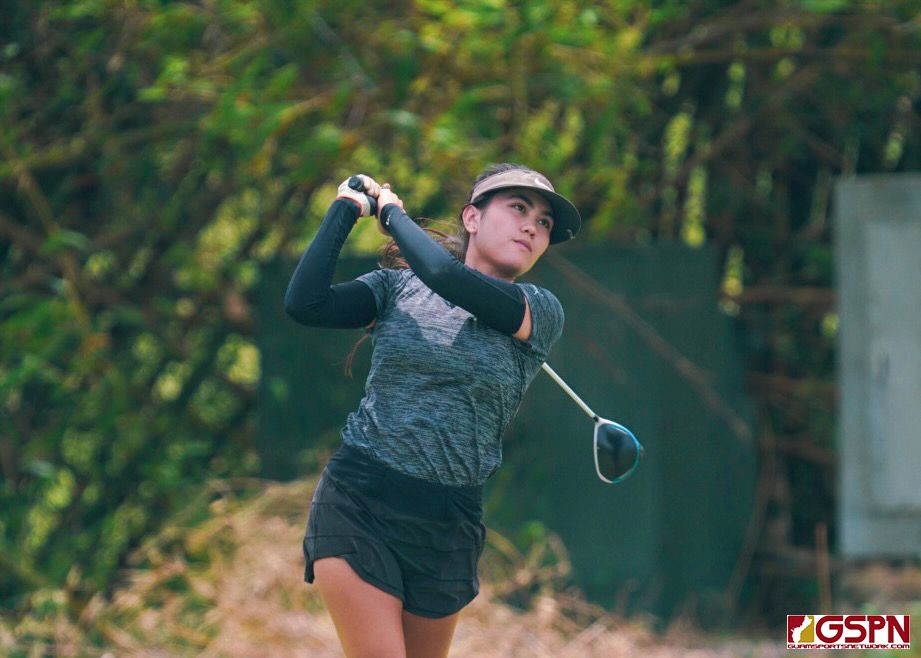 By Patrick Lujan
With the title in the bag since last weekend, 15-year-old Tyanna Jacot challenged herself to shoot under par in the final round of the 2023 Guam Amateur Golf Championship.
She did just that as the soon-to-be high school sophomore dropped a two-under 70 on Saturday to cap off a marvelous championship round at the Country Club of the Pacific, which included 14 birdies over the three rounds of competition.
After the second round last Sunday, Jacot put a number of 68 as her goal to wrap up her last tournament on island.
Asked if she was 'disappointed' with a 70, she said, "No I'm not. I'm just glad I shot under par".
After celebrating her 15th birthday on Friday that included a practice round at CCP, Jacot was firing at all pins, turning in a 35-35 split.
"It makes me feel good winning this tournament, especially with the Junior Worlds coming up in San Diego (in July)."
"I think she's amazing. She's playing really well, especially at a young age," said Nalathai Vongjalorn, who was an eight-time junior golf champion herself. "I think she can make it really far."
Precision and poise came with every shot for Jacot, who was determined to shoot sub par.
On the par 5 7th hole, her second shot went long past the green into the 'bunker of hell'. Her recovery was straight from the pro level as it softly rolled within two feet to set up a tap-in birdie.
"I just made sure my club went down and thankfully, it went close to the hole."
"All her putts today have been dropping," final round cart mate Emiri Sunga said about Jacot. "Everything from within 10 feet, it's been dropping. Those really make a difference in the scores."
Jacot will be moving to San Diego this summer in hopes of taking her game to the next level, but still intends to be representing Guam in future tournaments.
Sunga and 68-year-old Tessie Blair both finished with 84s and tied for second place. Sunga scored an eagle 3 on the 16th hole.
Vongjalorn's Return
Nalathai Vongjalorn was right in Jacot's shoes as she was Guam's best junior golfer for some eight years.
This is her first tournament back after returning from a deployment with the Air Force Reserve. It had been about eight months since she last played, so wiping the cob webs off the clubs was the first step back into competition.
"My swing is ok. It's definitely a little rusty," Vongjalorn said. "Just a little practice and I'll be back on track."
Vongjalorn's final round of 83 put her in fourth place. Inconsistency, she said, was an issue on the course during the tournament.
"My wedges are a little rusty, so it definitely feels off. The putting was ok. Everything else needs a little more work."
She turns 25 on Sunday.
WOMEN'S FINAL LEADERBOARD
Tyanna Jacot 72-72-70=214
Tessie Blair 83-78-84=245
Emiri Sunga 79-82-84=245
Nalathai Vongjalorn 84-80-83=247
Rose Tarpley 84-81-85=250
Hiromi Takasu 83-82-86=251
Mina Manibusan 85-87-85=257
Ava Limtiaco 85-84-90=259
Tai Maulupe 90-80-92=262
Krisana Fenton 93-90-83=266
Eva Cabrera 98-102-90=290
Rose Cunliffe 99-96-95=290
Sheri Teker 118-112-108=338
Lisa Babin 119-119-113=351
Meimei Smith 91-98
Trudy Plummer 98-102
Laling Couch 90
PHOTO GALLERY BROUGHT TO YOU BY:

QUICK HITS
The Figo Islanders 40s women's softball team took gold in the Senior Softball World Championship in Las Vegas. Figo came out of the loser's bracket and beat the Arizona Belles 17-3 in the AA division championship game Sunday afternoon.
Other Guam teams that played in the 40s tournament were: Team SOTTA (women's) and Bud Light Guam, Friars 671 and Sindalun Guahan (men's).
Sindalu finished a respectable 4th out of 24 AAA division teams.