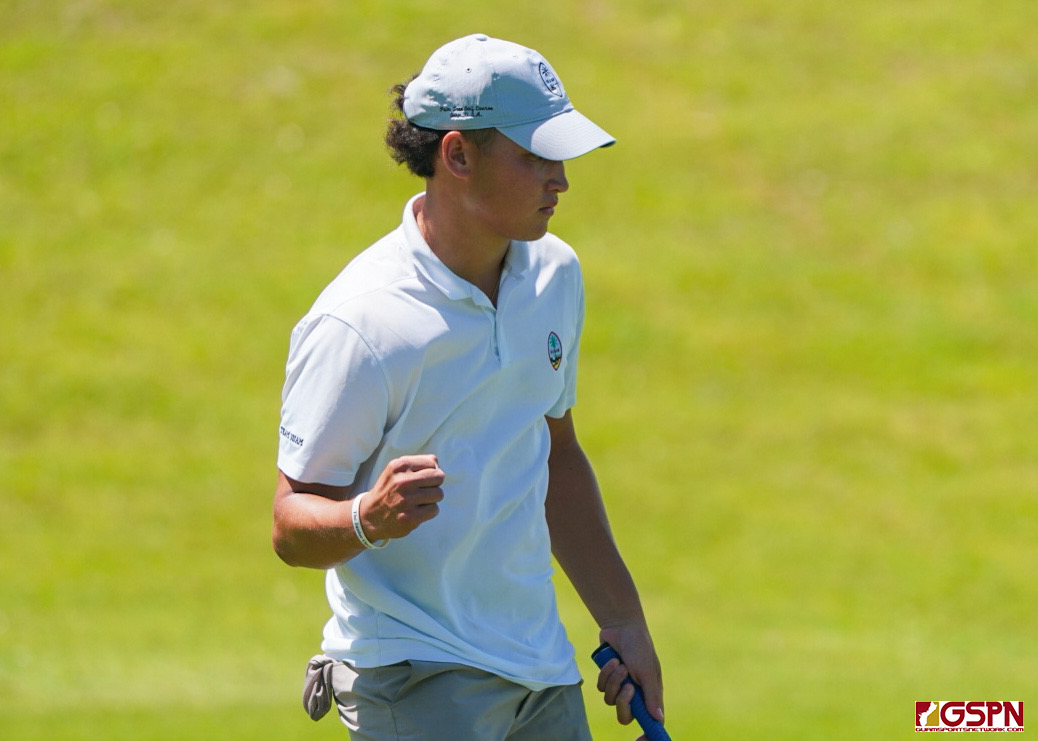 By Patrick Lujan
Youth continues to be served in the 2023 Guam Amateur Golf Championship as 19-year-old Ivan Sablan and 14-year-old Tyanna Jacot extended their leads in Round 2 Sunday at the Country Club of the Pacific.
Sablan shot a 1-over 73, one shot better than Saturday, and Jacot cruised to another impressive even par 72 on the women's side on another windy day at the Ipan, Talofofo golf course.
The third and final round is slated for next Saturday at CCP.
Men's Division
The junior college golfer extended his lead to eight strokes after a steady and confident 73. While the competition tried to play catch-up after some high scores in the opening round, Sablan's driving was on point throughout, shortening the course and putting himself in position for low scores.
"The game is in a good spot right now," Sablan said. "Everything feels pretty good and we hope to keep it consistent (next Saturday)."
Sablan's physical stature is evident as he's put on more muscle from a year ago when he won the silver medal in Saipan's Pacific Mini Games.
"I'm trying to hit the ball further and trying to give myself advantages off the tee box. I'm not trying to do it for looks, I'm trying to do it for the game," Sablan said about his strength training.
He will be transferring from his community college squad to either Sonoma State (DII) or UC-Davis (DI) this fall.
Louie Sunga holds on to second place after rounds of 77-78, while Nalapon Vongjalorn sits in third place three strokes back.
Eugene Park and Redge Camacho made big moves, both bettering their scores by 10 strokes from Saturday.
Women's Division
She's just 14, but Tyanna Jacot is on a whole different level, shooting back-to-back even par rounds this weekend.
Her main goal coming into the second round was to shoot under, but couldn't quite get to it on a windy day.
"I just couldn't get the birdies on the last couple of holes," said the incoming sophomore at St. John's. "I had that one bogey, and that would've been my one-under, but that's alright. My chipping (was working) and also my putting, which I didn't have yesterday."
With an insurmountable 17-stroke lead, Jacot is now competing within herself and said she's aiming for a four-under final round. "That's the goal."
The ageless Tessie Blair jumped into a tie for second place with a solid 78 on Sunday.
MEN'S LEADERBOARD (Round 2)
Ivan Sablan 74-73=147
Louie Sunga 77-78=155
Nalapon Vongjalorn 78-80=158
Eugene Park 85-75=160
Taiyo Tagami 79-81=160
Daryl Poe 78-83=161
Redge Camacho 86-76=162
Stüssy Shiroma 85-79=164
Markus Nanpei 81-83=164
Eduardo Terlaje 82-84=166
Santino Yanza 85-86=171
Timothy Hubert 85-87=172
Edwin Fenton 91-84=175
Taisei Tagami 85-91=176
Sam Teker 85-91=176
Ken Duenas 87-91=178
Trey Jacot 90-91=181
Ray Quintanilla 99-87=188
Sammy Teker 114-
WOMEN'S LEADERBOARD (Round 2)
Tyanna Jacot 72-72=144
Tessie Blair 83-78=161
Emiri Sunga 79-82=161
Nalathai Vongjalorn 84-80=164
Rose Tarpley 84-81=165
Hiromi Takasu 83-82=165
Ava Limtiaco 85-84=169
Tai Maulupe 90-80=170
Mina Manibusan 85-87=172
Krisana Fenton 93-90=183
Trudy Plummer 98
Rose Cunliffe 99-96=195
Eva Cabrera 98-102=200
Sheri Teker 118-112=230
Lisa Babin 119-119=238
PHOTO GALLERY BROUGHT TO YOU BY:

QUICK HITS
The Figo Islanders 40s women's softball team took gold in the Senior Softball World Championship in Las Vegas. Figo came out of the loser's bracket and beat the Arizona Belles 17-3 in the AA division championship game Sunday afternoon.
Other Guam teams that played in the 40s tournament were: Team SOTTA (women's) and Bud Light Guam, Friars 671 and Sindalun Guahan (men's).
Sindalu finished a respectable 4th out of 24 AAA division teams.