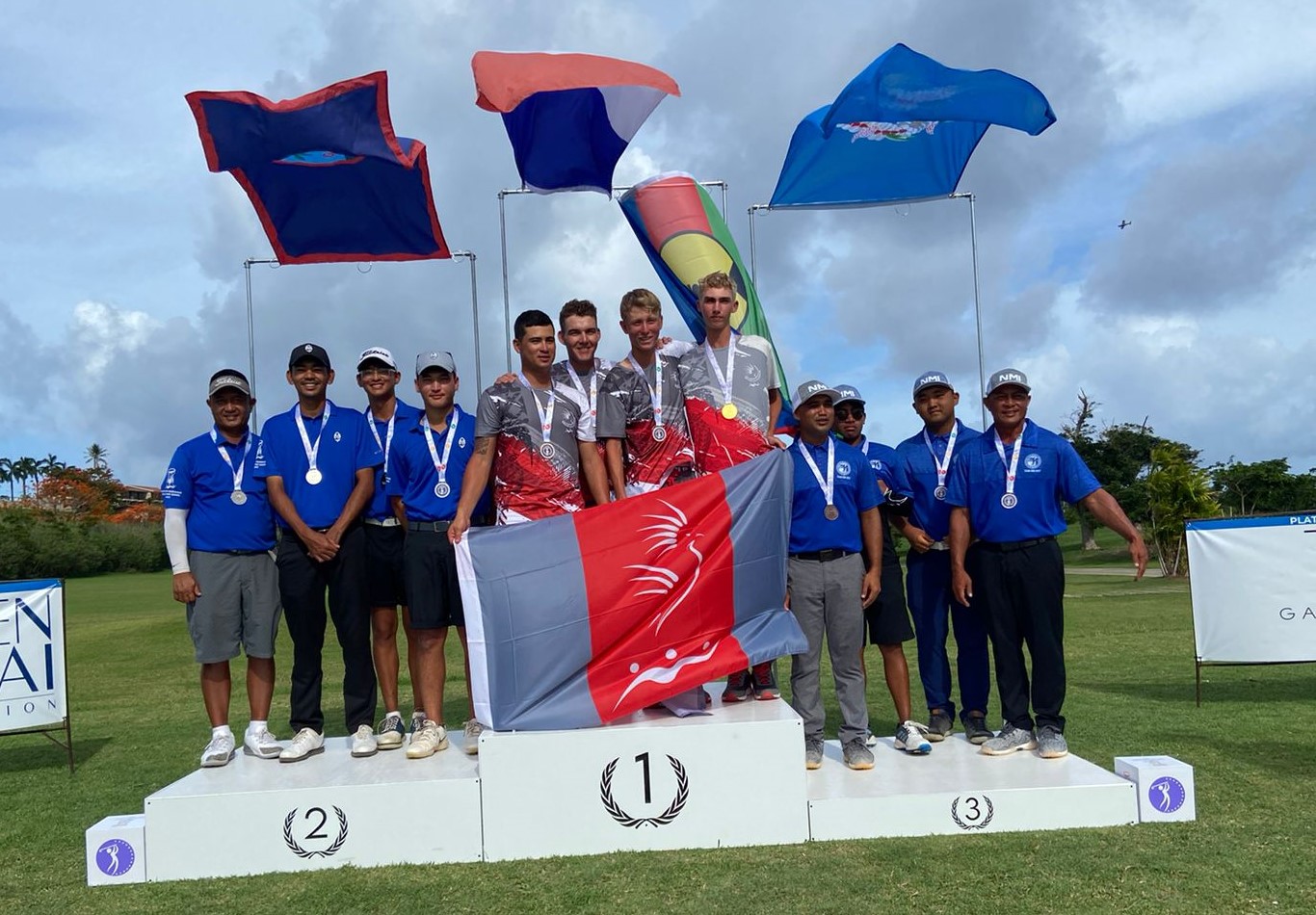 By Patrick Lujan
SAIPAN – Our young golfers stepped up on the big stage and performed admirably in the 2022 Pacific Mini Games.
After four rounds at the Coral Ocean Resort, both our men and women won team silver and 18-year-old Ivan Sablan took the individual silver as well.
Men's division
It was a roller coaster of a week for our men led by veteran Louie Sunga and three young studs Sablan, Redge Camacho and Markus Nanpei.
The young bucks carried the team in the early rounds. In fact, Camacho and Sablan were tied for second heading into the final round.
Sablan powered through for a final round 77 to finish tied for second place.
"I've been playing in tournament competition for a while now, I think I dealt with the pressure fine and I just played my game," said the silver medalist. "Overall I did not meet my expectations, I expected to take gold with my team and individually. However, not everything goes as planned so I will be looking forward to the next tournament."
All came crumbling down for Camacho, who carded an 88 final round.
"It was a bad day to have a bad game," Camacho simply stated after his match.
It all started on Thursday when Camacho was coming into the clubhouse at 3-under for the round, but a catastrophic 11 on the second-to-last hole damaged a possible round in the 60's.
Camacho's misfortunes continued on Friday with his pain-staking 88.
For Sunga, arguably our island's finest golfer in the last two decades, finished in style with a 30-foot putt on the 18th.
"I love the sport and as long as I can swing a club, you'll be seeing me out here," Sunga said after his round.
Ivan Sablan 73-71-77-77=298
Louie Sunga 77-73-79-76=305
Redge Camacho 70-75-76-88=309
Markus Nanpei 72-82-75-86=315
Women's Team
Our women's team held off Tahiti heading into the final round, as they had a one-stroke edge for the silver with New Caledonia way ahead in first.
14-year-old Tyanna Jacot shot a final round 78 to finish in fourth place overall. Ironically, her highest score of the week was on Thursday when she celebrated her birthday.
Both Jacot and Kang were in medal contention after two rounds, but the third round wall derailed those dreams as they settled for team silver.
"We're very proud and honored to be here representing Guam," said veteran Rose Tarpley.
Tyanna Jacot 79-77-83-78=317
Kayley Kang 77-79-89-84=329
Rose Tarpley 86-91-88-89=354
Sarah Therrell 91-87-86-93=357
BRIGHT FUTURE
Six of our eight players range from 14 to early 20's and with their performance at a stage this big only gives high hopes for the future of the sport on Guam.
"We're really proud. We have a really good team with our young girls," Tarpley said about her crew.
"I was really surprised on how well these young men played. We were in contention all the way through the final round," Sunga said.
"I would give them an idea on what to expect, try and calm them down and focus on the game and not get too excited. They definitely held their own. We have a good future for golf on Guam."

COMING SOON …
High School Football starts Sept. 29
Brawl 3: Oct 13
Guam's Strongest Man and Woman Competition October 29
QUICK HITS
The Figo Islanders 40s women's softball team took gold in the Senior Softball World Championship in Las Vegas. Figo came out of the loser's bracket and beat the Arizona Belles 17-3 in the AA division championship game Sunday afternoon.
Other Guam teams that played in the 40s tournament were: Team SOTTA (women's) and Bud Light Guam, Friars 671 and Sindalun Guahan (men's).
Sindalu finished a respectable 4th out of 24 AAA division teams.