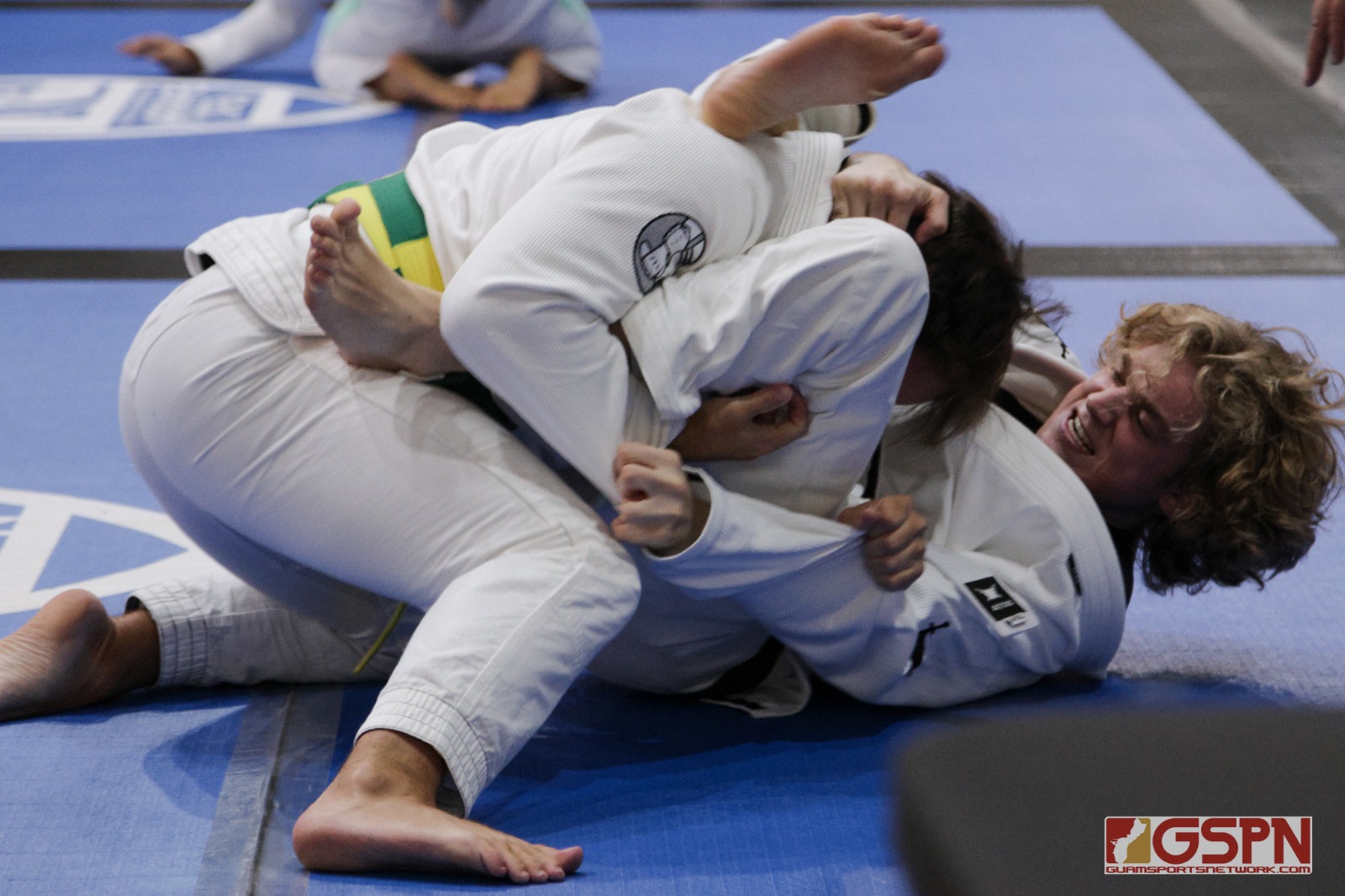 By Paradis Jolie Fejerang
With over 430 grapplers and about 100 of them being from off-island, competition day covering the youth to masters of the sport, and non-stop action over six mats throughout the tournament, the 2023 Marianas Open Jiu-Jitsu Championship was in full swing at the University of Guam Calvo Field House.
Atos Jiu-Jitsu Guam was the team to beat as the defending champions and they delivered in holding tight to their title as none of their competitors were able to come close to dethroning them. Machado Guam received the silver team medal with Heights Academy Guam reaching the bronze.
A medalist from Team Atos competing in the White Adult Feather Division, Sebastian Riley, regarded the gruesome but necessary final week of training prior to the competition. "The blood put onto the mat, tons of sweat and maybe a little bit of tears in the truck heading home. It was all worth it."
The off-islanders rolling around on the mats represented their countries through opportunities provided from previous Marianas Pro tournaments and winning the opportunity to showcase their skills at the championships on Guam.
Individuals who were able to represent their country expressed their many thanks to the Marianas Jiu-Jitsu program for allowing themselves and their peers to showcase their talents on Guam.
With the Philippines flag proudly patched on his gi, Joko Luis B. Silverio, the gold Purple Adult Lightweight medalist of Deftac Ribeiro in the Philippines, noted how overwhelming being on Guam for the Marianas Open has been. "We sacrificed a lot…we've been training morning, afternoon and evening for the competition because we don't want to waste the opportunity that was given to us."
Locals and non-locals alike expressed their thanks to the entire jiu-jitsu community on the island and all those who attended the Marianas Open for creating a welcoming atmosphere.
"In front of the people of Guam, they're amazing, as a non-local rolling with a bunch of the local guys and spectators cheering everybody on, it helps you feel amazing and alleviates that fear because you're out there putting on a show for everyone," Aaron Lyon, Blue Master 1 Light gold medalist representing Machado Guam, conveyed his gratitude as a non-local who's used to competitions on the island.
On behalf of the younger and newer grapplers, Riley shared his earnest gratitude. "It's a great feeling…[the] jiu jitsu community coming together, showcasing their talents on the mat. Whether the intensity is high or some guys are buddies, everyone is going for the gold and still supporting each other."
Silverio also commended the local community as an outsider coming over for the competition. "We feel really welcome here…the competition here is really high level. Our goal next year is to bring more Filipinos to compete here and experience the Marianas program."
PHOTO GALLERY BROUGHT TO YOU BY:

COMING SOON …
High School Football starts Sept. 29
Brawl 3: Oct 13
Guam's Strongest Man and Woman Competition October 29