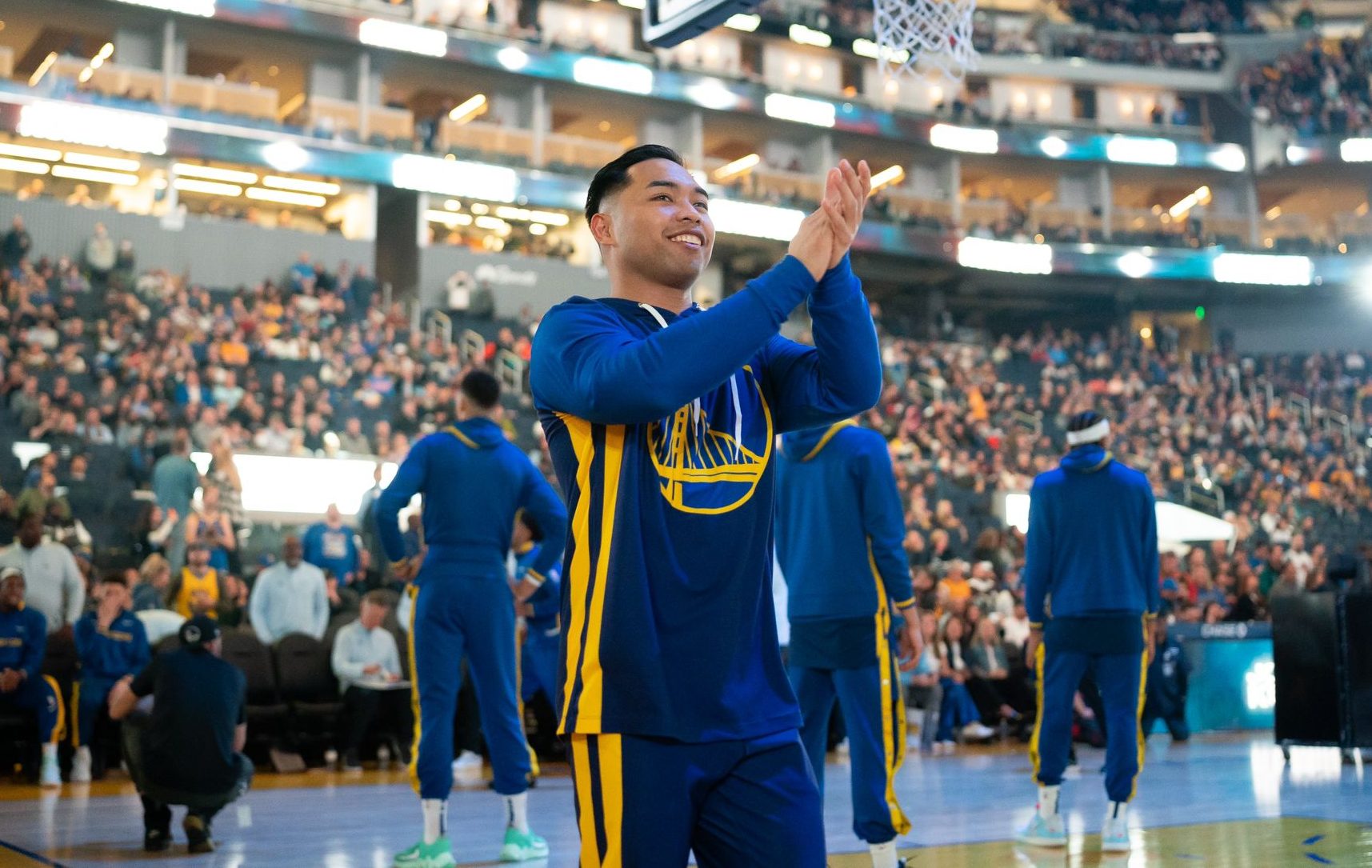 By Patrick Lujan
Imagine being courtside, just a few feet away from Stephen Curry and Klay Thompson at all the Golden State Warriors games.
Guam's Rusty Estrellado is one lucky dude who gets that opportunity as he heads into his second season as a Warriors Dancer.
"It was crazy, because I'm a big Warriors fan and I didn't know there are dance teams in the NBA," Estrellado remembers about first making the team in 2022.
The 31-year-old former Tamuning resident is an active duty Air Force Senior Airman stationed at Travis Air Force Base with the 60th Logistics Readiness Squadron. Joining the military was part of the plan of expanding his dancing horizons that began when he was just 4 years old.
"(Joining the military) was always on the back on my mind when I was on Guam, and I finally pulled the trigger. I'm glad I did it. I've been dancing my whole life back home, teaching in the studios. I felt like there was a lot more I can do out here, in terms of the entertainment industry."
With Travis AFB being his first duty station, Estrellado eventually came across auditioning for Golden State after networking with other dancers in the Bay Area.
He says his first selection last summer was pure validation on everything he's done in his dancing career.
"It was one of those moments where I felt like all my hard work paid off back home. It was nice knowing where I'm at in terms of my level of performing. I never once sat down to think of where I am at. I was always an instructor or teacher back home. Coming here not knowing anybody, it was nice because I started from the bottom to see where I'm at."
Original Kobe fan
Estrellado said he became a Warriors fan when the great Kobe Bryant retired in 2016. "I was born a Lakers fan because of my dad (Bobby). We're a big Laker family. After Kobe, I started following Stephen Curry."
Fast forward a few years later, the island boy now patrols the Warriors sidelines and cheers on Curry and the Warriors.
"We cross pass paths every game," Rusty said about Curry. "Every now and then, (he says hi). We're at work so we don't really talk. A little interaction here and there."
Heading into his second season with the Warriors, he is now considered a veteran of the squad and tries to help the rookies adapt to the big stage.
"The stage is different – it's really a court with 15 to 20,000 people with fans and celebrities watching you. You got to entertain and hype up the crowd."
The Beginning
Rusty said all things started when he was just 4 years old.
"I was forced to dance and go with my sister (KayC) to SKIP. My parents didn't know what to do with us during summer so they signed us up for dance classes."
It took years before Rusty had a true itch for the art of dance. In fact, it wasn't until after graduating from Notre Dame High School in 2009 that he took it more serious with an interest in MTV's America's Best Dance Group and the urban street dancing.
He and friends formed the local group Urban Individuals, which went on to win Guam's Best Dance Group competition. That opened teaching gigs with Urban Studios, Dance Jazz, Fusion, Talent Box and even a JFK dance group.
The Future
With his present stance in the Bay Area as a full-time military airman and part-time NBA dancer, Rusty is planning accordingly on his next steps in life.
"I'm just seeing where my careers can take me. I'm not sure of the military because of the dance gigs. I'm hoping to go full-time in dance and see where it takes me. The military was a step for me to leave and Guam and pursue my goals before I get married and have kids."
Whatever the next gig he gets, having the Golden State Warriors on his resume will be a huge plus. Congratulations Rusty and have a great second season with Steph and the boys!

QUICK HITS
The Figo Islanders 40s women's softball team took gold in the Senior Softball World Championship in Las Vegas. Figo came out of the loser's bracket and beat the Arizona Belles 17-3 in the AA division championship game Sunday afternoon.
Other Guam teams that played in the 40s tournament were: Team SOTTA (women's) and Bud Light Guam, Friars 671 and Sindalun Guahan (men's).
Sindalu finished a respectable 4th out of 24 AAA division teams.