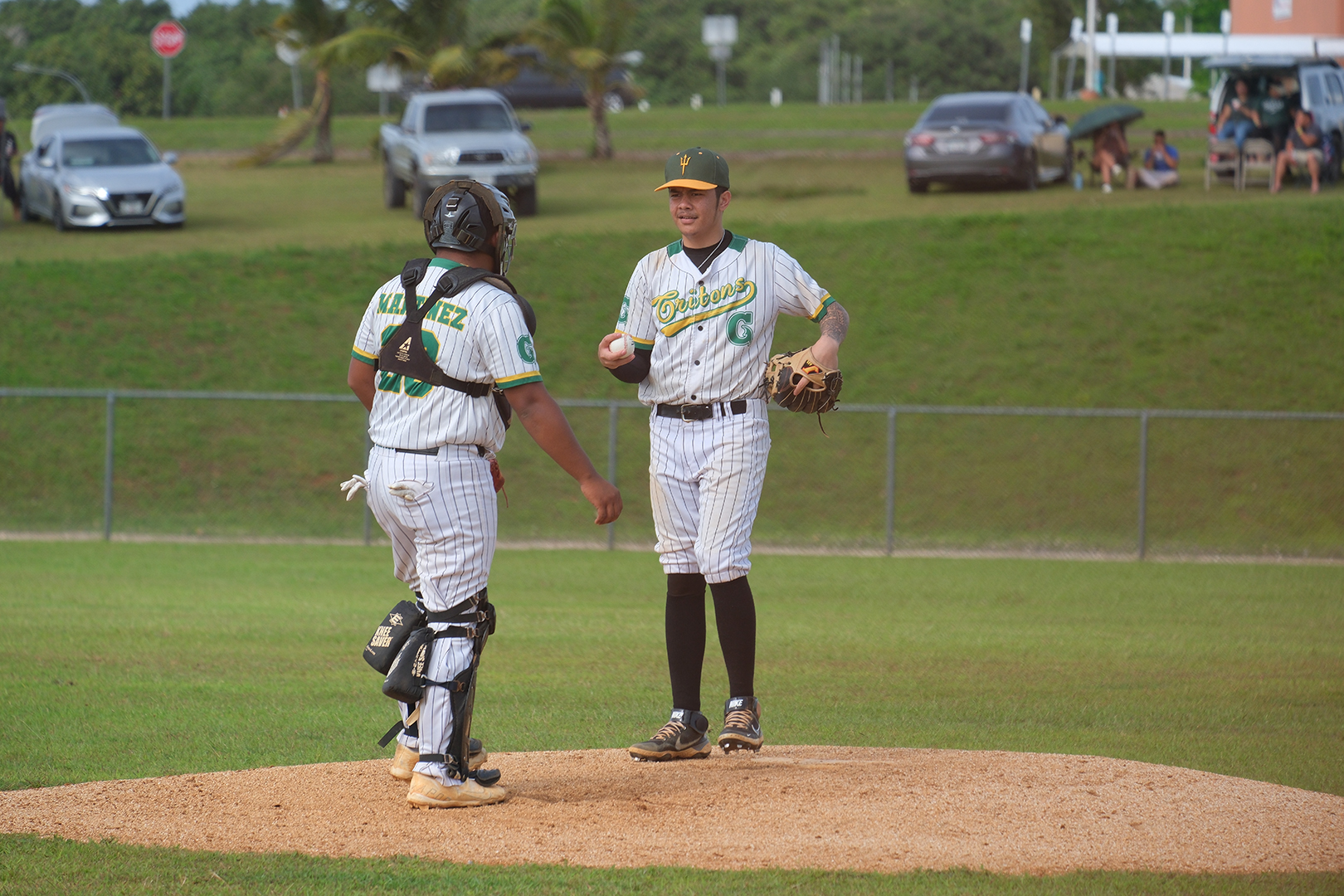 PRESS RELEASE – The Pirates rallied for 5 runs in the top of the 7th inning to defeat the University of Guam Triton Baseball Team 5-3 in the Triton Baseball – UOG Endowment Foundation Invitational at the Triple J Baseball Complex at Okkodo High School on Sunday afternoon. The Pirates also defeated the Amigos 7-2 in the opening game of the day and the Dodgers beat the Amigos 8-4 in a rain shortened 5 inning game in the night cap.
In the UOG and Pirates game, the Tritons carried a 2-0 lead into the top of the 7th when the Pirates rallied for 5 runs on 5 hits with the key hit being a double by Nolan Cruz. The Tritons would rally for 1 run in the bottom of the 7th, but it would not be enough as the Pirates won 5-3.
O'Neil Yobech took the loss for the Tritons, pitching a shut out for six innings, but could not hold the lead the 7th. Arren Yatar picked up the win for Pirates, pitching the final two innings of the game in relief.
Jathan Muna-Barnes, Kobe Martinez and Derrin Pangelinan led the Triton offense with two hits each.
The Tritons play the Amigos next Friday night at 7 pm in the final round-robin game for those two
teams.
The Pirates defeated the Amigos 7-2 in the opening game of the day as the Pirates put together another 5 run inning on the day in the 2nd to open a 5-1 lead on the Amigos and go on to a victory. Arren Yatar pitched the first 3 innings in the game for the Pirates but was relieved by two other pitchers who all combined on a three hitter in the game.
In the final game of the night, the Dodgers defeated the Amigos 8-4 in a rain shortened game. The Amigos took a 1-0 lead in the first, but the Dodgers tied it in the 2nd and scored 5 runs in 4th to lead 6-1 but the Amigos came back in the 4th to cut the lead to 6-2. The Dodgers scored two more in the 5th to lead 8-2 while the Amigos came back again to score two more themselves and the game would end in the top of the 6th due to rain with the Dodgers up 8-4 and the Dodgers were declared the winner since the needed 5 innings had been completed.
Next Sunday, the Dodgers will face the Pirates at Noon in the last round-robin game of the tournament and at 3 pm, the first game of double elimination bracket play begins with the #2 Seed playing the #3 Seed. At 6 pm, the #1 Seed plays the #4 Seed. Bracket play continues the following weekend with all four teams still in the tournament.
Standings after the opening weekend of the tournament:
Pirates 2-0
UOG Tritons 1-1
Dodgers 1-1
Amigos 0-2