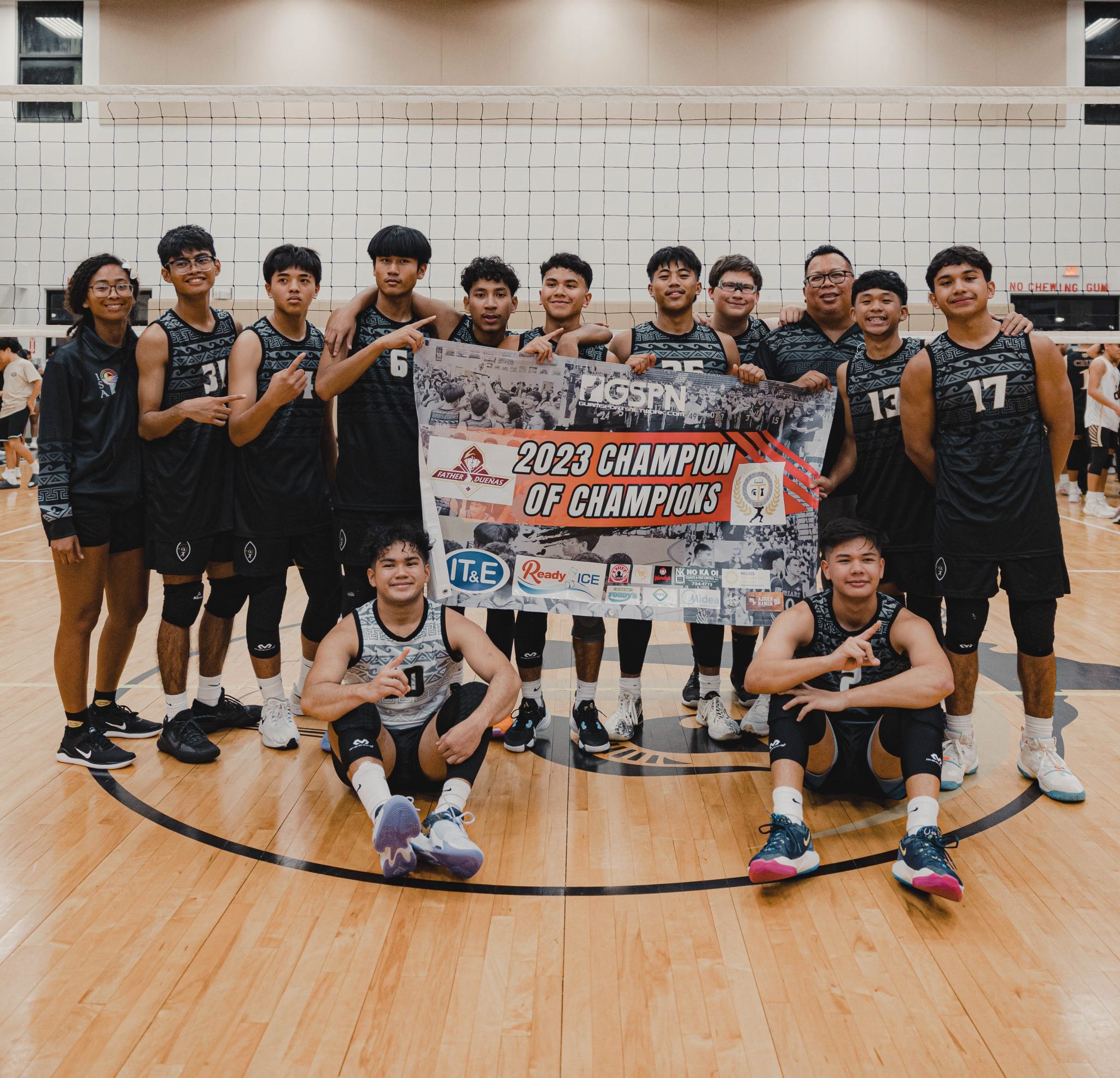 By Nick Akimoto
The Tiyan Titans have been crowned the Champion of Champions.
The Titans capped off their high school volleyball season with a win on their own gym over the IIAAG champion Father Duenas Friars in three straight sets (25-19, 25-19, 25-17)
In what might be their last Guam high school volleyball game as Titans, Gerald Malana and Noel Ericsson had a titanic performance. Ericsson netted 10 kills and an ace against the Friar Defense while Malana led the game with 12 kills and four blocks. Malana also brought in two consecutive jump serve aces to secure Tiyan's right to the title of 'Best on the Island'
"Honestly, I'm gonna miss high school and playing with the boys. They really mean a lot to me," said ISA MVP Malana
The Titans cap off their season with a near perfect record, with only one blemish due to a forfeit in the regular season.
"They persevered this year. First, as a coach you have to establish a system and a culture that they are willing to believe in. They were in control of their own destiny," said Tiyan High Head Coach Rodney Pama who has led the program to the ISA Title three years in a row.
CHAMPION OF CHAMPIONS
1st set
When the champions took the floor at the beginning of the first set, they went back and forth exchanging kills. Malana and Noel Ericsson had four and three kills for the Titans respectively while Gabriel Sarmiento logged in four kills in the first set for the Friars.
It was immediately apparent that the big hits that would usually earn points in the regular season weren't going to cut it in this game, as both sides rallied from huge spikes. Hitters had to look for empty space and creative angles to get past blockers to earn points in this game.
"Very formidable team. We couldn't get complacent on them, so we played all the way through. Played our game and played like the Tiyan Titans and brought it home," said senior outside hitter Noel Ericsson.
In match point, the Titans gained their final point off a FD setting error, coming away with the first set.
2nd set
After dropping the first set, the Friars made some adjustments in their lineup, sending out Yoshi Sayama at setter in particular. The new lineup added a bit of an unpredictable nature to FD's offense, but the Friars had no answer for Tiyan's consistency, as the Titans were able to obtain 11 points without committing a single error. It wasn't until a Titan serve stopped short at the net that Tiyan conceded their first point off of error.
The Friars struggled early, until FD's Ethan Alvarez jumpstarted the Friars and started exchanging kills with Tiyan's Malana. Alvarez also helped keep his team in the set by making crucial contributions to help FD's recovery on defense. Malana and Alvarez both brought in five kills in the second set, but another Friar error would give Tiyan a 2-0 lead.
"Me and Ethan's relationship is really tight. We used to play the outside league and the national team. He's a really tough player and he played really good today," said Malana.
3rd Set
The Friars made another lineup adjustment, but, at this point, the Titans were in the zone. Senior setter Tyrone Buekis took the time to relish in the weapons available on his team by dishing the ball out to some of his favorite targets, helping Malana and the high-flying Ericsson brothers combine for 10 kills in the set.
"They make it look easy for me to have such big weapons all across the court. It's an honor and a pleasure to be able to set them up. Sometimes it leaves me speechless how these guys are up there and swinging down," said Buekis.
For as awestruck as Buekis was left by his teammates, the setter was able to get in on the hitting party as well with a kill of his own. When Malana received the pass in the center court, he set to the outside for Buekis to smack it down 0nto the Friar's court.
"We practice that, but, at that particular moment, I did not expect it. I'm not gonna lie I was kind of surprised, but I just tried to hit the high hands," admitted Buekis with a chuckle.
With two more points needed to secure the final game in their own gym, it was simply serendipitous that Malana would be the one to serve. Malana spun the ball on his hand, threw it in the air, and smashed a jump serve that bounced off the Friar defense for an ace. With one more point to go, Malana went through his routine once more and punched in an ace for the final point for the 2023 Tiyan High Titan Volleyball Champions.
"At the beginning of the season, I told them the only team that could really beat them was themselves, and today, they just came out with a laser focus and played extremely well against an amazing FD team. They're champs in the other league for a reason, so to get three sets on them speaks not to the caliber, but to the mental and physical focus that the boys came out with," said Tiyan head coach Pama.
PHOTO GALLERY BROUGHT TO YOU BY:

COMING SOON …
High school girls volleyball playoffs
Brawl 3: Oct 13
Guam's Strongest Man and Woman Competition October 29
QUICK HITS
The Figo Islanders 40s women's softball team took gold in the Senior Softball World Championship in Las Vegas. Figo came out of the loser's bracket and beat the Arizona Belles 17-3 in the AA division championship game Sunday afternoon.
Other Guam teams that played in the 40s tournament were: Team SOTTA (women's) and Bud Light Guam, Friars 671 and Sindalun Guahan (men's).
Sindalu finished a respectable 4th out of 24 AAA division teams.