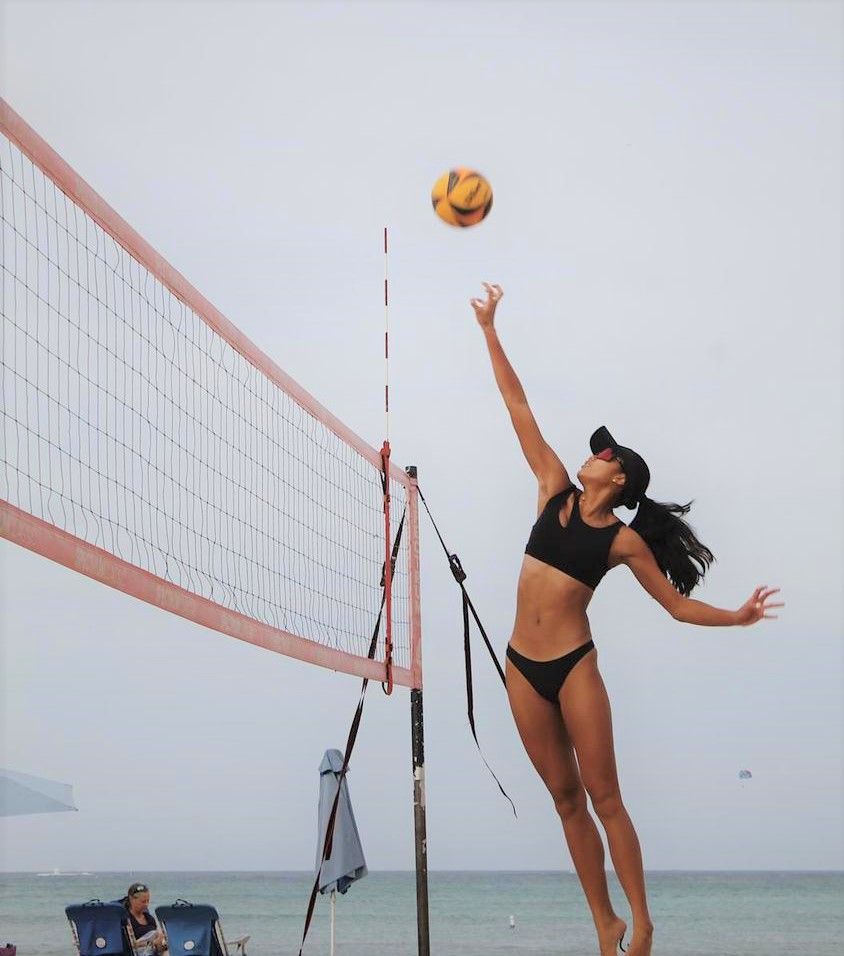 By Patrick Lujan
Who doesn't like playing in the sand.
Nineteen-year-old Kristen Serrano gets to take her beach volleyball talents to the beaches of Hawaii after announcing that the Wahine at the University of Hawaii have officially brought her along to join the team.
"It felt UNREAL. And it still does!," Serrano said, after hold a signing ceremony on Monday. "I wish I was articulate enough to even express how I felt or am feeling but it just feels so unreal. Once I saw my acceptance I thought to myself, 'this is it'. My dreams are finally coming true and I could not be anymore grateful for everyone alongside me on this journey thus far."
It is a journey that started when she was in the sixth grade while attending Santa Barbara School in Dededo. It was instant love.
"It is my escape from anything; it's my outlet. I'm just so happy to be on the sand, with such a great view (I love nature), playing the sport I love the most!"

– beach volleyball player Kristen Serrano
Like the countless athletes that make it to such a level of any sport, Serrano has put in the time, sacrifice and commitment that is now paying off.
"The amount of time that I dedicate to this sport might seem a bit intense for others as a lot of the people I know often tell me to take it easy, but I know that all of this hard work will eventually lead to something great, and it did. I get to live my dreams!"
A 2021 Academy of Our Lady of Guam graduate, Kristen has attended the University of Guam for the past two years pursuing a degree in business. She'll continue that academic path while at UH in the fall. She hopes to eventually obtain a master's degree in business with an eye on eventually starting her own business dealing with volleyball.
EXCITED TO PLAY AT THE NEXT LEVEL
Serrano has left little time to soak in the excitement and shock of the acceptance. She's already preparing herself mentally and physically for the transition to Oahu, where UH is usually in the top ten in the nation.
"I definitely want to strengthen all my skills through the UH beach volleyball program, their knowledge, as well as competition and my teammates; keep learning and be openminded. Learning how to balance my life, school, and volleyball, I think kind of navigating that through this experience is going to be very interesting."
Her sights are not just on UH. Kristen had higher goals of one day playing on the pro circuit, but it's one step at a time. For the next couple of years, Guam will be repping on the beach of Hawaii.
Kristen Serrano's Accomplishments
2018 SCVA Summer Soirée U15, California
SY19/20 IIAAG HS Beach Volleyball Pairs 2nd
SY19/20 IIAAG All-Island 1st Team Middle Blocker
2019 DLSZ Volleyball Invitational, Philippines
2020 FIVB Beach World Tour 1-Star Event, Guam
SY20/21 IIAAG HS Beach Volleyball Pairs 2nd
SY20/21 IIAAG HS Indoor Volleyball Champions
SY20/21 IIAAG All-Island 1st Team Middle Blocker
2022 Pacific Mini Games 5th, Saipan
2022 Pacific Jam Beach Tournament Champions, Guam
2022 West Coast AAU Junior Olympic Games, California
COACH'S COMMENTS – Manny Guarin
"Having coached, mentored, and supported Kristen for almost six years, I can say she is one of the most kind, genuine, and grounded persons you will ever meet, but an absolute generational talent when it comes to volleyball. She is intelligent, hard working, competitive and driven. That being said, I am not too surprised that she is making her vision a reality, and continuing her athletic career with UH, a nationally-ranked NCAA Division 1 college. She is Guahan's Beach Bow."

COMING SOON …
High School Football starts Sept. 29
Brawl 3: Oct 13
Guam's Strongest Man and Woman Competition October 29