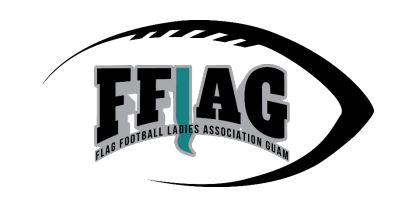 Women's football on Guam hit an all-time high at the turn of the decade, only to see operations shut down during the COVID pandemic.
A few years later, Linda Salas is trying to revamp women's football by formulating a flag football league first before moving back to tackle football. GSPN asked Salas a few questions on her initiative.
GSPN: What was the thought behind starting up a women's flag football league?
LS: The reason for starting a FFLAG is because it will give opportunities to women who never played football who do not want to tackle or hit hard. The GWTFL has been in hiatus status and most players moved to the mainland to include the COVID took away a lot of opportunities to host the league. Because of that, I think starting a Flag football is a great buildup and approach to lead these players into tackle football later.
Women need to learn the basics of football and putting them in tackle football is not an easy task. Our approach to teach the basics of 8-man flag will give these amateurs a better understanding of the sport. We believe women will appreciate the fact of learning an amateur sport before getting involved with tackling. Flag football is not for every woman nor is tackle football. Plus this will pave their way if they decide they want to play in tackle later, it will give an edge for the GWTFL to boost and start-up later when the time comes.
The name of the league is Flag Football Ladies Association Guam(FFLAG). This is an association about Ladies who empower themselves to take on leadership roles like coaching and officiating. We anticipate the first game could be early or mid April dependent upon teams, field availability and sponsorships. The venue is still being worked on and hopefully by this article that we can secure sponsors to get the needed field we need to play the games at. I am reaching out to potential existing tackle football teams to see if the ladies would like to try something different and not the norm of tackling, etc. Each team has a max team roster of 20, 4 coaches and team manager. This is an 8 vs. 8 type of formation.
GSPN: Why not jump back into tackle football?
LS: The GWTFL has been in hiatus status for a couple years due to COVID. And we lost a lot of talented players to play professionally and they relocated to the mainland to play for other sports teams. I also was approached by several GWTFL players to get the season started and it was not feasible with little interest or players. I been in touch with Monica Sarusal, President of GWTFL and she tried reaching out to the teams but it seems like there was very little interest. I decided to start the "flag football" in hopes to recruit these players and convert them or spark their interest to lead them into possible tackle players. But I think the stepping stone for this and the best conversion for football is to let them learn the basic "flag football". From there they will learn the basics of football, learn the roles and position and gradually move up to the tackle football league if they chose to.
GSPN: What type of interest are you getting from female athletes?
LS: I'm getting a lot of interest from players in the soccer league and the former women's tackle league. I'm picking up some players from the women's softball and rugby as well. In the last one month of putting the word out, it is growing in team size and interested players with no experience.
GSPN: We see you have four teams already. Has practice schedules and locations been announced?
LS: When is the league expected to start and where? For practice schedules and locations, it is best to contact the head coaches below. We do not want to announce them, we will leave that to the head coaches.
Island Stunnerz: Rica Garrido or Amanda Ulloa 671-685-2835
Honey Badgers: Gia Sarusal 671 929-3108
Steel Legacy: Linda Salas/Danielle Carter, 671-788-3856/864-3059
Undecided Name/TBD: Tamara Esteves, 671-685-7837
Several teams are still recruiting for players. We also plan to hold a clinic in March to teach the women the sport, meet players, coaches and officials(see attached schedule). We like MSOA to reach out to our association and recommend a few women officials to learn the sport.
Special Rules for Flag Football
LS: What makes this flag football unique is that it is empowered by women. All coaches and officials must be women. What also makes this unique is that helmets are not allowed, fumbles are not allowed, tackling is not allowed and pads or shoulder pads are not allowed. There are no fumbles.
When the FFLAG conducts its clinics to teach how to play, we encourage the "female style" of play, because there has been great influence from the male counter sport: Tackle Football. With flag football more finesse and strategy should be used compared to tackle's brute force and speed. Winning should not be emphasized, but rather fair play and appreciation for the challenge and camaraderie and friendship with their opponents. Flag football offers females a great challenge to practice many skills involved in the game such as: kicking, catching, throwing, blocking, running with ball, grabbing flags, etc. For this reason, many types of females can join a team and be a valuable asset to the team. With so many skills involved in the 8 vs 8, semi-contact version, the FFLAG has adapted these set of rules for the benefit and excitement of the game for players and fans. Flag football is a fantastic game for young and old females.
Summary of IWFFA Rules:
8 players on field
4 downs to gain 10 yd for 1st down
-Center and Two Guards are ineligible receivers
-Blocking between shoulders and waist
Down field blocking allowed
Field goals, extra-point kicks and punts are allowed
· Fake kicks and defensive rush allowed
· Defensive line may rush the QB as soon as football is snapped
· Defense may line up just behind the point of ball nearest them
· No helmets, no fumbles, no pads, nor tackling allowed
Conversion:
· From 3 yd – pass or run or kick – 1 pt
· From 10 yd – pass or run or kick – 2 pts

QUICK HITS
Guam MTB National Championship: Edward Oingerang and Jennifer Camacho are your 2023 MTB national champions. Oingerang finished the course in 1:13:24 while Camacho won her second straight title in 54:08.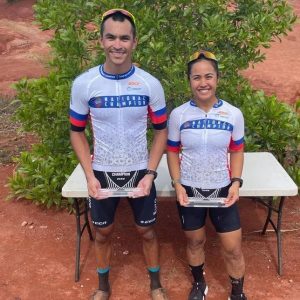 ——————————————
Kobe Miyashita, with St. John's coach Arvin Flores, was named the 2023 IIAAG Middle School Boys Volleyball MVP!