[sixcol_five_last]
By Bucky Brennan
"One for the books"
The cliché phrase could be said about this past weekend. Thanks to Heineken Guam, the Beach Bar at Gun Beach played host to the first ever Heineken Beach Touch Rugby Tournament on Saturday and Sunday. Over one-hundred players and many more fans flocked to the beachside slice of paradise to take part in the first of what is sure to be many Heineken Beach Touch Rugby Tournaments.
With perfect weather, the weekend shaped out to be a great experience. Playing for Team GSPN was a treat. Taking the sand alongside fellow writers Regina Shiroma and Rob Leon Guerrero was a good break to our usual weekend assignments. Its rare the GSPN staff is able to hang out with the full slated schedule of Guam sports.
Also joining the echelons of GSPN Beach Touch Rugby were: my long-time friends Zeb Howser and Tasi Ada of the GRFU High Performance Squads and Zach Pangelinan, Guam's first and only USA Eagle (U.S. National Rugby Team).  Young Gun Danilo Rapadas also made a cameo in our Sunday matches to help close out the tournament.
Finishing 3-0 on our first day was a surprise to say the least. With many experienced and athletic teams and a great talent spread, the competition was fierce. Some may claim the five-minute halves were easy. Those people were either just spectators or downright crazy. The sand was a huge opponent, turning even the fittest players' legs to jello.
As if one day of running on the beach and heavy drinking wasn't enough, we were called back for the second day of competition on Sunday. Sunday's weather was overcast with a great breeze. The ocean was inviting, and as GSPN got its first win, we started to believe we had a shot at the cup (first place overall).
With that the fixtures had us facing the All Browns in the semi-finals. As if my legs weren't sore enough, I now had to play against the entire Taguacta family and several "ringers" they brought in just for Sunday. Staring at our motley bunch down across the field were the Claros twins, who've played rugby since before I was born, every Taguacta sister on-island and Steve Sablan. Anyone who knows Guam rugby can instantly name any of the players mentioned and probably spew off a summary of their long list of accolades.
Needless to say, we knew we were in for a game. After a hard fought first half, Pangelinan (Z-Pang) orchestrated a second-half scoring spree that found us receiving the win. We were stunned and did not want to jinx our chances at winning the final so we kept our cool, or tried to.
Zach's parents Jimmy and Tina Pangelinan treated us to a feast just before the final and the fuel we received paired with a few well-earned beverages propelled us through our match against the Z-fighters.
In a classic Blue vs. Red (actually orange) match, we were again pitted against a tough foe. This time, occupying the "enemy" turf across the sand were the likes of Will Williams,  Paul Estaquio, Ciera Arriola and the Ramiro brothers. When that group of names comes to mind, I'd usually think "Models and Bottles."
But in this case, they were all that stood between GSPN and the cup. After a tough match with seven-minute halves just so the rugby gods could enjoy our suffering for a bit longer, GSPN emerged the victor by way of a 5-2 victory.
After all was done, it was a great tournament to be a part of. In case you wanted details, I was enjoying myself too much to take notes so this is literally all I remember. It's been a pleasure GSPN. Thanks for everything. Play Rugby Guam. Bucky is out!
(note: this is Bucky's last article as he ventures off to a post graduate adventure)
[fbshare url="http://www.gspnlive.com/gspn/gspn-wins-first-beach-rugby/" type="button"][fblike url="http://www.gspnlive.com/gspn/gspn-wins-first-beach-rugby/" style="standard" showfaces="false" width="450″ verb="like" font="arial"]
[/sixcol_five_last][useful_banner_manager_banner_rotation banners=53, 38 interval=8 width=120 height=600 orderby=rand]

QUICK HITS
3rd place: Big ups to the Para Todu Rugby Club for finishing 3rd out of 16 teams in the Manila 10's Rugby Tournament today. Biba Guam Rugby!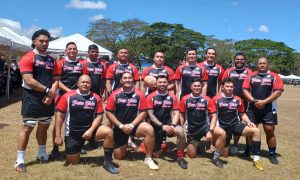 ——————————————
Guam MTB National Championship: Edward Oingerang and Jennifer Camacho are your 2023 MTB national champions. Oingerang finished the course in 1:13:24 while Camacho won her second straight title in 54:08.